Name: Abigail
No. of characters: 7
Gender:
Origin:
English
German
Biblical
Biblical Latin
Hebrew
How to pronounce Abigail
a-bi-ga-íl
What does my name mean?
Meanings:
My Father Is Joy
Head of a Monastery
Father's Joy
Gives Joy
The Intelligent
Father of Exaltation
Father in Rejoicing
English name of Hebrew origin, meaning: the Father hath rejoiced. Particularly widespread in Australia and the USA. Namesake: Susan Abigail Sarandon, American actress.
Full form of Abigaïl : Accomodating Balanced Imaginative Generous Amiable Level-Headed
Abigaïl is not a native United States and Abigaïl may be came from another language or is a short form of some other name.
Expression number of Abigaïl is 5.
Abigaïl love adventure, excitement and freedom. Abigaïl are clever, quick-witted and unusually adaptable. Abigaïl are capable of doing anything they wish for.
Names that rhyme with Abigail
Famous people named Abigail
Abigail Kubeka in Knock-Out as Actress
Abigail Arundel in Child Hunt as Actress
Abigail McConnell in Truth in Shadows as Actress
Abigaile Johnson in My Private Tutor as Actress
Abigail Joven in Manolis as Actress
Abigail Hart in Episode dated 4 March 2004 as Actress
Abigail Haley in Moments of Clarity as Actress
Abigail Murphy in Kendra Wilkinson as Actress
Abigail Olegski in The Diary as Actress
Abigail Johnson in City of Parks as Sound Department
Names like Abigail
Abigail Namesakes
Related Names:
Abi
Abia
Abiageal
Abiah
Abian
Abianna
Abibail
Abid
Abida
Abidan
Abie
Abiegail
Abiel
Abiela
Abiella
Abiezer
Abigael
Abigaël
Abigaelle
Abigaëlle
Comments :
Abigail is a female first name Hebrew origin. Abigail is a unisex name. In the Tanakh , the Hebrew Bible, the name אֲבִיגַיִל, (comes 'abīgayil , Abigail) for two different women before: for a daughter of Jesse ( 1 Chr 2.16 to 17 EU ) and sister of David and for the wife of Nabal , the one later Women David is ( 1 Sam 25 EU ). In the Jewish tradition, the widow of Nabal deemed prophetess. In addition, the variant אֲבִיגַל (exists 'abīgal , Abigail) as the name of the daughter of Nahas and mother of Amasa ( 2 Sam 17,25 EU ). The name is composed of אָב 'AV ' father 'and the root גיל gjl "rejoice, rejoice". Abigail can thus be translated as "my father shout" or "my father is joy". But it is interpreted sometimes as "principal of the dance" and "Vortänzerin".
In Germany, the name comes before the 16th century, but only sporadically. In the US and in Australia, however, the name is very popular. For example, he was in Australia in 2004 at No. 3 of the most awarded female names, 2005 in the USA 4th place.
Variants of the name: Abigail, diminutive: Abbie, Abby (variants: Abagael, Abagail, Abagale, Abageal, Abagil, Abaigael.
- Kum Kivi
Popularity of Abigail
Other variants of Abigail :
Abigaia
'Avigayil
Apikalia
Avigail
Abigél
Abi
Abigaíl
English Boy Names :
A
B
C
D
E
F
G
H
I
J
K
L
M
N
O
P
Q
R
S
T
U
V
W
X
Y
Z
---
English Girl Names :
A
B
C
D
E
F
G
H
I
J
K
L
M
N
O
P
Q
R
S
T
U
V
W
X
Y
Z
Get the meaning of Abigail and celebrities who also shares the same name and some names related to Abigail, english baby names list, list of names in english. Know what does Abigail mean, what is the meaning of name Abigail?
This website serves as the extended english names list which will help in naming your child.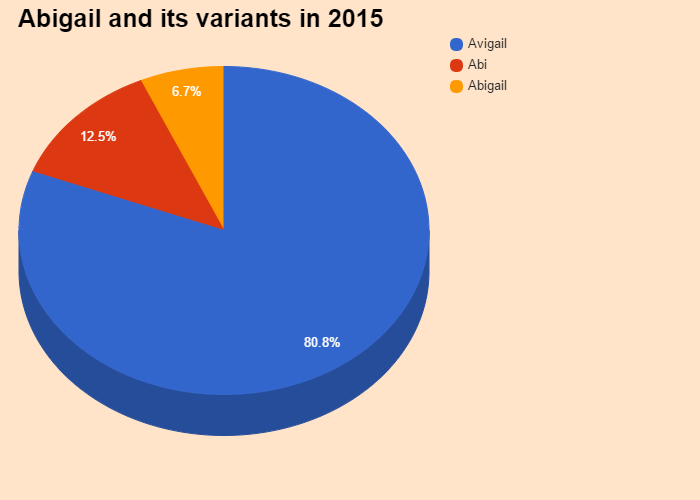 Share your opinion on Abigail