Name: Alessandro
No. of characters: 10
Gender: Boy
Origin:
Old Greek
How to pronounce Alessandro
a-le-ssa-ndro
What does my name mean?
Meanings:
Old Leader
Sage
He Who Wards Off (Other) Men
Alessandro was ranked 584 in 2016 US male names list and elevated by 0.51% from its previous ranking of 587 in 2015.
Full form of Alessandro : Artistic Lonesome Excited Sportsmanlike Subtle Authoritative Natty Direct Respectful Original
Alessandro is a very consistent name over the past 18 years.
Alessandro is a very very popular first name for a boy in United States which is popular male name since 2005 and ranked 589 in 2015 in US. Around 7187 people wear Alessandro as their first name. Alessandro is a rare first name for a boy in United States which is a rare boy name since 1933 and ranked 589 in 2015 in US. Only 7187 people have Alessandro as their first name. At the peak of Alessandro popularity in 2014 it was given to about 0.010583% of US Boys babies and ranked 544 in 3987347 newborns while On the lowest point of Alessandro in 1933 it was wore by only 0.000242% of new born Boys and ranked 518 out of 2065753 babies in US. Alessandro is not a native United States and Alessandro may be came from another language or is a short form of some other name. Alessandro is given to around 0.002010% of newborns during 1880 to 2015, according to the USSA.
Complete history of Alessandro
Year
Rank
Occurence
Popular boy name in
2005
578
314
2006
527
385
2007
601
326
2008
548
396
2009
552
379
2010
569
351
2011
548
364
Expression number of Alessandro is 9.
Alessandro are idealistic who embrace the principles of compassion and forgiveness. Alessandro are visionary who is wiling to make a better world and have the ability to influence masses. Alessandro are also creative and imaginative that gives them an artistic talent.
Names that rhyme with Alessandro
Famous people named Alessandro
Chandra De Alessandro in Unbreakable as Stunts
Barbara D'Alessandro in Talladega Nights: The Ballad of Ricky Bobby as Second Unit Director or Assistant Director
Michelle D'Alessandro Hatt in Taco as Actress
Alessandro Fabbri in La doppia ora as Writer
Alessandro Demcenko in Pope John Paul II as Actor
Alessandro Haber in La sconosciuta as Actor
Alessandro Rosso in Die Hopeless as Actor
Federico D'Alessandro in The Avengers as Art Department
Alessandro Benvenuti in Ivo il tardivo as Actor
Alessandro Sanguigni in ACAB - All Cops Are Bastards as Actor
Names like Alessandro
Alessandro Namesakes
Related Names:
Ale
Alea
Aleacia
Aleaddine
Aleah
Aleaha
Aleahya
Alean
Aleana
Aleanah
Aleander
Aleandra
Aleane
Aleanna
Aleara
Aleasa
Alease
Aleasha
Aleashia
Aleasia
Comments :
Alessandro is a proper name of the person Italian men. It has come from the name greek Αλέξανδρος ( Alexandros ), comprising the terms αλεξω ( alexo, "defend", "help") and ανηρ ( aner, the genitive ανδρος, andros, "man") ; the meaning is then variously interpreted as "protector of men", "defender of men", "which provides aid to men", or "man who defends".
Versions of the name are Alexander, Aleksander, Alessandra, Alexandre, Alexandru, Alessandra.
- Man Cap
Popularity of Alessandro
Other variants of Alessandro :
Aleksander
Skender
Alexander
Alexandros
Iskandar
Aleksandr
Alesander

Aleksandar

Sasho
Alexandre
Àlex
Sandi
Saša

Alexandr
Aleš
Alex
Sander
Lex
Xander
Al
Alec
Sandy
Zander
Aleksandro
Aleĉjo
Aleksanteri
Ale
Samppa
Santeri
Santtu
Sacha
Aleksandre
Sandro
Sascha
Sándor
Sanyi
Alastar
Aleksandras
Aca

Ace
Aco

Sikandar
Eskandar
Olek
Xande
Xandinho
Alexandru
Sandu
Sasha
Shura
Alasdair
Alastair
Alistair
Alister
Ally
Sawney
Aleks
Sašo
Alejandro
İskender
Oleksander
Oleksandr
Sender
English Boy Names :
A
B
C
D
E
F
G
H
I
J
K
L
M
N
O
P
Q
R
S
T
U
V
W
X
Y
Z
---
English Girl Names :
A
B
C
D
E
F
G
H
I
J
K
L
M
N
O
P
Q
R
S
T
U
V
W
X
Y
Z
Get the meaning of Alessandro and celebrities who also shares the same name and some names related to Alessandro, english baby names list, list of names in english. Know what does Alessandro mean, what is the meaning of name Alessandro?
This website serves as the extended english names list which will help in naming your child.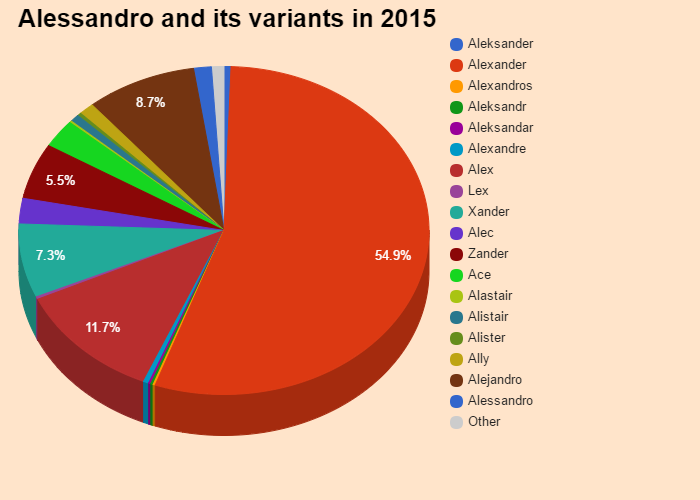 Share your opinion on Alessandro