What does Charlotte mean?
Origin of Charlotte: French English German Swedish Norwegian Danish Dutch Meaning of Charlotte: 'Little and Womanly, Tiny and Feminine, Feminine of Charles, Glam, French name, feminine form of Charles or (meaning: free man, Army). In Germany, for over three centuries unchanged popular. Namesake: Charlotte Bühler, German psychologist.'
How to pronounce Charlotte
cha-rlo-tte
Charlotte was ranked 921 in 2015 list of US boys name and dropped by 0.22% from its previous ranking of 919 in 2014. Charlotte was ranked 9 in 2015 US female names list and elevated by 10.00% from its previous ranking of 10 in 2014. Comes from the Germanic "karl" Means: "strong, vigorous" If party July 17.. Charming, attractive, loving the toilet and always in fashion, a frivolous anything,Charlottehave a weakness for luxury and money. Dynamic, efficient, enthusiastic, ambitious workers, luck is on their side and oftenCharlottedo well in life. Nothing stops them whenCharlottehave set a goal. In love, charm made them take risks.
Full form of Charlotte : Calm Happy Able Rational Level-Headed Obedient Tactful Talkative Eager
Charlotte is a very very popular first name for a girl in England & Whales which is popular since 1996 and ranked 23 in 2014. Around 69902 people wear Charlotte as their first name. Charlotte is a very consistent name over the past 18 years.
Charlotte is a very very popular first name for a girl in United States which is popular since 1884 and ranked 921 (0.000252% bearer) in 2015 in US. Around 323439 people wear Charlotte as their first name. Charlotte is a rare first name for a boy in United States which is a rare name since 1907 and ranked 921 (0.000252% bearer) in 2015 in US. Only 323439 people have Charlotte as their first name. Charlotte is not a native United States and Charlotte may be came from another language or is a short form of some other name. 0.090477% of people in US have this given name.
Complete history of Charlotte
Year
Rank
Occurence
Popular girl name in
1884
84
344
1885
90
317
1886
91
368
1887
89
351
1888
83
464
1889
87
455
1890
96
417
Expression number of Charlotte is 3.
Charlotte are lively, imaginative, enthusiastic and optimistic. Charlotte are expressive and inspire others wherever they go. Charlotte possess great verbal skills which make them good comedian, artist or writer.
Names that rhyme with Charlotte
Famous people named Charlotte
Charlotte Kyle in Pirates of the Caribbean: Dead Man's Chest as Stunts
Charlotte Johansson in Ben & Jerry as Director
Charlotte Maltby in AWOL as Actress
Charlotte Powell in Calvin Carrington as Actress
Anne-Charlotte Pontabry in Le sniper as Actress
Charlotte Connick in Dolphin Tale as Actress
Charlotte Link in Am Ende des Schweigens as Writer
Charlotte Bicknell in Twenty-Six Takes on Life Without Allen as Actress
Charlotte Zwerin in Gimme Shelter as Director
Charlotte Speer in Planet of Dinosaurs as Actress
Names like Charlotte
Charlotte Namesakes
Related Names:
Cha
Chaïda
Chaïma
Chabane
Chabeli
Chabelli
Chabely
Chabiba
Chablis
Chabria
Chace
Chachi
Chad
Chada
Chadae
Chadarius
Chadburn
Chadburne
Chadbyrne
Chadd
Comments :
Myung Mayton
Charlotte is a female first name. The name Charlotte is composed of two elements: 1.from the Romanized spelling " Karl " the Old High German word Karal "of Efficient", "the Free", "Husband", "Man" and 2.from the French Diminutiverweiterung -otte (male: -ot ). So Charlotte translates as "female Carlie", "Karlalein", "small Efficient". The male counterpart to Charlotte is Charlot , Carlie, little Karl '. The name comes from the medieval French Heldensage Huon de Bordeaux back. In this legend, a son of the Frankish king and the first emperor Karl killed. This son is in the forecast as Karlot designated. The name Charlotte early twentieth century was often among the 20 most popular girls name a vintage in Germany. Mid thirties his popularity fell sharply. Mid-eighties began a reverse trend and the name was again more often. In 2012, the name of No. 25 on the frequency statistics.
Variants of the name: Carlota (Spanish), Carlotta (Italian), Chaly, Charlette, Charlie, Charlot, Charlott, Charlotta.
Popularity of Charlotte
Other variants of Charlotte :
Charlize

Carolina

Carla

Karla
Karolina
Karolína
Karoliina
Lotta
Karola
Séarlait
Carlotta

Carola

Carlota
English Boy Names :
A
B
C
D
E
F
G
H
I
J
K
L
M
N
O
P
Q
R
S
T
U
V
W
X
Y
Z
---
English Girl Names :
A
B
C
D
E
F
G
H
I
J
K
L
M
N
O
P
Q
R
S
T
U
V
W
X
Y
Z
Get the meaning of Charlotte and celebrities who also shares the same name and some names related to Charlotte, english baby names list, list of names in english. Know what does Charlotte mean, what is the meaning of name Charlotte?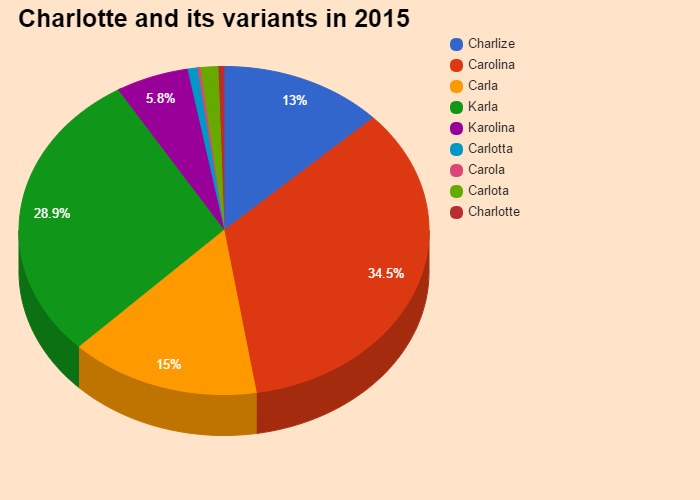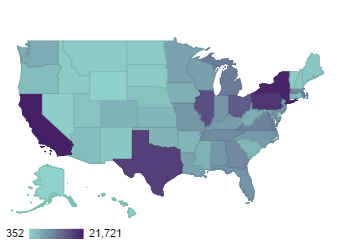 Share your opinion on Charlotte