Name: Chloe
No. of characters: 5
Gender: GirlBoy
Origin:
Old Greek
English
Biblical
Biblical Latin
Biblical Greek
Ancient Greek
Greek Mythology
How to pronounce Chloe
chlöe

What does my name mean?

Meanings:

Green Shoot

Lily

Rose

Anemone

True Beauty

Greek origin, meaning: young girl, young green. The earth goddess Demeter epithet. Widely known through the ancient love story "Daphnis and Chloe".

Comes from the Greek "Khloros" Means "green" party in the November 10.. Pleasant, optimistic, discrete nature,Chloéare always pretty, not always courageous. However, whenChloéhave set a goal, nothing stops them. Meanwhile "child-woman", added to their charm, leaves no one indifferent, andChloéknow how to use it. Chloé have business sense and taste of the money and do well in life.

Full form of Chloé : Constructive Honorable Lonely Ordinary

Expression number of Chloe is 7.

Chloe likes to research and reason to know the answers of hidden questions as Chloe are gifted with an analytical mind. Chloe are always on the quest for knowledge and wisdom and loves being alone.

Names that rhyme with Chloe Chloe, Cloe, Enloe, Floe, Harloe, Khloe, Kloe, Marloe, Nicloe, Shiloe, Shyloe, WilloeFamous people named Chloe

Chloe Cooper in Fiona Cooper DVD 1268 as Director

Chloe Treend in Vanity Fair as Actress

Chloe Lietzke in The Room as Producer

Chloe Kez in Brand New Faces 17 as Actress

Chloe Morris in City Hall as Actress

Chloe Schneider in Fitting the Print as Writer

Chloe Gardner in Wolf Creek as Actress

Chloé Winkel in Stratosphere Girl as Actress

Chloe Dworkin in Stealing Suburbia as Actress

Chloe Morello in Girl + Ghost as Actress

Chloe Adolphi, actress

Names like Chloe Chlarinda, Chloa, Chloé, Chloée, Chloe, Chloeann, Chloeanne, Chloee, Chloeigh, Chloejane, Chloelynn, Chloemae, Chloemarie, Chloey, Chloi, Chloie, Chlora, Chlorene, Chlorinda, Chlorine
Chloe Namesakes
Comments :
Chloe ( dt. "The green end") is a female name, originally as epithet the Greek goddess Demeter, as a sort of guardian of the young seed has been used. In European literature the name was received as the female main character in Longos ' late Roman Pastoral and romance Daphnis and Chloe. Name Chloe also appears in the Bible, in 1. Corinthians. During the Baroque and Rococo name that was often used by the authors of idylls, referring to the ancient romance of the Greek Daphnis and Chloe Longosa. Daphnis and Chloe is also a ballet by Ravel.
Famous people named after Chloe: Chloë Sevigny - American actress nominated for an Oscar and a Golden Globe, Chloe Dior - American porn actress, Chloe Marshall - British model, Chloë Agnew - Irish singer, Chloe Grace Moretz - American actress.
- Miles Sardina
Other variants of Chloe :
Chloé
Cloé
Cloe
English Boy Names :
A
B
C
D
E
F
G
H
I
J
K
L
M
N
O
P
Q
R
S
T
U
V
W
X
Y
Z
---
English Girl Names :
A
B
C
D
E
F
G
H
I
J
K
L
M
N
O
P
Q
R
S
T
U
V
W
X
Y
Z
Get the meaning of Chloe, list of names in english. Know what does Chloe mean, what is the meaning of name Chloe?
This website serves as the extended english names list which will help in naming your child.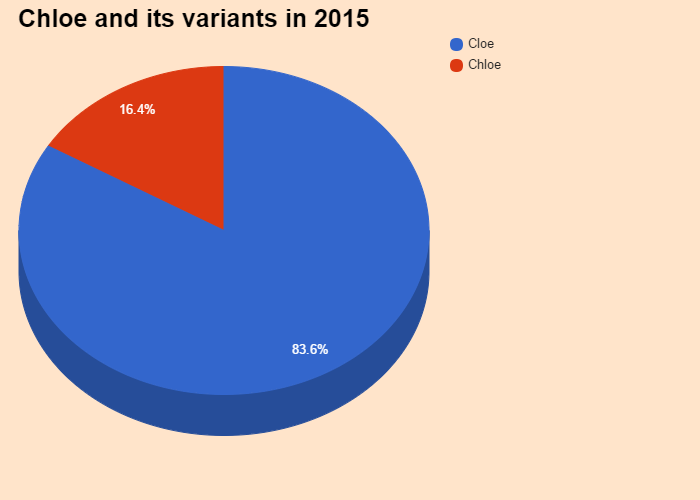 Share your opinion on Chloe