Name: Mateo
No. of characters: 5
Gender: Boy
Origin:
Spanish

Croatian

Hebrew


How to pronounce Mateo

ma-téo

What does my name mean?

Meanings:

Warlike

Spanish form of Matthew (meaning: God's Gift).

Diminutive of Matthew. Comes from the Hebrew "matithi and Yah" Means "gift of God" If Day 21 September.. Rather exuberant, warm, generous,Matéohave a desire somewhat fluctuating. It often force them to go after things. Passionate,Matéowork doggedly ifMatéoare interested. Suggestible enough,Matéonever dare to say "no" becauseMatéodo not want to offend. Affectionate, tender,Matéoare great sentimental. Charmers,Matéoare customary lightning strikes and favorites.

Full form of Matéo : Materialistic Accepting Tactful Obedient

Expression number of Mateo is 9.

Mateo are idealistic who embrace the principles of compassion and forgiveness. Mateo are visionary who is wiling to make a better world and have the ability to influence masses. Mateo are also creative and imaginative that gives them an artistic talent.

Names that rhyme with Mateo Anteo, Aristeo, Doroteo, Mateo, Matteo, Teo, TimoteoFamous people named Mateo

Lisa Mateo in Celebrity Taste Makers as

Lorena Mateo in Stockholm as Actress

Camila Mateos in Esperanza mía as Actress

Aurélie Mateo in Show Buzz as Actress

Vanessa Mateo in Unleashed as Actress

Mateo Gómez in Che: Part One as Actor

Jake Mateo in Devilish Charm as Actor

Mateo Simon in Night Light as Actor

Mateo Londono in Miss Nobody as Cinematographer

Mateo Rufino in 404 as Actor

Names like Mateo Mat, Mata, Mataeo, Matai, Mataia, Mataio, Matalie, Matalin, Matalyn, Matalynn, Matan, Matao, Matas, Matasha, Matauc, Mataya, Matayah, Matayo, Matéa, Matéo
Mateo Namesakes
Comments :
Mateo is a proper name of the person Italian men. Comes from the name Hebrew מַתִּתְיָהוּ ( Mattityahu ) which, made ​​up of the terms matath ( "gift") and Yah (short for " YHWH "), can be translated as "gift of YHWH".
Latinized form in Matthaeus, on the basis of adaptation greek Ματθαίος ( Matthaios ), the name Matthew shares the same origin of the names Mattia, Maffeo and Mazzeo.
- Violet Osuna
Other variants of Mateo :
Matia
Matthew
Matthias


Matthaios
Mattityahu

Mattheus
Matey
Mateu

Matouš
Matěj
Matyáš
Mads
Mathias

Matthijs
Thijs
Ties
Mat
Mathew
Matt
Mattie
Matty
Matti
Matias
Matéo
Mathéo
Mathieu
Matthieu
Mathis
Mathys
Mate
Matthäus
Mattias
Makaio
Mattithyahu

Máté

Mátyás

Maitiú
Matteo
Mattia
Matas
Matej

Matteus

Mats

Mateusz
Maciej
Mateus
Matheus
Matei
Matfey
Matvei
Matvey
Motya
Mateja
Matija
Matúš
Matevž
Matic
Matjaž
Tjaž
English Boy Names :
A
B
C
D
E
F
G
H
I
J
K
L
M
N
O
P
Q
R
S
T
U
V
W
X
Y
Z
---
English Girl Names :
A
B
C
D
E
F
G
H
I
J
K
L
M
N
O
P
Q
R
S
T
U
V
W
X
Y
Z
Get the meaning of Mateo, list of names in english. Know what does Mateo mean, what is the meaning of name Mateo?
This website serves as the extended english names list which will help in naming your child.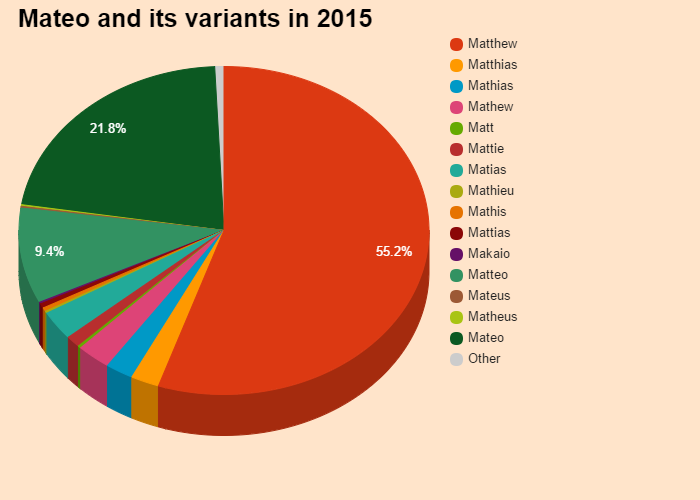 Share your opinion on Mateo