Name: Theresa
No. of characters: 7
Gender: Girl
Origin:
Old Greek

English

German

Swedish

Norwegian

Danish


How to pronounce Theresa

thérèsa

What does my name mean?

Meanings:

Harvester

Summer

One who Reaps

Reaper

Greek origin, meaning: the end of Thera tribe

also: Slayer. Namesake: St. Theresa of Avila..

Comes from the Greek "Tarasia" Name island near Crete. Celebrating October 15.. These are women rigor. Their moral rules are strict. Tolerant, altruistic,Thérèsashare all their ideas, their joys, their sorrows. Volunteers, tireless, obstinate,Thérèsaare also perfectionists. Thérèsa are dissatisfied perpetual who thinkThérèsacould always do better. These are indoor women especially flourish in the family unit. In love,Thérèsaare an absolute fidelity.

Full form of Thérèsa : Tender Helpful Reasonable Self-Possessed Admirable

Expression number of Theresa is 4.

Organizing and managing qualities are possessed by Theresa. By systematic and methodical approach Theresa turns their dream into reality. Theresa are extremely sincere and honest.

Names that rhyme with Theresa Caresa, Ceresa, Cheresa, Claresa, Deresa, Doresa, Fresa, Gresa, Heresa, Jeresa, Karesa, Katresa, Keresa, Lacresa, Laresa, Lateresa, Latresa, Leresa, Loresa, MaresaFamous people named Theresa

Theresa Baskauskas in Bamboozled as

Theresa Anna Luther in Cloud Atlas as Costume and Wardrobe Department

Theresa St. Clair in The Last Boy Scout as Actress

Theresa Corrao in Harry Potter and the Goblet of Fire as Visual Effects

Theresa Hickey in Man Up as Thanks

Theresa Wylie in Captain America: The Winter Soldier as Actress

Theresa Andersson in New Orleans Music in Exile as

Theresa Wasiloski in Monsters Among Us as Actress

Theresa Burkhart Gallagher in Schmoolie the Deathwatcher as Writer

Theresa Berlage in Adam & Eva as Actress

Theresa Russell, actress

Theresa Randle, actress

Names like Theresa The, Thea, Theabul, Theada, Theado, Theador, Theadora, Theadore, Theanna, Thearl, Thearon, Thearsa, Thearthur, Theartis, Theary, Theatus, Thebaldus, Theberga, Theckla, Thecla
Theresa Namesakes
Comments :
Theresa is a female first name. Origin name : from the Greek town of Thera or the island of Santorini "comes from Thera" or "inhabitant of Thera" - the name of the island itself probably comes from Θήρα Thera , the "wild"
Job name from Greek therizo " harvest female worker". The name has a worldwide distribution.
Versions of the name in other languages are Arabic: تيريزا, English: Terese, Theresa, Terry, Teri , Tess (a / i / y) , Resi, Resy, Hispanic :Teresa, Teresa, French: Thérèse, Hungarian: Teréz, Italian: Teresa, Teresa, Tessa.
- Laurena Lindblad
Other variants of Theresa :
Terese
Tereza
Terezija

Tena

Terezie
Theresia
Tess
Thera
Trees

Teresa
Thérèse
Terézia

Teca

Teréz

Toiréasa
Treasa
Therasia
Teresinha
Terezinha
Tere
Teresita
English Boy Names :
A
B
C
D
E
F
G
H
I
J
K
L
M
N
O
P
Q
R
S
T
U
V
W
X
Y
Z
---
English Girl Names :
A
B
C
D
E
F
G
H
I
J
K
L
M
N
O
P
Q
R
S
T
U
V
W
X
Y
Z
Get the meaning of Theresa, list of names in english. Know what does Theresa mean, what is the meaning of name Theresa?
This website serves as the extended english names list which will help in naming your child.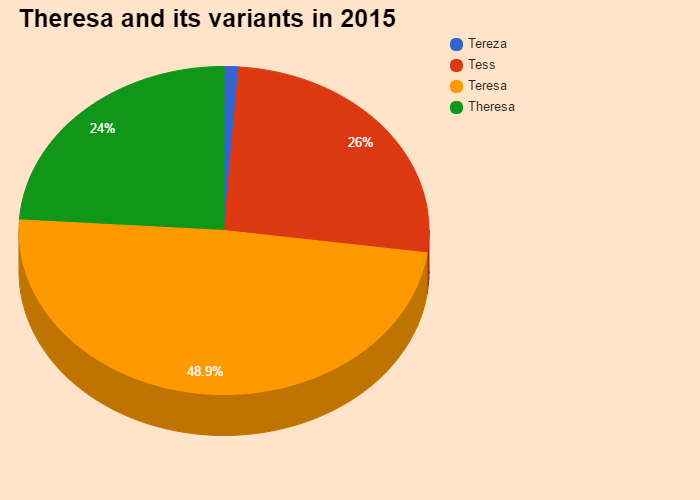 Share your opinion on Theresa