Name: Aaradhya
No. of characters: 8
Gender: Girl
Origin of Aaradhya:
Unknown
How to pronounce Aaradhya
aa-rad-hya, aar-adh-ya ,
What does my name mean?
Meaning of Aaradhya:
Worshipped, Worship, Worship Goddess, Like a God, To Be Worshipped, Worthy of Devotion
Aaradhya was ranked 866 in 2018 US female names list and elevated by 1.93% from its previous ranking of 883 in 2017.
Full form of Aaradhya : Analytical Aggressive Respectable Assertive Diligent Honorable Youthful Adventuresome
Aaradhya is very very rare girl name with few occurences i.e., 2012, 2013, 2014, during the decade which is a rare name since 2012 and ranked 1628 in 2014. Only 48 people have Aaradhya as their first name. Aaradhya name has an inconcistent distribution.
Aaradhya is not a native United States and Aaradhya may be came from another language or is a short form of some other name. 0.000085% of people in US have this given name.
Complete history of Aaradhya
Year
Rank
Occurence
General girl name in
2012
901
38
2013
844
96
2014
880
89
2015
885
81
2016
854
102
2017
883
84
2018
866
83
Looking for a name like Aaradhya? Please go through the following names: Aadhi has its origin in Sanskrit, Aadhi is variant of Aadi is a boy name. India is among the countries where the name is quite frequently used. The gender-neutral name Sina has its roots in Arabic and Greenlandic meaning "Explorer of Knowledge or Rosina" Singer Sina is noteworthy namesake. In 1880, darling name Sina reached 492nd position on baby girl chart while Girl name Chloemae that is rarefied name. Aaron Joseph and are combined to form Aaronjoseph has its roots in Hebrew, a baby boy name with similar Aar- prefix. Baby girl name Deethya and is used in Gujarati, Telugu and Tamil. It means "Goddess Lakshmi or Answer of Prayers".
Expression number of Aaradhya is 5.
Aaradhya love adventure, excitement and freedom. Aaradhya are clever, quick-witted and unusually adaptable. Aaradhya are capable of doing anything they wish for.
Names that rhyme with Aaradhya
Aadhya, Aaradhya, Adhya, Aradhya, Sandhya, Vidhya, Vindhya
Famous people named Aaradhya
Names like Aaradhya
Aaradhya Namesakes
Related Names:
Arabic: Aareaf, Aareef, Aareif, Hebrew:Aarao, Aaronas (High Mountain, Derivative of Aaron, Exalted One), English: Aaralin, Aaralinn, Aaralinne, Other: Aaradhyay (Belief, Respect), Aaradya (Worshipped), Aarayna (Queen), Aarief, Aarnina (Female form of Arni, A deriative of Arnina), Aaron James, Aaron-James,
Popularity of Aaradhya
Aaradhya is the latest addition to girl names first appeared in 2012 when 38 babies had Aaradhya as their first name, the baby name went as low as 81 in 2015. At peak in 2016, Aaradhya was given to 102 (0.005%) girls specifically in California where 15 babies were named Aaradhya. Aaradhya had a short run.
Updated on: May 29th, 2019
English Boy Names :
A
B
C
D
E
F
G
H
I
J
K
L
M
N
O
P
Q
R
S
T
U
V
W
X
Y
Z
---
English Girl Names :
A
B
C
D
E
F
G
H
I
J
K
L
M
N
O
P
Q
R
S
T
U
V
W
X
Y
Z
Get the meaning of Aaradhya and celebrities who also shares the same name and some names related to Aaradhya, english baby names list, list of names in english. Know what does Aaradhya mean?
This website serves as the extended english names list which will help in naming your child.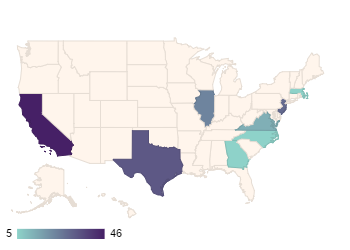 Share your opinion on Aaradhya