Name: Abraham
No. of characters: 7
Gender: Boy
Origin of Abraham:
Hebrew

English

Spanish

French

Dutch

German

Biblical

Biblical Latin


How to pronounce Abraham a-bra-ham What does my name mean? Meaning of Abraham:

Father Of Many, Faultless, Father of a Multitude and Many Nations, Hebrew origin, meaning: father of the amount (originally Abram, merciful Father). In the Bible of God in Abraham changed. Particularly common in the United States, rare in Germany. Namesakes: Abraham Lincoln, American president.

Abraham was ranked 168 in 2015 US male names list and elevated by 5.62% from its previous ranking of 178 in 2014. Abraham was ranked 963 in 2015 list of US girls name and dropped by 1.58% from its previous ranking of 948 in 2014. Comes from the Hebrew "Ab 'raam" Means "Father of Nations" If party on 20 December.. From robust nature, morally and physically, sure of themselves,Abrahambreathe health and reassured by the powerAbrahamexude. Adventurers, dynamic,Abrahamdo not take up, love to travel and the unexpected. Their adaptability is great. Authoritarian, with a sense of command,Abrahamare leaders of men.

Full form of Abraham : Accurate Balanced Realist Aggressive Happy Affectionate Mathematical

Abraham is a very consistent name over the past 18 years.

Abraham is a very very popular first name for a boy in United States which is popular since 1912 and ranked 168 (0.061156% bearer) in 2015 in US. Around 83921 people wear Abraham as their first name. Abraham is a rare first name for a girl in United States which is a rare name since 1971 and ranked 168 (0.061156% bearer) in 2015 in US. Only 83921 people have Abraham as their first name. Abraham is not a native United States and Abraham may be came from another language or is a short form of some other name. 0.023476% of people in US have this given name.

Complete history of Abraham
Year
Rank
Occurence
Popular boy name in
1912
123
533
1913
138
551
1914
138
700
1915
151
790
1916
155
753
1917
166
731
1918
168
757
History of Abraham

Abraham lived about 20 centuries before Christ. It was a pagan and became a believer in one God. To reward his faith, God gave him a son Isaac. But to put it to the test, he asked him to sacrifice the beloved son. Abraham obeyed, but God stopped his arm. Patriarch of the Jewish people and ancestor of Christ, by his faithfulness to the Lord, Abraham is the father of all believers.
Expression number of Abraham is 8.
Abraham has the potential to attain power and authority in their life. Abraham are skilled and efficient who enjoys rivalries and Abraham does not back away from working hard to achieve what they have resolved in their mind
Names that rhyme with Abraham
Avraham, Braham, Caddaham, Graham, Habraham, Ibraham, Ingraham, Maham, Saham
Famous people named Abraham
Nancy Abraham in Paradise Lost 3: Purgatory as Producer
Lauren Abrahams in The Steaks as Actress
Nancy Abrahams in Top Secret! as Actress
Carla Abrahamsen in Hip Hip Hora! as Actress
Jesselyn Abrahamse in Death Race: Inferno as Actress
Lauren Abraham in Burton US Open 2007 Snowboarding Championships as
Faith S. Abrahams in Real Me as Actress
Susie Abraham in Emily as Actress
Hilda Abrahamz in Azul y no tan rosa as Actress
Abraham 'Buli' Yehoshua is an Israeli writer who, in addition to the novel, cultivates story, drama and essay.
Abraham B. Yehoshúa A. B. Yehoshua or Abraham 'Buli' Yehoshua is an Israeli writer who, in addition to the novel, cultivates story, drama and essay.
Abraham Alvarez in TV series The Adventures of Brisco County Jr. as Actor
Names like Abraham
Abraham Namesakes
Related Names:
Biblical: Ham, Avraham (Wild Boar, Born in April, Boar-warrior), Arabic: Ibrahim, Hebrew:Abran (A Wend, Wanderer), Abram, Abe, Abrahamo, Abrami, Abrao, Abriann, Abrieana, Abrienna, Abriéa, Abrionée, Abrionne, English: Bram, Abrienda, French: Abrail, Abreale, Abriale, Greenlandic: Abrahammi (Greenlandic younger spelling of Abraháme), Other: Rahm (Deserving, Little Famous One), Brahm, Ab, Abrams (Another form of Abraham in language), Aberham, Abhiram (Lovely, Pleasing, Handsome), Abrahem (Father, God, Arjuna's Son), Abra, Abrahamina (Female form of Abraham), Abrahamine (Variant form of Abrahamina),
Posts having Abraham:
Comments :
Abraham is originally Abram, Hebrew אַבְרָם , Avram, meaning "the father is exalted" or "he is exalted in relation to his father." The God of Israel will change the name to Abraham, which in Gen 17.5 EU is interpreted as "father of a multitude of nations." This is not a literal translation, but a folk etymology. The new name serves as the biblical narrative as an indication of the beginning of God's covenant with the Israelites. "Abraham" was privileged to accurately distinguish the Hebrew patriarch with multiple "Abram". Some scholars have tried to Abraham in connection with a tribe "R (w) hm" mentioned in an Egyptian stele of Seti I dating from 1289 BC. BC and discovered in Beit She'an.
- Allegra Linhart
Popularity of Abraham
Other variants of Abraham :
Ebrahim

Ibraheem

Ibrahim

Abraam
Avraham
Ibro
Ibragim

Aabraham
Aapo
Abram
Abramo
Braam

Abraão
İbrahim

Ibrahima
English Boy Names :
A
B
C
D
E
F
G
H
I
J
K
L
M
N
O
P
Q
R
S
T
U
V
W
X
Y
Z
---
English Girl Names :
A
B
C
D
E
F
G
H
I
J
K
L
M
N
O
P
Q
R
S
T
U
V
W
X
Y
Z
Get the meaning of Abraham and celebrities who also shares the same name and some names related to Abraham, english baby names list, list of names in english. Know what does Abraham mean?
This website serves as the extended english names list which will help in naming your child.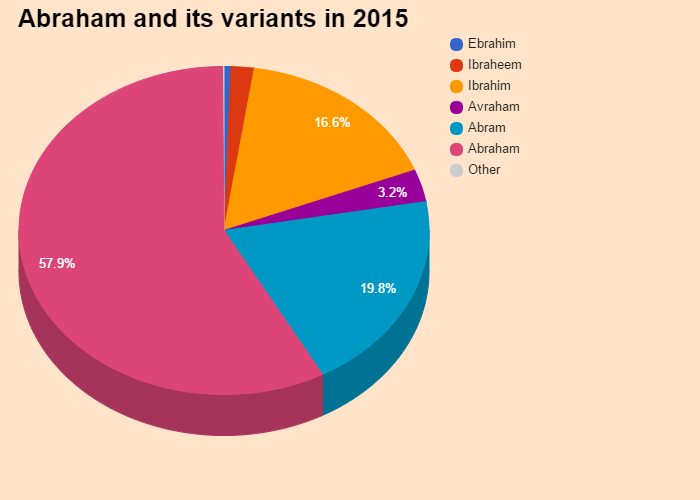 Share your opinion on Abraham