Name: Ana
No. of characters: 3
Gender: Girl
Origin of Ana:
Spanish

Portuguese

Slovene

Bulgarian

Romanian

Croatian

Serbian

Macedonian

Georgian

Hebrew


Religion: Hindu Muslim How to pronounce Ana a-na What does my name mean? Meaning of Ana:

Form of Anna, Gracious, God's Favour, Resurrection, Playful, Wanted, Favoured, Beautiful, Grace, Strong, Clever, Full of Pride, Bright, He (God) Was Gracio

Ana was ranked 895 in 2009 US male names list and elevated by 1.10% from its previous ranking of 905 in 2008. Ana was ranked 208 in 2015 US female names list and elevated by 5.88% from its previous ranking of 221 in 2014. First name derived from Anne. Comes from the Hebrew "hannah" means "graceful" If party July 26.. Intelligent, extremely intuitive,Anajudge people a first glance and rarely wrong. Passionate, dynamic, voluntary, refusing mediocrity,Anaare somewhat authoritarian and possessive. Ana do not lack heart qualities, devoting themselves lavishly. Their charm and kindness facilitate their success.

Full form of Ana : Adventuresome Nonchalant Authentic

Ana is a very consistent name over the past 18 years.

Ana is a very very popular first name for a girl in United States which is popular since 1953 and ranked 208 (0.038718% bearer) in 2015 in US. Around 97988 people wear Ana as their first name. Ana is a rare first name for a boy in United States which is a rare name since 1880 and ranked 208 (0.038718% bearer) in 2015 in US. Only 97988 people have Ana as their first name. Ana is not a native United States and Ana may be came from another language or is a short form of some other name. 0.027411% of people in US have this given name.

Complete history of Ana
Year
Rank
Occurence
Popular girl name in
1953
432
324
1954
419
387
1955
416
387
1956
397
467
1957
401
475
1958
368
541
1959
371
577
Expression number of Ana is 7.
Ana likes to research and reason to know the answers of hidden questions as Ana are gifted with an analytical mind. Ana are always on the quest for knowledge and wisdom and loves being alone.
Names that rhyme with Ana
Aahana, Aaiyana, Aalana, Aaliana, Aaliyana, Aana, Aaradhana, Aariana, Aariyana, Aaryana, Aashana, Aashiyana, Aayana, Abreana, Abriana, Abriyana, Abryana, Adana, Addriana, Adeana
Famous people named Ana
Mariana Lima in Kenoma as Actress
Dalana Bissonnette in Sexual Insanity as Actress
Ranjana Sachdev in Aanchal as Actress
Anat Zahor in America 3000 as Actress
Diana Colton in Fucking Around in NYC as Actress
Liana Montoro in Episode #1.1 as Actress
Karanai Ravenscroft in Christmas in Conway as Actress
Premstar Santana in In-World War as Actress
Delia Tatiana in The Good Samaritan as Actress
Manal Khader in Yadon ilaheyya as Actress
Ana Tereza Basilio Ana Tereza Palhares Basílio is a Brazilian judge and lawyer.
Ana Belén is noted for her acting in TV series Fortunata y Jacinta
Names like Ana
Ana Namesakes
Related Names:
Biblical: Anna, Hebrew:Anita, English: Luana, German: Aldana, Other: Analia (Portuguese), Anelina , Anelida , Ancarla , Anarosa (Noble, Of the Nobility, Protector), Analisa (Mother, God-like), Analilia, Analaura (Industrious Leader, Brave, Home Ruler), Anakaren, Anaclara, Ana Beatriz (Portuguese) , Ana Carmen (Spanish) , Ana Carolina (Portuguese) , Ana Clara (Portuguese) , Ana Isabel (Spanish) , Ana Júlia (Portuguese) , Ana Karen (Spanish) , Ana Laura (Portuguese) , Ana Lívia (Portuguese) , Ana Luísa (Portuguese) , Ana Luiza (Portuguese) , Ana María (Spanish) , Ana Paola (Spanish) , Ana Paula (Spanish) , Ana Sofia (Spanish) , Ana Sofía (Spanish)
Comments :
Ana is a name feminine in Spanish, its male equivalent is anali or Ananias. This name comes from the Hebrew חנה (with Spanish or Sephardic transliteration, Jana ), which means "charitable, compassionate, full of grace". Some names with similar meaning are Abderrahmane, Mercy Mercedes, Pantaléemon. Christian tradition knows the mother of the Virgin Mary by the name of Ana, but as such reference first appears in the Gospel of James, apocryphal gospel of the mid- second century.
Variants of the name are Anastasia, Arabela, Anabella, Anita, Alfari, Anituski Anais, Anika, Aniuska, Anuska, Anulia, Hanna, Hannah, Nancy, Aina, Anna, Anitin, aniux.
- Nakisha Wallin
Popularity of Ana
Other variants of Ana :
Quanna
Ane
Anne

Anna








Hanna




Hannah

Channah

Annick
Aina

Anaïs


Hana
Aneta
Anika
Anita


Anja

Annette

Hanne

Annelien
Anika
Anke
Anneke
Annet
Annika
Anouk
Ans
Antje
Anissa
Ann
Anneka
Annie
Keanna
Nan
Nancy
Nanette
Nannie
Nanny
Nettie
Nita
Anu
Anneli
Anni
Anniina
Annikki
Annukka
Hannele
Niina
Ninon
Anina
Annett
Chanah

Anett

Anikó

Annuska

Panna

Panni

Nainsí
Annabella
Annetta
Ona
Anniken

Ania
Anka
Hania
Annushka
Anushka
Anya
Annag
Nandag
Hena
Henda
Hendel
Hene
Henye
English Boy Names :
A
B
C
D
E
F
G
H
I
J
K
L
M
N
O
P
Q
R
S
T
U
V
W
X
Y
Z
---
English Girl Names :
A
B
C
D
E
F
G
H
I
J
K
L
M
N
O
P
Q
R
S
T
U
V
W
X
Y
Z
Get the meaning of Ana and celebrities who also shares the same name and some names related to Ana, english baby names list, list of names in english. Know what does Ana mean?
This website serves as the extended english names list which will help in naming your child.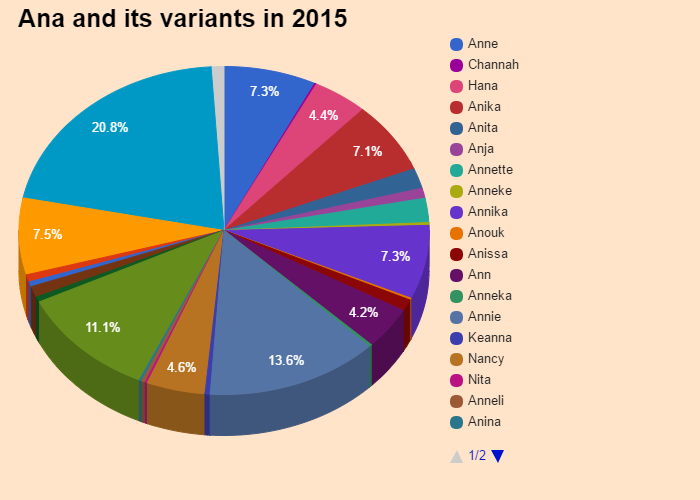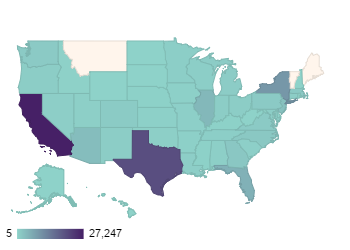 Share your opinion on Ana