Name: Anissa
No. of characters: 6
Gender: Girl
Origin of Anissa:
English

Arabic


Religion: Hindu Muslim How to pronounce Anissa a-ni-ssa What does my name mean? Meaning of Anissa:

Pure, Variant of Anne or Agnes, Grace, Night-less

Anissa was ranked 666 and came to ranking only once in list of US male names in 1971. Anissa was ranked 885 in 2015 list of US girls name and dropped by 1.84% from its previous ranking of 869 in 2014. First name Agnes derivative. Comes from the Greek "Agné" Means: "Pure" If party on January 21.. Anissa are coléreuses and authoritarian. Otherwise, these are whole women, full of sensitivity and emotionality. Their sense of justice makes aigï¼ude combative. Sociable, friendly, very active,Anissatend to disperse. In love,Anissaseduce with discretion, but it is effective.

Full form of Anissa : Analytical Nationalistic Inquisitive Soft-Hearted Serious Aggressive

Anissa is a rare first name for a girl in England & Wales which is a rare name since 1996 and ranked 4684 in 2014. Only 169 people have Anissa as their first name. Anissa is a very consistent name over the past 18 years.

Anissa is a very very popular first name for a girl in United States which is popular since 1968 and ranked 885 (0.002120% bearer) in 2015 in US. Around 11661 people wear Anissa as their first name. Anissa is a rare first name for a boy in United States which is a rare name since 1966 and ranked 885 (0.002120% bearer) in 2015 in US. Only 11661 people have Anissa as their first name. Anissa is not a native United States and Anissa may be came from another language or is a short form of some other name. 0.003262% of people in US have this given name.

Complete history of Anissa
Year
Rank
Occurence
Popular girl name in
1968
387
503
1969
352
607
1970
367
603
1971
321
724
1972
387
459
1993
386
601
1994
412
563
Expression number of Anissa is 9.
Anissa are idealistic who embrace the principles of compassion and forgiveness. Anissa are visionary who is wiling to make a better world and have the ability to influence masses. Anissa are also creative and imaginative that gives them an artistic talent.
Names that rhyme with Anissa
Abbatissa, Ahelissa, Aissa, Alissa, Allissa, Alyissa, Amarissa, Amerissa, Amissa, Anaissa, Analissa, Aneissa, Angelissa, Annalissa, Annissa, Arissa, Arlissa, Arnissa, Arrissa
Famous people named Anissa
Anissa Davis in The Hollow One as Actress
Anissa Williams in Gang Tapes as Casting Director
Anissa Matlock in No Sanctuary as Actress
Anissa Holmes in 4Ever as Actress
Anissa Kate in In Bed with Katsuni as Actress
Anissa Borrego in In Search of an Eating Disorder as Actress
Anissa Jones in The Trouble with Girls as Actress
Anissa Adgharouamane in tvMovie Petite soeur as Actress
Names like Anissa
Anissa Namesakes
Related Names:
Arabic: Aanisah (Young Lady, Maiden), Anithah, Hebrew:Ann, Anichka, Anicuta, Anikee, Aninah, English: Anise (Gracious), Indian: Aniswara , German: Anico, Other: Anyssa (Pure, Variant of Anne or Agnes), Nyssa (), Anissah, Anisse (Noble Friend, Who has Friends, No Enemies), Anissia, Anistasia, Anisten, Anistin, Aniston, Anisty, Anistyn (Noble Friend, Who has Friends, No Enemies), Anistynn (Noble Friend, Wind, Air), Anishvar (Naastik), Aniswar, Anishkaa, Aniskha (Young lady, Maiden (1)), Anismita , Anitha Devi (Regarded), Anielo
Posts having Anissa:
Comments :
I have always received compliments about my name. My grandmother named me. I read all you had regarding my name, and it actually describes me quite perfectly. I am extremely forgiving, empathic, full of love and life for everyone, look for the good in any situation, try and teach patience, love and spirituality. I care for every soul and believe I have a purpose on this earth to try and bring light to those who are lost. I have given of myself; to the point of actually having nothing left and still believe I am here to help others. Great job describing my name. Only addition - I was always told by my lebanese relatives - my name meant temple/love/Godly. However, reading the totality of the description; seems all those traits are listed. My name is pronounced ah-ness-ah; growing up, there was never anyone with my name. Only in the past 15 years have I seen or heard of others called Anissa (but they pronounce it ah-niss-ah). I still have originality!!

- Anissa Makris
Anissa is a female first name. Anissa is influenced by the French orthography writing variant of Arab first name Anisa ( arabic أنيسة). Takes up an Arabic word which means "friend", "friendly", "friendly", "sociable" ; is so similar, meaningfully, with other names such as Friend, Buddy.
Variants of the name : أنيسة ( Anisa , Anis ), Enes, Enis, Enisa.
- Catalina Shibata
Popularity of Anissa
Other variants of Anissa :
Quanna
Ane
Anne

Anna








Hanna




Hannah

Channah

Annick
Ana


Anka

Aina

Anaïs


Hana

Anica

Anita



Jana

Nensi

Aneta
Anika
Annette

Hanne

Annelien
Anika
Anke
Anneke
Annet
Annika
Anouk
Ans
Antje
Anu
Anneli
Anni
Anniina
Annikki
Annukka
Hannele
Niina
Ninon
Anina
Annett
Chanah

Anett

Anikó

Annuska

Panna

Panni

Nainsí
Annabella
Annetta
Ona
Anniken

Hania
Anabela
Anca
Ania
Annushka
Anya
Annag
Nandag
Anabel
Hena
Henda
Hene
Henye
English Boy Names :
A
B
C
D
E
F
G
H
I
J
K
L
M
N
O
P
Q
R
S
T
U
V
W
X
Y
Z
---
English Girl Names :
A
B
C
D
E
F
G
H
I
J
K
L
M
N
O
P
Q
R
S
T
U
V
W
X
Y
Z
Get the meaning of Anissa and celebrities who also shares the same name and some names related to Anissa, english baby names list, list of names in english. Know what does Anissa mean?
This website serves as the extended english names list which will help in naming your child.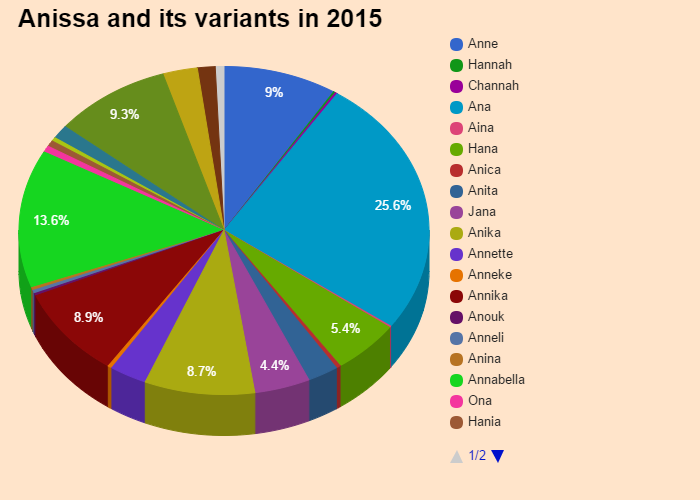 Share your opinion on Anissa