Name: Anna
No. of characters: 4
Gender: Girl
Origin of Anna:
English

Italian

German

Dutch

Swedish

Norwegian

Danish

Finnish

Estonian

Latvian

Greek

Hungarian

Polish

Russian

Ukrainian

Belarusian

Czech

Slovak

Bulgarian

Icelandic

Catalan

Occitan

Breton

Biblical

Old Church Slavic

Biblical Latin

Biblical Greek

Hebrew

Japanese


How to pronounce Anna a-nna What does my name mean? Meaning of Anna:

Name of a King, Food, Grain, Earth and Water, God is Gracious, God has Shown Favour, Angel, Elder Brother, Grace, Full of Grace, God has Favoured Me, Mother, Favour and Grace, Eagle

Anna was ranked 926 in 2015 list of US boys name and dropped by 3.12% from its previous ranking of 898 in 2013. Anna was ranked 44 in 2015 list of US girls name and dropped by 29.41% from its previous ranking of 34 in 2014. First name derived from Anne. Comes from the Hebrew "hannah" means "graceful" If party July 26.. Intelligent, extremely intuitive,Annajudge people a first glance and rarely wrong. Passionate, dynamic, voluntary, refusing mediocrity,Annaare somewhat authoritarian and possessive. Anna do not lack heart qualities, devoting themselves lavishly. Their charm and kindness facilitate their success.

Full form of Anna : Agreeable Normal Nonchalant Adventuresome

Anna is a very very popular first name for a girl in England & Wales which is popular since 1996 and ranked 70 in 2014. Around 21845 people wear Anna as their first name. Anna is a very consistent name over the past 18 years.

Anna is a very very popular first name for a girl in United States which is popular since 1880 and ranked 926 (0.000126% bearer) in 2015 in US. Around 881714 people wear Anna as their first name. Anna is a rare first name for a boy in United States which is a rare name since 1880 and ranked 926 (0.000126% bearer) in 2015 in US. Only 881714 people have Anna as their first name. Anna is not a native United States and Anna may be came from another language or is a short form of some other name. 0.246645% of people in US have this given name.

Complete history of Anna
Year
Rank
Occurence
Popular girl name in
1880
2
2604
1881
2
2698
1882
2
3143
1883
2
3306
1884
2
3860
1885
2
3994
1886
2
4283
Expression number of Anna is 3.
Anna are lively, imaginative, enthusiastic and optimistic. Anna are expressive and inspire others wherever they go. Anna possess great verbal skills which make them good comedian, artist or writer.
Names that rhyme with Anna
Aarianna, Aarionna, Aariyanna, Aariyonna, Aaryanna, Aayanna, Abianna, Abreanna, Abreonna, Abrianna, Abrionna, Abryanna, Adanna, Addrianna, Adeanna, Adianna, Adonna, Adreanna, Adreonna, Adrianna
Famous people named Anna
Anna Fang in Si da ming bu as Actress
Anna von Berg in Little Miss Perfect as Actress
Anna Key in La vedova della Camorra as Actress
Anna Nehrebecka in Ziemia obiecana as Actress
Anna Kamiyama in Xue Call ji as Actress
Anna Raj in Cheaters as Actress
Deanna Reed Foster in Roll Bounce as Actress
Anna Healy in Inside I'm Dancing as Actress
Savannah Mai in Episode dated 10 November 2013 as
Anna-Sigga Nicolazzi in A Lamb Amongst Wolves as
Anna Akana Anna Kay Akana is a producer, actress, and American comedian.
Anna Nicole Smith in movie Illegal Aliens as Actress
Names like Anna
Anna Namesakes
Related Names:
Biblical: Channah, Finnish: Aina, Marianne, Danish: Annette, Old Norse: Nanna, Hebrew:Annika, Annie, Nancy, Anika, Anita, Ona (He (God) Was Gracious), Anechka, Anais (Grace, Favour, Pure), Ann, Anne, African: Quanna, Quiana, English: Anona (Grace, Grain Harvest), Nan, Aniya, Aniyah, Annabella, Keanna (Pure, Keeper of the Keys), Marianna, Saranna (Compound of Sarah, Princess), Annabeth, Aubriana, Audriana (Strong, Rich, Nobility), German: Annaliese (Mother, God-like), Annalena (Mother, God-like), Annamaria, Annalise, French: Anouk (Grace, Favour, Apricot from Nara, Grain), Other: Anya (Russian), Anyssa (Pure, Variant of Anne or Agnes), Nina (Italian), Nita (Moral, Grace, Bear), Nani (Hawaiian), Ayn (), Anitra, Rosanna (Italian) (Graceful Rose), Kayanna (Keeper of the Keys, Pure), Pollyanna (Literature), Veanna, Jillanna, Jewelana , Jayanna, Annasophia, Ayana (Ethiopian) (Ethiopian, Beautiful Blossom), Breeanna (Bright Fame, Strange, Foreign), Jaquana, Verdianna
Posts having Anna:
Comments :
Anna is a female first name. The name comes from the Hebrew name Hannah meaning "grace", "Grace", "the beauty". It can, however, also as a feminine form of the old German masculine name Anno be interpreted or with the Celtic name of the goddess Anu communicate. Anna is in Roman mythology, the sister of Queen Dido. In Ovid it is with the Roman goddess Anna Perenna identified. After the Catholic and Orthodox tradition is "Anna" (Hebrew Hannah ) the name of the grandmother of Jesus Christ , Mother Mary and wife Joachim (Hebrew Jehoiakim ).
Name day is for the original Hebrew form of the 26th July . For the Swedish variant Annika is now the 21st April ; 1986-1992 it was the seventh August .
Variants of Anna: Änne, Aenne, Ana , Anaïs ( Provencal and Catalan ), Ani ( Armenian , Georgian and Bulgarian ), Anikó ( Hungarian ), Anita , Anja , Anke , Ann ( English , even Anne written), Anne , Annette (also Anette or Annett ), Annika (Scandinavian), Annabel (la) (catalan, Italian) and Annabelle (French), Anneke ( Dutch ), Anete ( Latvian ), Anni ( finnish ), Annie , Annina, Anny , Anouk , Antje , Anu , Anka ( Polish ), Anushka ( russian ), Hanka, Hanna , Hannah , Nancy.
In the decade before 1900 to around 1905 Anna was one of the most awarded female names and was often ranked one of the frequency statistics. The popularity of the name dropped in the following years to a medium level. Since 1970 is again observed a clear upward trend. In the nineties and the new millennium, the name was already several times to return to the top position of the most popular names. In Iceland , the name is very popular, 2012, he was the second most common name .
- Farrah Cocklin
Popularity of Anna
Other variants of Anna :
Quanna
Ane
Anne
Channah

Ana


Hana

Anica

Anita

Anja

Anka

Ankica

Jana

Nensi

Hannah

Anaïs
Annette
Anouk
Ninon
Chanah

Nainsí
Ona
Anabela
Anca
Annag
Nandag
Anika
Anabel
Hena
Henda
Hendel
Hene
Henye
English Boy Names :
A
B
C
D
E
F
G
H
I
J
K
L
M
N
O
P
Q
R
S
T
U
V
W
X
Y
Z
---
English Girl Names :
A
B
C
D
E
F
G
H
I
J
K
L
M
N
O
P
Q
R
S
T
U
V
W
X
Y
Z
Get the meaning of Anna and celebrities who also shares the same name and some names related to Anna, english baby names list, list of names in english. Know what does Anna mean?
This website serves as the extended english names list which will help in naming your child.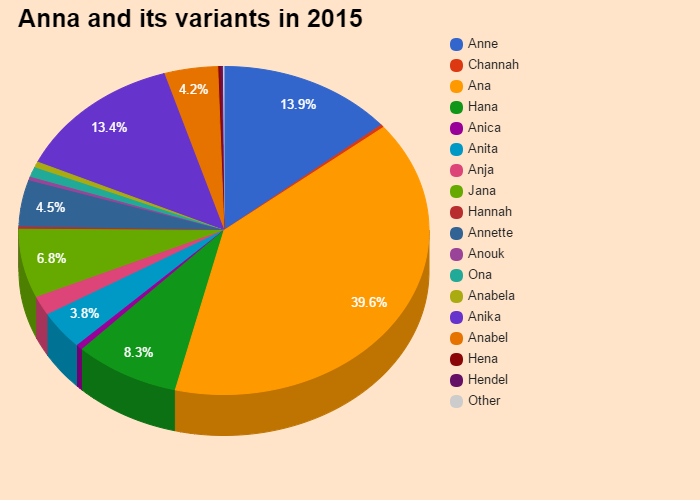 Share your opinion on Anna