Name: Anni
No. of characters: 4
Gender: Girl
Origin of Anni:
Hebrew

Finnish


Religion: Hindu How to pronounce Anni an-ni, ann-i , What does my name mean? Meaning of Anni:

God is Gracious, Variant of Hebrew Hannah, Favor, Grace, God has Shown Favour, Ornament

Anni was ranked 963 in 2015 list of US girls name and dropped by 2.23% from its previous ranking of 942 in 2014.

Full form of Anni : Aggressive Nonconforming Normal Inexperienced

Anni is a rare first name for a girl in England & Wales which is a rare name since 1998 and ranked 2862 in 2014. Only 105 people have Anni as their first name.

Anni is a rare first name for a girl in United States which is a rare name since 1932 and ranked 963 (0.000151% bearer) in 2015 in US. Only 483 people have Anni as their first name. Anni is not a native United States and Anni may be came from another language or is a short form of some other name. 0.000135% of people in US have this given name.

Complete history of Anni
Year
Rank
Occurence
Rare girl name in
1932
577
5
1943
629
5
1949
677
5
1954
733
5
1955
724
6
1958
753
6
1960
779
7
Expression number of Anni is 2.
Anni are diplomatic, sensitive and kind. Anni act as peacemaker and their intent is to make a balance among things. Anni likes to make friends and follow their intuition.
Names that rhyme with Anni
Akanni, Alanni, Alonni, Amanni, Amonni, Arianni, Armanni, Armonni, Aryanni, Ashanni, Avanni, Avonni, Ayanni, Benni, Bethanni, Bonni, Brianni, Brionni, Britanni
Famous people named Anni
Annie Gosney in Oklahoma! as Production Manager
Annie Spitz in 50/50 as Production Designer
Annie Wilson in Towing as Art Department
Annika P. Smith in Inferno as Actress
Annie Anderson in Le bossu as Actress
Yvonne Banning in The Secret Force as Actress
Janet Annino in Episode #1.136 as Producer
Ashley Gianni in Moving Millie as Actress
Jeannie Bolet in Heart of the Dragon as Actress
Jeannie Long in How to Lose a Guy in 10 Days as Writer
Anni B Sweet is the artistic name of Ana López, is a Spanish singer-songwriter.
Actor Anni Aitto, famous for movie Synnin puumerkki
Names like Anni
Anni Namesakes
Related Names:
Biblical: Anna, Hebrew:Annie, Annica, Annick, English: Annabella, Annice, Other: Annia, Anniah, Annias (Heavenly Messenger, Angel, Messenger from God), Annibal , Annibale (Phoenician), Annibell (Variant form of Annabella), Annibella (One who Answers, Humble), Annibelle (Mother, God-like, Pretty), Annibeth (Variant form of Annebeth), Anniborg (Variant form of Anneborg), Annibritt (Variant form of Annbritt), Annicha (Creative spelling of Annika), Annicho (Old High German variant spelling of Anicho), Annicia, Annicka, Annicke (Creative spelling of Annike), Annicken (Variant form of Annike), Annicki (Swedish spelling of Annikki), Anniebell, Anniebelle, Annie-Catherine , Anniece, Annie-Claire , Annie-Claude , Annie-France
Popularity of Anni
The classic girl name remained continuously rare, the baby name went as low as 5 in 1943 after first appearing in 1932 when 5 babies had Anni as their first name. At peak in 2001, Anni was given to 20 girls after continuous rising. Anni had a 85 years long run and 10 instances of disappearance.
Other variants of Anni :
Quanna
Ane
Anne

Anna








Hanna




Hannah

Channah

Annick
Ana


Anka

Aina

Anaïs


Hana

Anica

Anita



Jana

Nensi

Aneta
Anika
Annette

Hanne

Annelien
Anika
Anke
Anneke
Annet
Annika
Anouk
Ans
Antje
Anissa
Ann
Anneka
Annie
Keanna
Nan
Nancy
Nanette
Nannie
Nanny
Nettie
Nita
Anu
Ninon
Anina
Annett
Chanah

Anett

Anikó

Annuska

Panna

Panni

Nainsí
Annabella
Annetta
Ona
Anniken

Hania
Anabela
Anca
Ania
Annushka
Anya
Annag
Nandag
Anabel
Hena
Henda
Hene
Henye
English Boy Names :
A
B
C
D
E
F
G
H
I
J
K
L
M
N
O
P
Q
R
S
T
U
V
W
X
Y
Z
---
English Girl Names :
A
B
C
D
E
F
G
H
I
J
K
L
M
N
O
P
Q
R
S
T
U
V
W
X
Y
Z
Get the meaning of Anni and celebrities who also shares the same name and some names related to Anni, english baby names list, list of names in english. Know what does Anni mean?
This website serves as the extended english names list which will help in naming your child.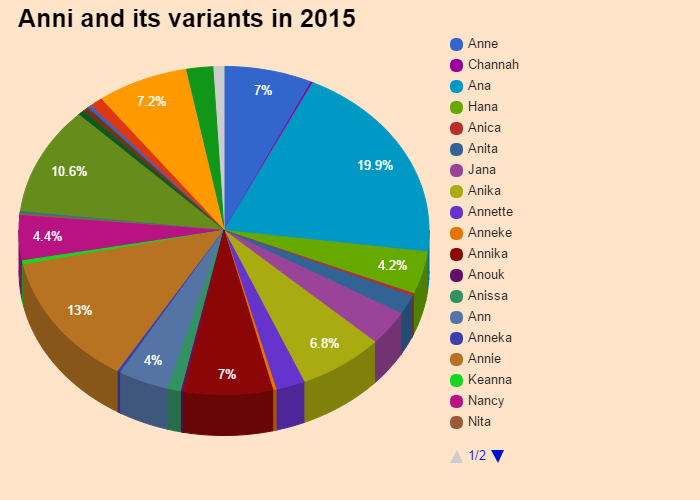 Share your opinion on Anni