Name: Annika
No. of characters: 6
Gender: Girl
Origin of Annika:
Hebrew

Swedish

Dutch

Finnish

German

English (Modern)


Religion: Hindu How to pronounce Annika a-nni-ka What does my name mean? Meaning of Annika:

Grace, Sweet Faced, Different, God is Gracious, God has Shown Favour, Goddess Durga

Annika was ranked 496 in 2015 US female names list and elevated by 1.20% from its previous ranking of 502 in 2014.

Full form of Annika : Accepting Naive Nurturing Idealistic Kind Able

Annika is a rare first name for a girl in England & Wales which is a rare name since 1996 and ranked 842 in 2014. Only 586 people have Annika as their first name. Annika is a very consistent name over the past 18 years.

Annika is a very very popular first name for a girl in United States which is popular since 1996 and ranked 496 (0.013529% bearer) in 2015 in US. Around 16189 people wear Annika as their first name. Annika is a rare first name for a girl in United States which is a rare name since 1961 and ranked 496 (0.013529% bearer) in 2015 in US. Only 16189 people have Annika as their first name. Annika is not a native United States and Annika may be came from another language or is a short form of some other name. 0.004529% of people in US have this given name.

Complete history of Annika
Year
Rank
Occurence
Popular girl name in
1996
554
334
1997
443
501
1998
433
544
1999
427
558
2000
411
634
2001
342
821
2002
328
858
Expression number of Annika is 5.
Annika love adventure, excitement and freedom. Annika are clever, quick-witted and unusually adaptable. Annika are capable of doing anything they wish for.
Names that rhyme with Annika
Aanika, Ahnika, Andrenika, Anika, Antanika, Antonika, Arnika, Aunika, Aunnika, Benika, Brenika, Chanika, Charnika, Chenika, Chinika, Danika, Dannika, Darnika, Dawnika
Famous people named Annika
Annika P. Smith in Inferno as Actress
Annika Bullus in Bullet to Beijing as Actress
Dannika Liddell in Accidentally in Love as Actress
Annika Horne in The Hornet's Nest as Soundtrack
Annika Line Trost in Der Ärgermacher as Actress
Annika Adams in Big Dick Gloryholes 4 as Actress
Annika Álofti in Mist as Actress
Annika Murjahn in The Brothers Grimm as Actress
Annika Kuhl in Herr Lehmann as Actress
Annika Hays in Nothing More to Say as Production Manager
Annika Andersson is a Swedish athlete who competed in canoeing in the form of calm water, winner of a bronze medal in the European Championship of Pirago, 2007, in the test of K2 1000 m.
Actor Annika Peterson, notable for movie Moment in Time
Names like Annika
Annika Namesakes
Related Names:
Biblical: Anna, Hebrew:Ann, Annie, Anika, Anneka (Noble Friend, He (God) Was Gracious), Annike (Variant form of Anneke, He (God) Was Gracious), Anniken (He (God) Was Gracious), Annikki (He (God) Was Gracious), Annina, Annine (Variant form of Anine, He (God) Was Gracious), English: Annis (Heavenly Messenger, Angel, Messenger from God), Indian: Anniru , Anniruddha (Son of Pradyummna), Other: Annikah, Anniki (Variant spelling of Annikki), Annikka, Annikke (Creative spelling of Annike), Annikken (Variant spelling of Annicken), Annil, Annilee, Annili (Variant form of Anneli), Annilie (Variant spelling of Annili), Annilis (Variant form of Annelis), Annille (Variant form of Annhild), Annily (Mother, God-like, Pretty), Annilyn, Annimor (Variant form of Annemor), Anniqa (Creative spelling of Annika), Anniqua, Annique, Annisa (Noble, Of the Nobility, Friendly)
Comments :
Annika is a female first name. The name is a Scandinavian diminutive of the name Anna ( Hebrew for "the favored one"). The name Annika won early seventies rapidly in popularity in Germany after it was virtually unknown before. The reason for this could be the Pippi Longstocking films to be which have appeared at this time and in which a main character's Annika. From the early eighties until the turn of the millennium, the name was among the twenty most awarded female names, in the nineties, even often among the "Top Ten". Since then, its popularity has waned somewhat.
Versions of the name are Anica, Annicka, Anik, Anika, Anike, Annica, Annik, Annike, Annikka, Annikki.
- Priscila Reiman
Popularity of Annika
The girl name first appeared in 1961 when 6 babies had Annika as their first name, the baby name went as low as 6 in 1962. At peak, Annika was given to 1089 (0.058%) girls in 2003 specifically in California where 187 babies were named Annika after continuous rising. After it's 56 long run and having an instance of disappearance, Annika is on a fall in the chart.
Other variants of Annika :
Quanna
Ane
Anne

Anna








Hanna




Hannah

Channah

Annick
Ana


Anka

Aina

Anaïs


Hana

Anica

Anita



Jana

Nensi

Aneta
Anika
Annette

Hanne

Anu
Anouk
Ninon
Chanah

Anett

Anikó

Annuska

Panna

Panni

Nainsí
Annabella
Annetta
Ona
Anniken

Hania
Anabela
Anca
Ania
Annushka
Anya
Annag
Nandag
Anabel
Hena
Henda
Hene
Henye
English Boy Names :
A
B
C
D
E
F
G
H
I
J
K
L
M
N
O
P
Q
R
S
T
U
V
W
X
Y
Z
---
English Girl Names :
A
B
C
D
E
F
G
H
I
J
K
L
M
N
O
P
Q
R
S
T
U
V
W
X
Y
Z
Get the meaning of Annika and celebrities who also shares the same name and some names related to Annika, english baby names list, list of names in english. Know what does Annika mean?
This website serves as the extended english names list which will help in naming your child.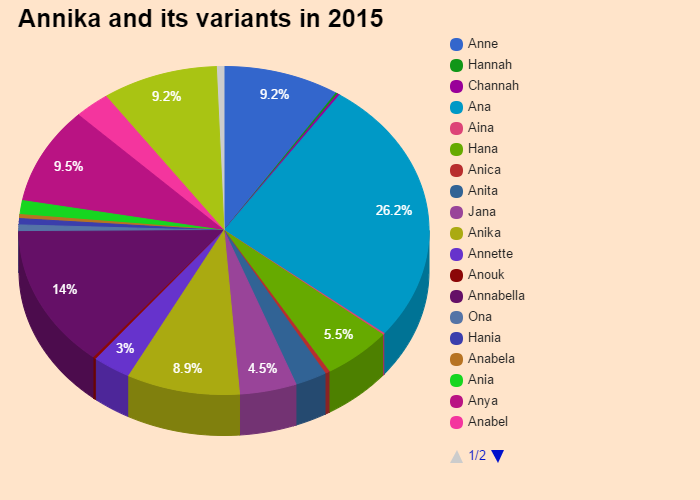 Share your opinion on Annika