Name: August
No. of characters: 6
Gender: Boy
Origin of August:
Latin

German

Polish

Swedish

Norwegian

Danish

Catalan

English


How to pronounce August au-gu-st What does my name mean? Meaning of August:

Venerable, August, Holy, Form of Augustus, Revered, Exalted, Worthy of Respect, Dignified, Month of the Sun, Summer, One of the Months in the Twele Months, Latin origin, meaning: the sublime. Used in Germany for 500 years, Since mid-20th century with declining popularity. Namesakes: August Macke, German painter.

August was ranked 192 in 2015 US male names list and elevated by 20.00% from its previous ranking of 240 in 2014. August was ranked 729 in 2015 US female names list and elevated by 0.27% from its previous ranking of 731 in 2014. Comes from the Latin "augustus" Means: "venerable" If Day February 29th.. These are fighters,Augustwant to constantly move forward, to excel. Brave, valiant, fearless,Augustare adventurers. August have a sense of authority and generosity. These are good living, full of common sense, the practical and optimistic.

Full form of August : Able Unconventional Generous Untiring Satirical Tactful

August is a rare first name for a boy in England & Wales which is a rare name since 1996 and ranked 5691 in 2014. Only 114 people have August as their first name. August is a very consistent name over the past 18 years.

August is a very very popular first name for a boy in United States which is popular since 1912 and ranked 192 (0.051969% bearer) in 2015 in US. Around 42297 people wear August as their first name. August is a rare first name for a girl in United States which is a rare name since 1914 and ranked 192 (0.051969% bearer) in 2015 in US. Only 42297 people have August as their first name. August is not a native United States and August may be came from another language or is a short form of some other name. 0.011832% of people in US have this given name.

Complete history of August
Year
Rank
Occurence
Popular boy name in
1912
163
343
1913
165
401
1914
161
533
1915
160
709
1916
171
676
1917
178
661
1918
197
618
History of August

Blessed Augustus Chapdelaine was born near Coutances in 1814. Ordained a priest, he went as a missionary to China in 1851. It converts indigenous and founded a small Christian community, but he is a victim of persecution happening in this country and undergoes martyrdom February 29, 1856.
Expression number of August is 8.
August has the potential to attain power and authority in their life. August are skilled and efficient who enjoys rivalries and August does not back away from working hard to achieve what they have resolved in their mind
Names that rhyme with August
Gust
Famous people named August
Augustina Amoa in Jump! as Actress
Holly Augustine in Episode #5.7 as Actress
Augusta Birney in Bloody Mary as Actress
Chrystèle Saint Louis Augustin in Wonderland as Actress
Ann Augustine in Ordinary as Actress
Ava Augustin in Hope/Less as Actress
Nola Augustson in Cinderella Man as Actress
August Knight in Naked Beauties Held in Bondage as Actress
Camilla Augusta Hallan in Hodejegerne as Actress
Jennifer Augustin in I'm Married to a... as
August Johann Georg Karl Batsch, was a German naturalist and recognized authority on mushrooms.
August Mariette Bey is credited as writer of movie Personal Property
Names like August
August Namesakes
Related Names:
Danish: Gustav, English: Angus, Greenlandic: Augustîna (Greenlandic form of Augustina), Other: Auggie, Augie, Agusto (Another form of August in language), Gussy, Augustino (Noble Strength, Noble), Agustine , Augusten (Noble Strength), Auguster (All-knowing, All Wise), Augustha (Creative spelling of Augusta), Augustiina (Finnish form of Augustina), Augustinas (Lithuanian) , Augustis (Noble Strength, Noble), Augusts (Latvian) , Augustyn (Polish), Augustyna (Polish (Rare)) , Augustyne,
Posts having August:
Comments :
August is the name of male origin Latin. It derives from the adjective augustus, a nickname given to Octavian by the Senate and meaning "noble, divine, majestic, sacred, holy, venerable, successful, sublime." This adjective comes from the noun augur and originally applied only to things, translating as "sanctified by the (good) predictions, the characters" or "przedsięwzięty under favorable signs". For the first time the name of August was certified in Poland in 1349 year in Latin, as Augustus. It should be noted that in English, the form August is increasingly being used with reference to the month of August.
- Jonathon Wilkins
Popularity of August
Other variants of August :
Augustus
Guus
Aukusti
Aku
Kusti
Auguste
Augusto
Augusts

Augustas
Avgust

English Boy Names :
A
B
C
D
E
F
G
H
I
J
K
L
M
N
O
P
Q
R
S
T
U
V
W
X
Y
Z
---
English Girl Names :
A
B
C
D
E
F
G
H
I
J
K
L
M
N
O
P
Q
R
S
T
U
V
W
X
Y
Z
Get the meaning of August and celebrities who also shares the same name and some names related to August, english baby names list, list of names in english. Know what does August mean?
This website serves as the extended english names list which will help in naming your child.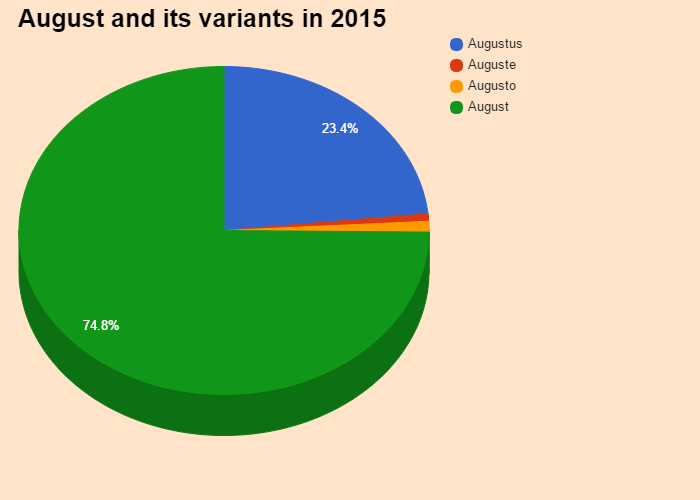 Share your opinion on August