Name: Barbara
No. of characters: 7
Gender: Girl
Origin of Barbara:
Latin

English

Italian

French

German

Polish

Hungarian

Slovene

Croatian

Late Roman


How to pronounce Barbara ba-rba-ra What does my name mean? Meaning of Barbara:

Foreign, Strange, Latin origin, meaning: the stranger. In Germany unchanged popular since the Middle Ages. Namesake: St. Barbara, patron saint of miners, and the fire department..

Barbara was ranked 768 in 1993 US male names list and elevated by 0.78% from its previous ranking of 774 in 1992. Barbara was ranked 654 in 2015 girls names list in US and remain unchanged from its previous ranking in 2014. Prénon derivative Barbe. Comes from the Greek "barbaros" Means "stranger, barbarous" If feast on December 4th.. Rather gay, but difficult character,Barbaraare happy pouting. These are women "whole". Frank, not accepting lies, dreamy andBarbaraare also doing a lot of projects. Let's move. Both stylish, demanding and possessive, these small "child-woman" are stuffed and still reach their purposes.

Full form of Barbara : Bold Ambitious Reserved Bashful Adept Realistic Adventurous

Barbara is a rare first name for a girl in England & Wales which is a rare name since 1996 and ranked 1299 in 2014. Only 401 people have Barbara as their first name. Barbara is a very consistent name over the past 18 years.

Barbara is a very very popular first name for a girl in United States which is popular since 1896 and ranked 654 (0.008077% bearer) in 2015 in US. Around 1437476 people wear Barbara as their first name. Barbara is a rare first name for a boy in United States which is a rare name since 1913 and ranked 654 (0.008077% bearer) in 2015 in US. Only 1437476 people have Barbara as their first name. Barbara is not a native United States and Barbara may be came from another language or is a short form of some other name. 0.402111% of people in US have this given name.

Complete history of Barbara
Year
Rank
Occurence
Popular girl name in
1896
136
324
1898
155
304
1900
153
341
1902
154
306
1903
143
346
1904
141
357
1905
146
366
History of Barbara

Learning that her daughter, Barbara, became a Christian, his father, a fanatical pagan, is the judge. The judge directed that it be tortured. Refusing to apostatize, it is torn with iron claws, then pulls her breasts. His father gives him the coup de grace in the beheading. This happened in Antioch, around the year 300.
Expression number of Barbara is 7.
Barbara likes to research and reason to know the answers of hidden questions as Barbara are gifted with an analytical mind. Barbara are always on the quest for knowledge and wisdom and loves being alone.
Names that rhyme with Barbara
Albara, Babara, Bara, Barabara, Debara, Labarbara, Tarbara
Famous people named Barbara
Bárbara Lombardo in Diarios de motocicleta as Actress
Barbara Kingsley in The Straight Story as Actress
Barbara Schillaci in Switch as Actress
Barbara Miluski in What's Eating Dad? as Actress
Barbara Fields in The Congress as
Barbara Costa in Beyond Words as Actress
Barbara Jean Hunter in The Actress as Actress
Barbara Lusch in Unhinged as Actress
Barbara Erwin in A League of Their Own as Actress
Barbara Beckley in Days of Our Lives as Actress
Barbara Lyon was a popular actress and singer, born in the United States but who plays most of her career in the United Kingdom.
Actor Barbara Carrera, noted for movie Never Say Never Again
Names like Barbara
Barbara Namesakes
Related Names:
Arabic: Basha, Barikka, Hebrew:Barbita, English: Babs, Barbie (Warm, Burning with Enthusiasm), Bareket, Barette, Barlo, Other: Wava, Babara, Barbaraa (Pledge, Variant of Carlene and Charlene, Oath), Barbaraann, Barbaraanne, Barbarajean (Warm, Burning with Enthusiasm), Barbarajo, Barbaralee, Barbarann (Noble Strength, Noble), Barbaranne (Warm, Burning with Enthusiasm), Barea (Celtic), Barey (Celtic),
Posts having Barbara:
Comments :
Barbara is a family name carried by including:
Agatha Barbara (1923-2002), Maltese politician.
Etienne Barbara (1982-), Maltese footballer.
Barbara is a female name derived from the Greek barbaros, which means "one who does not speak Greek" and by extension "foreign". He remains unchanged in Latin. The name is given in reference to a very popular saint in Europe: Beard Heliopolis (or Nicomedia) dead martyr to 306. This is the patron saint of miners, and fireworks, the Middle East, architects .
- Danica Nealon
Popularity of Barbara
Other variants of Barbara :
Varvara


Barbora
Bára
Báirbre
Bárbara
Varya
Barabal
Barbro
English Boy Names :
A
B
C
D
E
F
G
H
I
J
K
L
M
N
O
P
Q
R
S
T
U
V
W
X
Y
Z
---
English Girl Names :
A
B
C
D
E
F
G
H
I
J
K
L
M
N
O
P
Q
R
S
T
U
V
W
X
Y
Z
Get the meaning of Barbara and celebrities who also shares the same name and some names related to Barbara, english baby names list, list of names in english. Know what does Barbara mean?
This website serves as the extended english names list which will help in naming your child.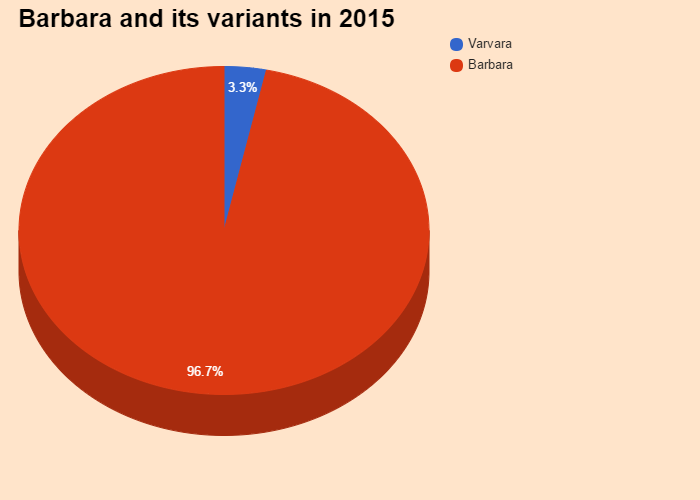 Share your opinion on Barbara