Name: Carlos
No. of characters: 6
Gender: Boy
Origin of Carlos:
Spanish

Portuguese

Catalan

Old High German


How to pronounce Carlos ca-rlos What does my name mean? Meaning of Carlos:

Manly, Strong, Strong and Manly

Carlos was ranked 117 in 2015 list of US boys name and dropped by 0.86% from its previous ranking of 116 in 2014. Carlos was ranked 935 in 2012 US female names list and elevated by 0.43% from its previous ranking of 939 in 2011. Spanish form of Charles. Comes from the Germanic "karl" means "strong, vigorous" If Day 2 March and 4 November.. Calm, posed,Carlosgive off a sense of power and serenity. Volunteer workers,Carlosare struggling to achieve the goalsCarloshave set. Endowed with great composure, impertubables,Carlosexpress some feelings. Even ifCarlosare serious,Carloscan appreciate the pleasures of life and fun. In love, their seductive power makes them take risks.

Full form of Carlos : Clever Affectionate Refined Literary Open-Minded Sensible

Carlos is a rare first name for a boy in England & Wales which is a rare name since 2000 and ranked 765 in 2014. Only 939 people have Carlos as their first name. Carlos is a very consistent name over the past 18 years.

Carlos is a very very popular first name for a boy in United States which is popular since 1918 and ranked 117 (0.085816% bearer) in 2015 in US. Around 281665 people wear Carlos as their first name. Carlos is a rare first name for a boy in United States which is a rare name since 1880 and ranked 117 (0.085816% bearer) in 2015 in US. Only 281665 people have Carlos as their first name. Carlos is not a native United States and Carlos may be came from another language or is a short form of some other name. 0.078791% of people in US have this given name.

Complete history of Carlos
Year
Rank
Occurence
Popular boy name in
1918
268
347
1919
287
313
1920
256
421
1921
270
393
1922
249
441
1923
258
427
1924
260
453
History of Carlos

Son of Saint Canute, king of Denmark in the eleventh century, Charles the Good was appointed Count of Flanders returning from the first crusade. He makes peace and justice in his county and is illustrated by his love of the poor. He was assassinated March 2, 1127 in Bruges Donation holy church by a lord whom he had defeated political intrigue. On November 4, Bishop Charles Borromeo one party in Milan in 1563 and founder of the first seminar for the training of priests.
Expression number of Carlos is 5.
Carlos love adventure, excitement and freedom. Carlos are clever, quick-witted and unusually adaptable. Carlos are capable of doing anything they wish for.
Names that rhyme with Carlos
Arlos, Dcarlos, Decarlos, Giancarlos, Jancarlos, Jeancarlos, Jencarlos, Jhancarlos, Jiancarlos, Johncarlos, Joncarlos, Josecarlos, Juan-Carlos, Juancarlos, Karlos, Lacarlos, Luiscarlos, Marlos, Robertocarlos
Famous people named Carlos
Bettina Carlos in Segunda mano as Actress
Shy Carlos in A Secret Affair as Actress
Dolores Carlos in Hideout in the Sun as Actress
Lauren Carlos in Safety Not Guaranteed as Actress
Carlos Sotto Mayor in Le marginal as Actress
Wendy Carlos in A Clockwork Orange as Soundtrack
Carlos León in Mis manos as Actor
Carlos Agostí in La escondida as Actor
Carlos Gastellum in Estamos unidos as Actor
Carlos Tevez in Boca Juniors 3D: The Movie as
Carlos Rentería Carlos Alveiro Renteria Cuesta Tagachi, Chocó, Colombia;
Carlos Ebert is credited as writer of movie King of Candle
Names like Carlos
Carlos Namesakes
Related Names:
Hebrew:Carmain, Carmaine, English: Carlott, Carlynne, Carlysa, Carlysah, Carlyssah, German: Carlo (Bent Nose, Crooked Stream, Crooked Nose, Clan, Man), Charles (Manly, Strong, Free Man, Full-grown, A Man), Carlreca, Carlyna, Other: Karlos (Hairless, Bald), Decarlos, Carlos Daniel (Spanish) , Carlos Eduardo (Spanish) , Carlos Henrique (Portuguese) , Carlosadrian (Strong One, Man), Carlosalberto , Carlosantonio, Carlosdaniel, Carlose, Carloseduardo (Beloved, Friend, Dear One, Precious Jewel), Carlosjavier, Carlosjr , Carlosmanuel, Carloss, Carlota (Spanish;Portuguese), Carlotta (Italian), Carlotte , Carlous (Fresh, Flower-like), Carloyn
Comments :
Carlos is a proper name masculine in its variant in Spanish ; its feminine form is Carolina , taken from the Latin root, or Carlota. It origin is German and means 'free man'. The name translated into the Scandinavian languages ​​, Karl , means 'man'. It is the hipocorístico of several names whose first element was karl like Karlman (Carlomán) - from the Old High German Charal ( 'man', 'husband', 'lover'), which survives in modern German kerl ( 'individual' ). However, with the prefix hus ( house = 'house') formed huscarl ( 'man of the house', ie, 'servant' or 'slave'). Some scholars defend their link with the Greek γηραλέος gueraléos ( 'old'), defending the meaning of 'mature man', 'experienced man'. This is a very popular name because of its common use in the traditions of the royal houses, so there are many personalities called Carlos.
Versions in other languages of the name are Spanish: Carlos, Catalan: Carles, Euskera: Karol, Karla, Karlos, Galician: Carlos, Afrikaans: Charl, German: Karl, Carl, Arab: كيرولوس (Kirollos).
- Jed Hammitt
Popularity of Carlos
Other variants of Carlos :
Carolus
Karl

Karlo

Karel
Carl

Carol
Charles
Charley
Charlie
Chas
Chaz
Chip
Chuck
Kaarle
Kaarlo
Kalle
Charlot
Kale
Károly

Karcsi

Séarlas
Carlo
Sjarel

Karolis
Karol
Siarl
English Boy Names :
A
B
C
D
E
F
G
H
I
J
K
L
M
N
O
P
Q
R
S
T
U
V
W
X
Y
Z
---
English Girl Names :
A
B
C
D
E
F
G
H
I
J
K
L
M
N
O
P
Q
R
S
T
U
V
W
X
Y
Z
Get the meaning of Carlos and celebrities who also shares the same name and some names related to Carlos, english baby names list, list of names in english. Know what does Carlos mean?
This website serves as the extended english names list which will help in naming your child.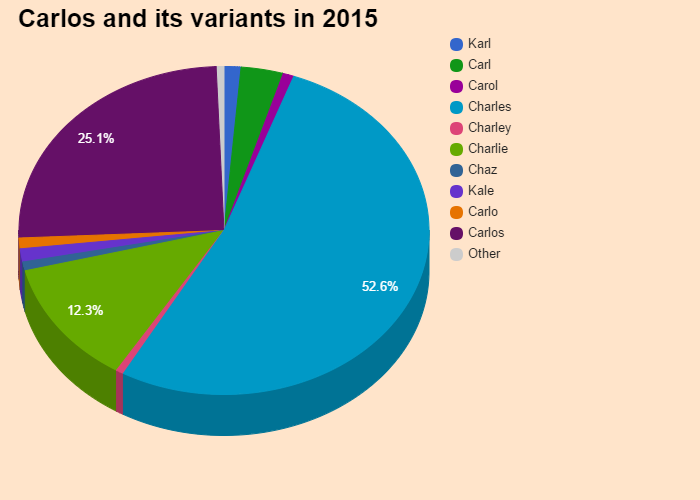 Share your opinion on Carlos