Name: Clara
No. of characters: 5
Gender: Girl
Origin of Clara:
Italian

German

Spanish

Portuguese

Catalan

Romanian

English

Late Roman


How to pronounce Clara cla-ra What does my name mean? Meaning of Clara:

Clear, Bright, Famous, Latin origin, meaning: the luminous, bright. Old name, which is popular again. Name wearers: Clara Schumann, German pianist and composer.
Origin and Meaning
The name Clara origins from the Latin name 'Clarus' meaning 'clear', 'bright', 'famous' 'shining'. There is also a possibility that the name derives from the Proto-Indo-European word 'klero' rooted from 'kele' meaning 'to shout'. The name was first borne by a 13th century Saint Clare of Assisi also known as Chiara. She was a friend and follower of Saint Francis, who left her wealthy family and founded the order of nuns known as the Poor Clares. The original form of the name was, 'Clare' but the Latinate spelling Clara became more popular during the 19th century.
The name that regained its place with a character from Doctor Who series, Clara holds a much older and much more significant role in the history, as its Latin origin makes it one of the names you will most certainly consider, especially if you're a fan of shorter names. Clara is a bright star, a girl that stands out, a woman that is recognized the minute it enters a room, but most importantly Clara in its core carries a theme of enlightenment, of a new brighter future, and the mere sound makes it an ideal choice for your baby girl.
Clara was ranked 881 in 2011 list of US boys name and dropped by 0.92% from its previous ranking of 873 in 2006. Clara was ranked 97 in 2015 US female names list and elevated by 11.01% from its previous ranking of 109 in 2014. Comes from the Latin "clara" means "clear" in celebration on August 11.. Strong personality rather severe,Clarado not yield easily. In his eyes, the woman is the equal of the man andClaraare struggling to get a place. On a strict morality,Claraare attached to their principles. Their costume surprises and rout. Clara are attentive confidantes. Affectionate and generous, soClaralike to give than receive.
Full form of Clara : Cheerful Likable Admirable Reasonable Able
Clara is a very very popular first name for a girl in England & Wales which is popular since 2013 and ranked 121 in 2014. Around 3647 people wear Clara as their first name. Clara is a very consistent name over the past 18 years.
Clara is a very very popular first name for a girl in United States which is popular since 1880 and ranked 97 (0.076956% bearer) in 2015 in US. Around 272075 people wear Clara as their first name. Clara is a rare first name for a boy in United States which is a rare name since 1880 and ranked 97 (0.076956% bearer) in 2015 in US. Only 272075 people have Clara as their first name. Clara is not a native United States and Clara may be came from another language or is a short form of some other name. 0.076109% of people in US have this given name.
Complete history of Clara
Year
Rank
Occurence
Popular girl name in
1880
12
1226
1881
11
1242
1882
11
1490
1883
10
1548
1884
8
1852
1885
7
1910
1886
9
1916
Expression number of Clara is 8.
Clara has the potential to attain power and authority in their life. Clara are skilled and efficient who enjoys rivalries and Clara does not back away from working hard to achieve what they have resolved in their mind
Names that rhyme with Clara
Aara, Adara, Adhara, Ahmara, Aimara, Ainara, Akara, Akeara, Akshara, Alara, Albara, Aleara, Amara, Ameara, Ammara, Anaclara, Anara, Anetara, Annaclara, Ansara
Famous people named Clara
Clara Moraleda in Atrocious as Actress
Clara Bilbao in Blackthorn as Costume Designer
Clara Lee in Ether Weekly EP10 as
Maria Clara Gueiros in Segredos Chocantes as Actress
Sydney Clara Brafman in Squib as Director
Clara Martínez in Mindscape as Camera and Electrical Department
Clara Scott in El mariachi as Actress
Clara Sanchis in La buena estrella as Actress
Clara Rolls in Winsome as Editor
Clara Hopkins Daniels in Monster's Ball as Actress
Clara Alonso is a Spanish model.
Clara Bow is renowned for her acting in movie Call Her Savage
Names like Clara
Clara Namesakes
Related Names:
Irish: Sorcha, English: Claritee, Clariti, Claritie, Clarry, Clarytea, Claryteah, Clarytee, Clarytey, Claryti, Clarytie, Other: Rosicler , Clarabel (Follower of Christ, Christian), Clarabell, Clarabella (Beautiful Christian, Follower of Christ), Clarabelle, Clarabeth (Follower of Christ, Christian), Clarae , Clarah, Claraliz, Claramae (A Compound Form of Clara), Claramay (A Compound Form of Clara), Claramilla (Danish name), Claramunda , Clarance (Clear, Bright), Claranell (Beautiful Christian, Follower of Christ), Clarann, Claranne (Beautiful Christian, Follower of Christ), Claraissa
Posts having Clara:
Comments :
Clara is a first female which is celebrated on 11 August. Name derived from Claire, from the Latin clarus, clara, clarum, clear. In Latin, Clara means "glorious", "bright".
Variants of the name are Clear, Chiara, Clare, Klara, Clarisse, Clairette.
Famous bearers of the name are Clara (singer) (1992)- German singer, Clara (actress) (1986)- British actress, Clara G. (born 1979)- Romanian actress.
- Arlinda Captain
Popularity of Clara
Updated on: June 20th, 2019
Other variants of Clara :
Klara



Klára

Claire
Klāra

English Boy Names :
A
B
C
D
E
F
G
H
I
J
K
L
M
N
O
P
Q
R
S
T
U
V
W
X
Y
Z
---
English Girl Names :
A
B
C
D
E
F
G
H
I
J
K
L
M
N
O
P
Q
R
S
T
U
V
W
X
Y
Z
Get the meaning of Clara and celebrities who also shares the same name and some names related to Clara, english baby names list, list of names in english. Know what does Clara mean?
This website serves as the extended english names list which will help in naming your child.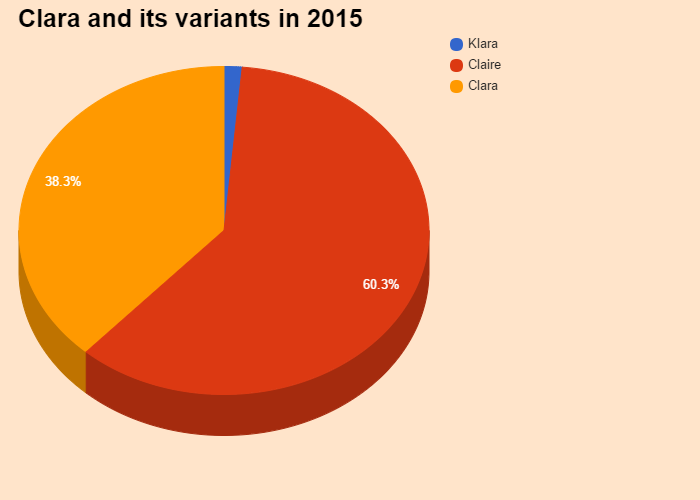 Share your opinion on Clara