Name: Edwin
No. of characters: 5
Gender: Boy
Origin of Edwin:
English

Dutch

Old English


How to pronounce Edwin e-dwin What does my name mean? Meaning of Edwin:

Prosperous Friend, Valued, Wealthy Friend, Blessed Friend, Rich Frie

Edwin was ranked 304 in 2015 list of US boys name and dropped by 3.40% from its previous ranking of 294 in 2014. Edwin was ranked 986 in 2008 list of US girls name and dropped by 3.46% from its previous ranking of 953 in 2006. Comes from the Germanic "ed and win" means "wealth and friend" If Day October 12th.. Edwin are often large, stylish, good about themselves. Conformist,Edwinare attached to traditions and family values. Direct, straightforward,Edwinalways say whatEdwinthink, even if it means upsetting. Organized workers, obstinate,Edwinstruggle until the goal is reached. Attentive, discreet, warm,Edwinare companions that we keep.

Full form of Edwin : Enterprising Dependent Well-Read Ingenious Noble

Edwin is a very consistent name over the past 18 years.

Edwin is a very very popular first name for a boy in United States which is popular since 1880 and ranked 304 (0.028698% bearer) in 2015 in US. Around 239288 people wear Edwin as their first name. Edwin is a rare first name for a girl in United States which is a rare name since 1894 and ranked 304 (0.028698% bearer) in 2015 in US. Only 239288 people have Edwin as their first name. Edwin is not a native United States and Edwin may be came from another language or is a short form of some other name. 0.066937% of people in US have this given name.

Complete history of Edwin
Year
Rank
Occurence
Popular boy name in
1880
53
309
1882
55
305
1884
59
308
1886
58
313
1887
54
310
1889
63
306
1890
56
323
Expression number of Edwin is 1.
Edwin loves adventure and independence and possess determination and originality. Edwin generally leads and direct others and likes to establishes their individual identity.
Names that rhyme with Edwin
Adwin, Aelfwin, Aelwin, Aethelwin, Ailwin, Aldwin, Allowin, Allwin, Alwin, Alywin, Antwin, Ardwin, Arwin, Ashwin, Aswin, Audwin, Aylwin, Baldewin, Baldwin, Baudwin
Famous people named Edwin
Edwina Elek in Jane Eyre as Actress
Edwina Wren in Canopy as Actress
Jane Edwina Seymour in Sins of the Sister as Actress
Edwina Hadley in Draft Day as Actress
Edwina Booth in Trader Horn as Actress
Edwina Exton in Romper Stomper as Actress
Edwina Follows in BeastMaster as Writer
Edwina Moore in Romeo + Juliet as Actress
Edwina Currie in London and South East as
Edwina Snowden in Black Dynamite as Actress
Edwin Brant Frost II was an American astronomer, discoverer of the first variable star, Beta Cephei.
Edwin Astley in TV series Secret Agent as Composer
Names like Edwin
Edwin Namesakes
Related Names:
Edw, Edwa, Edwad, Edwald, Edwaldo, Edwana, Edwar, Edward, Edwarda, Edwardd, Edwarde, Edwardeen, Edwardene, Edwardina, Edwardine, Edwardjames, Edwardo, Edwards, Edwardson, Edwardus
Comments :
Edwin is a name derived from the old English Eadwine to ead "rich, blessed" and wine "friend". Edwin is the name of male origin Germanic. It derives from the word meaning "prosperity", "happiness" or "friend". The patron of this name is St. Edwin, King of Northumbria. The female form: Edwin. The English name was not very common after the Norman Conquest, but was brought back into vogue in the nineteenth century.
Versions in other languages ​are Anglo : Eadwine, Danish : Edvin, Estonia : Edvin, Finnish : Edvin, French : Edwin, English : Edwin, Edwyn.
- Paulina Eustice
Popularity of Edwin
Other variants of Edwin :
Eadwine

Edvin


English Boy Names :
A
B
C
D
E
F
G
H
I
J
K
L
M
N
O
P
Q
R
S
T
U
V
W
X
Y
Z
---
English Girl Names :
A
B
C
D
E
F
G
H
I
J
K
L
M
N
O
P
Q
R
S
T
U
V
W
X
Y
Z
Get the meaning of Edwin and celebrities who also shares the same name and some names related to Edwin, english baby names list, list of names in english. Know what does Edwin mean?
This website serves as the extended english names list which will help in naming your child.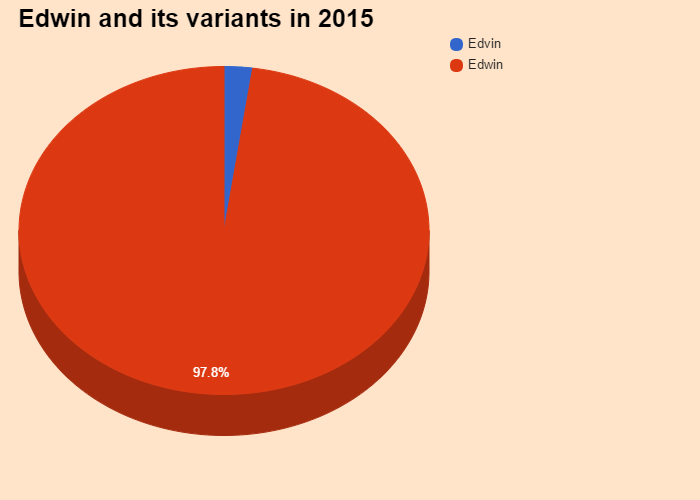 Share your opinion on Edwin