Name: Elias
No. of characters: 5
Gender: Boy
Origin of Elias:
Hebrew

Portuguese

German

Swedish

Norwegian

Danish

Finnish

English

Greek

Biblical Latin

Biblical Greek


How to pronounce Elias e-lias What does my name mean? Meaning of Elias:

The God is My Lord, Jehovah is God, Variant of Hebrew Elijah, The Lord is My God, biblical name of Hebrew origin, meaning: my God is Yahweh. Known as a biblical prophet. The well-known in many countries and for over 1000 years occurring in Germany name is becoming increasingly popular in the 21st century. Namesakes: Elias Canetti, writer German.

Elias was ranked 100 in 2015 US male names list and elevated by 1.96% from its previous ranking of 102 in 2014. Elias was ranked 959 in 2015 list of US girls name and dropped by 0.63% from its previous ranking of 953 in 2014. Italian form of Elijah. Comes from the Hebrew "el ish and" Means "God is my salvation" If party on 20 July.. Calm nature,Eliasreassured by their moderation. Never excessive,Eliasare men who act with reflection weighting. Dedicated,Eliasgive lavishly. Workers, courageous, organized,Eliasare followers of a job well done. Critics,Eliasdo not like fashions and trivia. Elias are beings rights and genuine.

Full form of Elias : Ethical Lonely Insightful Appreciative Solemn

Elias is a very consistent name over the past 18 years.

Elias is a very very popular first name for a boy in United States which is popular since 1974 and ranked 100 (0.102524% bearer) in 2015 in US. Around 66220 people wear Elias as their first name. Elias is a rare first name for a boy in United States which is a rare name since 1888 and ranked 100 (0.102524% bearer) in 2015 in US. Only 66220 people have Elias as their first name. Elias is not a native United States and Elias may be came from another language or is a short form of some other name. 0.018524% of people in US have this given name.

Complete history of Elias
Year
Rank
Occurence
Popular boy name in
1974
403
312
1975
396
306
1976
394
311
1977
383
366
1978
383
356
1979
375
374
1980
387
385
History of Elias

Elijah, prophet of Israel, lived to the ninth century BC. It was a great religious and moral influence over the people, fighting against pagan worship of Baal. He proclaimed the worship of One God. Legend has it gained the sky on a chariot feu.- This name is also given to Muslim children.
Expression number of Elias is 1.
Elias loves adventure and independence and possess determination and originality. Elias generally leads and direct others and likes to establishes their individual identity.
Names that rhyme with Elias
Aalias, Abdias, Adonias, Ahlias, Alexias, Alias, Allias, Alyias, Amias, Anaias, Ananias, Anias, Annanias, Annias, Arias, Azarias, Belias, Brasias, Brassias, Brastias
Famous people named Elias
Julie Elias in Left Behind as Actress
Sarah Elias in The Machine as Sound Department
Joy Elias-Rilwan in The Secret Laughter of Women as Actress
Megan Elias in Sacrifice as Actress
Siv Rajendram Eliassen in Hotel Cæsar as Writer
Sophia Elias in No New Friends as Actress
Laufey Elíasdóttir in Brúðguminn as Actress
Joyce Eliason in The Last Don as Writer
Johan Eliasch in Lady Chatterley as Producer
Dorothy Elias-Fahn in Magic Knight Rayearth as Actress
Elias Ashmole Elijah Ashmole was an antiquarian, politician, weapons officer, astrologer and English alchemist.
Elias Koteas is famous for his acting in movie The Prophecy
Names like Elias
Elias Namesakes
Related Names:
Eli, Elia, Eliab, Eliabeth, Eliah, Eliahna, Eliahs, Eliahu, Eliajah, Eliakim, Eliam, Elian, Eliana, Elianah, Eliandra, Eliane, Eliani, Elianie, Elianis, Elianna
Comments :
Elias is a male first name, also known as the name appears. Elias is a Latinization of Greek Ἠλίας and Hebrew אֵלִיָּהוּ Eliyahu.The name comes from the prophet Elijah in the Old Testament and means "My God is Yahweh ". Elias was a very rare first name in Germany. In the 2000s it became the fashion name.
People with this name are Elias ( xiv th century ) - bishop, Mathieu Elias (1658-1741) - French painter, Michel Elias (born 1948), French actor and singer specialized in dubbing, Elias (born 1980) - French singer.
- Vanna Flaugher
Popularity of Elias
Other variants of Elias :
Ilyas

Elijah

Eliyyahu

Ilia
Ilija


Iliya
Elia
Elian
Élie
Eliyahu

Éliás

Illés

Ile

Elis
Eliasz
Ilie
Ilya
Elías
İlyas

English Boy Names :
A
B
C
D
E
F
G
H
I
J
K
L
M
N
O
P
Q
R
S
T
U
V
W
X
Y
Z
---
English Girl Names :
A
B
C
D
E
F
G
H
I
J
K
L
M
N
O
P
Q
R
S
T
U
V
W
X
Y
Z
Get the meaning of Elias and celebrities who also shares the same name and some names related to Elias, english baby names list, list of names in english. Know what does Elias mean?
This website serves as the extended english names list which will help in naming your child.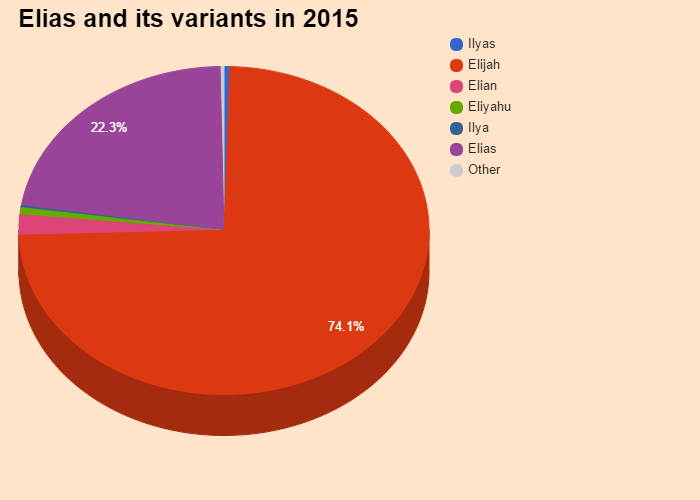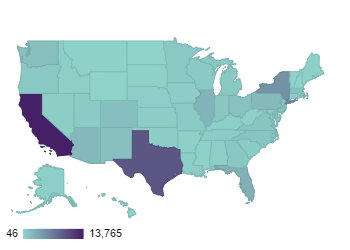 Share your opinion on Elias