Name: Elizabeth
No. of characters: 9
Gender:
Origin of Elizabeth:
Hebrew

English


How to pronounce Elizabeth e-li-za-be-th What does my name mean? Meaning of Elizabeth:

My God Is An Oath, God is My Oath, My God is Bountiful, God of Plenty, My God Is Abundan
Origin and Meaning
The feminine name Elizabeth is derived from the ancient Greek name Elisabet meaning 'My God is an oath' or 'My God is abundance'. The name came from the Hebrew name Elisheva which was mentioned in the Hebrew Bible as the wife of Aaron, an ancestor of the Jewish High priests. The name was then borne in the 12th century by Saint Elizabeth of Hungary, the daughter of King Andrew 11 who was very kind and generous in nature. It is also mentioned in some stories that she used her all wealth to help the poor & thereby added more elegance to the name.
Elizabeth was ranked 926 in 2015 list of US boys name and dropped by 0.65% from its previous ranking of 920 in 2014. Elizabeth was ranked 13 in 2015 US female names list and elevated by 7.14% from its previous ranking of 14 in 2014. Comes from the Hebrew "elîsaba" Means "God is fullness." Is celebrated on November 17.. Sentimental, sweet, affectionate,Elizabethare innocent seductive. Workers,Elizabethalways go after what she undertake. Welcoming, very open mind,Elizabethare optimists who see the bright side. Elizabeth are attentive to others. This is great confidantes, butElizabethare modest and do not externalize their feelings.
Full form of Elizabeth :
Elizabeth is a very very popular first name for a girl in England & Wales which is popular since 1996 and ranked 37 in 2014. Around 29425 people wear Elizabeth as their first name. Elizabeth is a very consistent name over the past 18 years.
Elizabeth is a very very popular first name for a girl in United States which is popular since 1880 and ranked 926 (0.000126% bearer) in 2015 in US. Around 1616108 people wear Elizabeth as their first name. Elizabeth is a rare first name for a boy in United States which is a rare name since 1880 and ranked 926 (0.000126% bearer) in 2015 in US. Only 1616108 people have Elizabeth as their first name. Elizabeth is not a native United States and Elizabeth may be came from another language or is a short form of some other name. 0.452081% of people in US have this given name.
Complete history of Elizabeth
Year
Rank
Occurence
Popular girl name in
1880
4
1939
1881
4
1852
1882
4
2186
1883
4
2255
1884
4
2549
1885
4
2582
1886
4
2680
Expression number of Elizabeth is 7.
Elizabeth likes to research and reason to know the answers of hidden questions as Elizabeth are gifted with an analytical mind. Elizabeth are always on the quest for knowledge and wisdom and loves being alone.
Names that rhyme with Elizabeth
Alisabeth, Alissabeth, Alizabeth, Alysabeth, Alyssabeth, Alyzabeth, Amybeth, Anabeth, Annabeth, Annaelizabeth, Anneelizabeth, Annelizabeth, Aribeth, Arisbeth, Arizbeth, Ashleyelizabeth, Avaelizabeth, Babeth, Beth, Bethzabeth
Famous people named Elizabeth
Elizabeth Percy in The Varsity Creeper Team as Actress
Elizabeth Pires in Private Lies as Actress
Elizabeth Nottoli in Vacanze di Natale '95 as Actress
Elizabeth Bass in Saved by the Bell: Hawaiian Style as Costume Designer
Elizabeth Tagg in You're the Worst as Costume and Wardrobe Department
Elizabeth Gmaz in R-Naught 15 as Actress
Elizabeth Karr in Role Model as Actress
Elizabeth Harding in Chinatown as Actress
Elizabeth Thompson in The Crow as Actress
Elizabeth McRae in 30 Days of Night as Actress
Elizabeth Alda is an American actress who appeared in two films, including The Four Seasons with her sister Beatrice and the television version.
Actor Elizabeth Taylor, renowned for movie Suddenly, Last Summer
Names like Elizabeth
Elizabeth Namesakes
Related Names:
Eli, Elia, Eliab, Eliabeth, Eliah, Eliahna, Eliahs, Eliahu, Eliajah, Eliakim, Eliam, Elian, Eliana, Elianah, Eliandra, Eliane, Eliani, Elianie, Elianis, Elianna
Posts having Elizabeth:
Comments :
Elizabeth is a female name of Hebrew origin.
Elisheva (Elisheba or Elizabeth) (אֱלִישֶׁבַע in Hebrew) was the wife of Aaron, the ancestor of Cohen in the Bible. According to ancient Jewish tradition, was buried in the tomb of the matriarchs in Tiberias.
In Hebrew, Eli means "my God." Sheva can mean "oath" or "subsistence". (Sheva also means "seven" (to perfection) in Hebrew). The name Elisheva can therefore both mean "God is my oath" (I swear by God) and "God is my livelihood."
According to some interpretations, Elisheva was the same as Puah, a fair midwives mentioned in Exodus. Those who support this interpretation believe that his position as ancestress of the priestly caste was a reward for having saved the Hebrew children.
The name Elisabeth has resulted in numerous diminutives and variations, some of which are in turn become real names:
Elizabeth gave Babeth, Babette, Elisabet, Elisabete, Elisabethe, Elisabetta, Elisabette, Elizabet, Elizabeta, Elizabete, Elizabeth, Elizabette, Lily, Lily, Lisabete, Lisabeth, Lisbeth, Liz, and Lizbeth Lizabete
In the Old Testament, this name was notably worn by Elisheba (Elizabeth), wife of Aaron and sister of Moses and Miriam.
In the New Testament, this name has been worn by St. Elizabeth, mother of the prophet John the Baptist, she gave birth when she was very old. It is celebrated with her husband St. Zachary on 5 November and 23 East4 septembre5 according to the Roman martyrology.
The name was then carried by several saints and blessed
- Jonathan Zwiebel
Popularity of Elizabeth
Updated on: June 18th, 2019
Other variants of Elizabeth :
Zabel
Elixabete
Elisabet

Elisheba
Elisabeth

Elisaveta

Elizabeta

Alžběta
Eliška
Isabella

Eli

Elise

Ella

Else

Lilly

Lis

Lisa

Lisbet

Lise

Lissi
Isabelle
Betje

Elly
Els
Elsje
Ilse
Isa
Lies
Liesbeth
Liese
Liesje
Lijsbeth
Eliisabet
Liis
Liisa
Liisi
Liisu
Eliisa
Elisa
Elsa
Élisabeth
Isabel
Babette
Élise
Lili

Liliane
Lilianne
Lisette
Bet

Lys
Sabela
Elisabed
Eliso
Bettina
Elli
Ilsa
Isabell
Liesa
Liesel
Liesl
Lilli
Lisbeth
Elisavet

Elikapeka
Elisheva

Erzsébet

Izabella

Bözsi

Erzsi

Liliána

Liza

Zsóka

Elísabet

Eilís
Eilish
Isibéal
Sibéal
Elisabetta
Liana
Liliana
Elžbieta
Elzė
Beti

Veta

Ealisaid
Ibb
Liss

Isabèl

Elżbieta
Izabela
Ela
Eliza
Belinha
Elisabete
Isabela
Lílian
Elisabeta
Elizaveta
Yelizaveta
Lizaveta
Ealasaid
Elspet
Elspeth
Iseabail
Ishbel
Isobel
Beileag
Lileas
Lilias
Lillias
Jelisaveta
Jela
Jelica
Alžbeta
Špela
Ysabel
Yelyzaveta

Bethan
English Boy Names :
A
B
C
D
E
F
G
H
I
J
K
L
M
N
O
P
Q
R
S
T
U
V
W
X
Y
Z
---
English Girl Names :
A
B
C
D
E
F
G
H
I
J
K
L
M
N
O
P
Q
R
S
T
U
V
W
X
Y
Z
Get the meaning of Elizabeth and celebrities who also shares the same name and some names related to Elizabeth, english baby names list, list of names in english. Know what does Elizabeth mean?
This website serves as the extended english names list which will help in naming your child.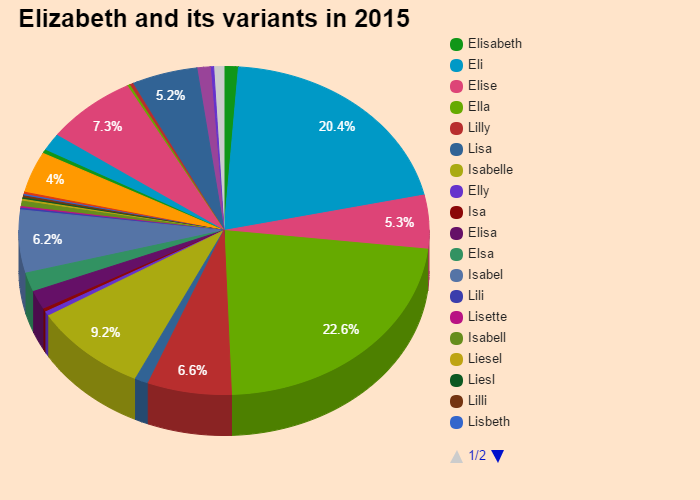 Share your opinion on Elizabeth