Name: Emil
No. of characters: 4
Gender: Boy
Origin of Emil:
Swedish

Norwegian

Danish

German

Romanian

Bulgarian

Czech

Polish

Slovene

Serbian

Croatian

Macedonian

Hungarian

Icelandic

English

Latin


Religion: Hindu How to pronounce Emil e-mil What does my name mean? Meaning of Emil:

Industrious, Eager to Please, Rival, Emulating, Excellent, Imitati

Emil was ranked 805 in 2015 US male names list and elevated by 0.25% from its previous ranking of 807 in 2014. Emil was ranked 781 in 1960 list of US girls name and dropped by 34.19% from its previous ranking of 582 in 1938. Germanic form of Emile. Comes from the Latin "aemulus" means "rival, rival" If Day May 22. A little milk soup, very emotional,Emilreact like clockwork. Emil lack a little confidence in them, making the sometimes aggressive and unstable. Their dreams are often a place of refuge from reality. Clever, clever,Emillike to have the last word. Emil are perceptive and do not give up easily. Their emotional life is serrated.

Full form of Emil : Entertaining Middleclass Inoffensive Logical

Emil is a rare first name for a boy in England & Wales which is a rare name since 1996 and ranked 632 in 2014. Only 620 people have Emil as their first name. Emil is a very consistent name over the past 18 years.

Emil is a very very popular first name for a boy in United States which is popular since 1912 and ranked 805 (0.003180% bearer) in 2015 in US. Around 31673 people wear Emil as their first name. Emil is a rare first name for a girl in United States which is a rare name since 1896 and ranked 805 (0.003180% bearer) in 2015 in US. Only 31673 people have Emil as their first name. Emil is not a native United States and Emil may be came from another language or is a short form of some other name. 0.008860% of people in US have this given name.

Complete history of Emil
Year
Rank
Occurence
Popular boy name in
1912
140
407
1913
138
551
1914
140
684
1915
137
918
1916
137
970
1917
134
1004
1918
150
912
History of Emil

St. Emile is a martyr from North Africa, victim of persécusion Decius in the third century. First arrested, he had renounced his religion out of fear of punishment. But, having repented, he again proclaimed his faith and was cast in bright blaze. - Emil is also an Arabic name, in this case it means: "optimistic, hoping."
Expression number of Emil is 3.
Emil are lively, imaginative, enthusiastic and optimistic. Emil are expressive and inspire others wherever they go. Emil possess great verbal skills which make them good comedian, artist or writer.
Names that rhyme with Emil
Aamil, Amil, Bohumil, Camil, Djamil, Djemil, Ermil, Hamil, Ishmil, Jahmil, Jamil, Jasmil, Jemil, Jermil, Kaamil, Kamil, Kemil, Khamil, Kâmil
Famous people named Emil
Emily Ann Parker in Wait Till Helen Comes as Actress
Emily Milburn in One Perfect Day as Actress
Emily Tomlins in Bedlam as Actress
Emilie Besse in Beur sur la ville as Actress
Emily Rossman in Let the Games Begin as Actress
Emily Marks in Erin Brockovich as Actress
Emily Kusche in Das kleine Gespenst as Actress
Emily Sarah Carlson in Bad Words as Actress
Emily Hanley in Open House as Actress
Emilie Payet in Frank & Lola as Actress
Emil Aarestrup Carl Ludwig Emil Aarestrup was a Danish doctor and poet born in Copenhagen on December 4, 1800 and died in Odense on July 21, 1856.
Emil Newman composed the music of movie Laura
Names like Emil
Emil Namesakes
Related Names:
Emi, Emia, Emiah, Emidio, Emie, Emiel, Emigdio, Emijah, Emika, Emiko, Emila, Emilce, Emilda, Emile, Emilea, Emileah, Emilee, Emileigh, Emilene
Comments :
Emil is the name of male origin Latin. It derives from the name of a Roman family Emiliuszów ( Aemilius ). The Latin word aemulor means "one who competes". The first name corresponds to the Latin Aemilius, a family name ( Nomen gentile ). After the antiquity of the name had gone down and virtually unknown. Pop was the name again until 1762 with the release of Émile ou De l'éducation, the Bildungsroman of Jean-Jacques Rousseau.
Linguistic versions of the name are Esperanto : Emilo, Silesian Language : Ymil, Yjmil, English : Emil, Spanish : Emilio, Latin : Aemilus, French : Émile, German : Emil Amil.
- Sabine Whitby
Popularity of Emil
Other variants of Emil :
Aemilius
Eemeli
Eemil
Émile
Emilio
Emilis
English Boy Names :
A
B
C
D
E
F
G
H
I
J
K
L
M
N
O
P
Q
R
S
T
U
V
W
X
Y
Z
---
English Girl Names :
A
B
C
D
E
F
G
H
I
J
K
L
M
N
O
P
Q
R
S
T
U
V
W
X
Y
Z
Get the meaning of Emil and celebrities who also shares the same name and some names related to Emil, english baby names list, list of names in english. Know what does Emil mean?
This website serves as the extended english names list which will help in naming your child.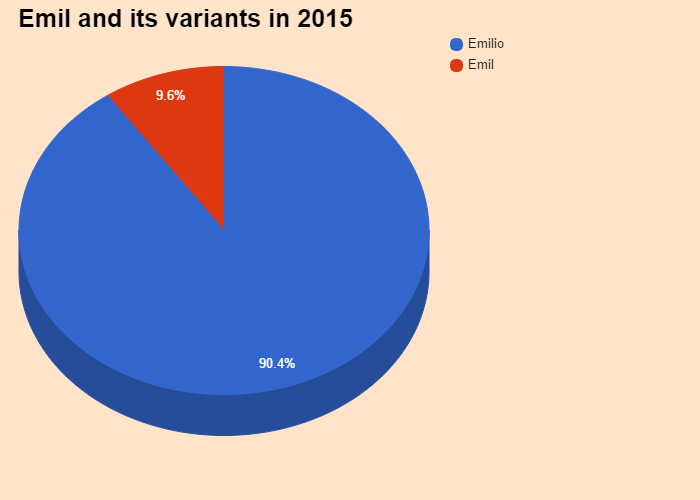 Share your opinion on Emil