Name: Eric
No. of characters: 4
Gender: Boy
Origin of Eric:
Old Norse

English

Swedish

German

Spanish


How to pronounce Eric e-ric What does my name mean? Meaning of Eric:

Ever, Always, Ruler, Peaceful Ruler, Ever-powerful, Forever Ruler, English, Scandinavian form of Erich (meaning: sole ruler). Namesakes: Eric Clapton, English musician.

Eric was ranked 136 in 2015 list of US boys name and dropped by 11.48% from its previous ranking of 122 in 2014. Eric was ranked 964 in 2015 list of US girls name and dropped by 1.15% from its previous ranking of 953 in 2014. Comes from the Germanic "ehre and rik" Means: "honor and powerful king" If Day May 18. Romantics, angry,Ericreact like clockwork. Confident,Ericwill stop at any difficulty. Their spontaneity sometimes made their mistakes. With them, it's the moment that counts. Generous, willingly brawlers,Ericare field workers, most intellectuals manuals. Live good,Ericdo not like to forego.

Full form of Eric : Excited Responsible Intellectual Cool-Headed

Eric is a very very popular first name for a boy in England & Wales which is popular since 2014 and ranked 189 in 2014. Around 2586 people wear Eric as their first name. Eric is a very consistent name over the past 18 years.

Eric is a very very popular first name for a boy in United States which is popular since 1937 and ranked 136 (0.076426% bearer) in 2015 in US. Around 873327 people wear Eric as their first name. Eric is a rare first name for a boy in United States which is a rare name since 1880 and ranked 136 (0.076426% bearer) in 2015 in US. Only 873327 people have Eric as their first name. Eric is not a native United States and Eric may be came from another language or is a short form of some other name. 0.244299% of people in US have this given name.

Complete history of Eric
Year
Rank
Occurence
Popular boy name in
1937
286
301
1938
262
370
1939
253
431
1940
238
482
1941
195
703
1942
175
867
1943
160
1171
History of Eric

Saint Eric was king of Sweden in the XII Century. It promulgated laws that favored the Church and improved the lives of women at that time treated as virtual slaves. He led a crusade to evangelize Finland, but was assassinated by a Danish pretender to the throne. For Catholics, the patron saint of Sweden.
Expression number of Eric is 8.
Eric has the potential to attain power and authority in their life. Eric are skilled and efficient who enjoys rivalries and Eric does not back away from working hard to achieve what they have resolved in their mind
Names that rhyme with Eric
Aaric, Adalric, Adric, Aedric, Aegelric, Aelfric, Aeric, Aethelric, Aidric, Ailbric, Aimeric, Airic, Alaric, Alberic, Alderic, Aldric, Aleric, Alfric, Alhric, Allric
Famous people named Eric
Erica Englert in Somersault as Actress
Kate Emerick in The Santa Clause 3: The Escape Clause as Actress
Annalisa Ericson in Sommarlek as Actress
Erica Havens in Acting Out as Actress
Erica Green in Jack and Jill as Actress
Erica Palgon in Mean Girls as Casting Department
Ericka Demberg in Joker's Wild as Producer
Barbara Lerici in Sleepless as Actress
Erica Kraus in The Disney Channel Games as Producer
Erica Zodtner in Get Smart's Bruce and Lloyd Out of Control as Actress
Eric Ambler was a British novelist and spy novelist.
Eric Roberts acted in movie Runaway Train
Names like Eric
Eric Namesakes
Related Names:
Eri, Eria, Eriah, Erial, Erian, Eriana, Erianah, Eriane, Eriani, Eriann, Erianna, Eriannah, Erianne, Erianny, Eribella, Eriberto, Erica, Ericah, Erical
Posts having Eric:
Comments :
Eric is a male first name Scandinavian , derived from the Old Norse Eiríkr (or Eríkr ). The first morpheme, "ei-" from the ancient Norse "ainaz *" means "one" or "one" or the Norse "* aiwa (z)", meaning "eternal" (cf. proto-Germanic "* aiwīgaz ") The second morpheme" -ríkr "drift" * Rik (a) z ", which means" king "(cf. Rex , Rix ; cf. proto-Germanic" * Riks "- king" * rīkijaz "- powerful rich). In total, the name means "one leader", "eternal leader" or "very strong leader", etc. Eric is a name , cognate of Erico , often used in Germanic languages ​​(in which can also be spelled as Erik , Erick , Eirik , Eirik , Erich ) and French ( Éric ). In Norway , an ancient form of the name is Eirik and is commonly used. In Finland , the Erkki form is also used. Version Icelandic Modern is Eiríkur. Although the name was used in the English Saxon , its use was reinforced by Scandinavian settlers who arrived before the Norman Conquest . It was an unusual name in England until the Middle Ages , when it gained popularity and eventually became a common name in the nineteenth century. This was due in part to the publication of the novel "Eric, or, Little by Little" Frederick William Farrer in 1858. Erik form is traditional in Scandinavia. Eric is used in France, and Erich and Erik in Germany. The day of the official name for Erik and Eirik is on May 18 in Sweden and Norway. There is a female variant Erica, Erika or Erica, used in Spanish-speaking countries.
The name spread in the ninth until eleventh century over much of Europe , but remained in many areas initially rare, took over the following centuries but. In English and the Romance languages ​​, the spelling Eric is now largely widespread, while prevalent in Scandinavia Erik. In Germany , both variants are common. Also on the Balkan Peninsula is the name Eric as well as Eric's widespread than last, also in the ex-USSR (Estonia, Latvia and Lithuania) as well as in the United Kingdom (England and Ireland) and in Hungary, and the United States.
- Stephaine Mundy
Popularity of Eric
Other variants of Eric :
Eiríkr

Èric

Erik




Jerrik
Eerik
Eerikki
Eero
Erkki
Éric
Eiríkur

Erikas
Eirik

Eryk
Érico
English Boy Names :
A
B
C
D
E
F
G
H
I
J
K
L
M
N
O
P
Q
R
S
T
U
V
W
X
Y
Z
---
English Girl Names :
A
B
C
D
E
F
G
H
I
J
K
L
M
N
O
P
Q
R
S
T
U
V
W
X
Y
Z
Get the meaning of Eric and celebrities who also shares the same name and some names related to Eric, english baby names list, list of names in english. Know what does Eric mean?
This website serves as the extended english names list which will help in naming your child.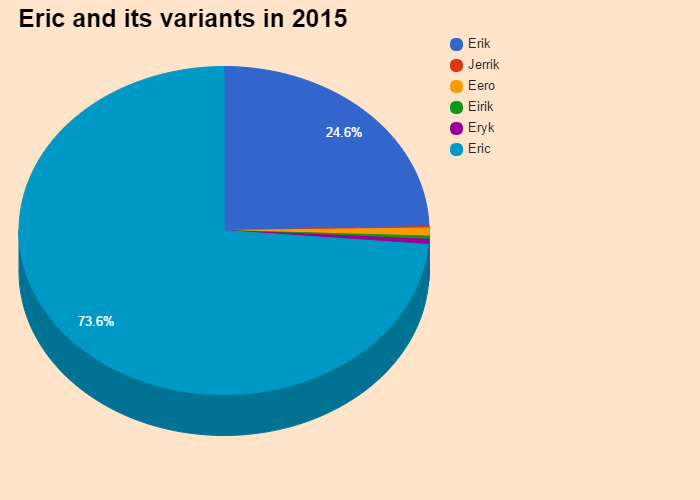 Share your opinion on Eric