Name: Esther
No. of characters: 6
Gender:
Origin of Esther:
English

French

Spanish

Dutch

Jewish

Biblical

Biblical Latin

Biblical Greek

Old Persian


How to pronounce Esther e-sther What does my name mean? Meaning of Esther:

Star, Myrtle Leaf, Like a Star, Stampedding Horses, Persian origin, meaning: Star, Babylonian origin, meaning similar to the goddess Ishtar. In Germany, consistently popular. Widely known through the book of Esther in the Old Testament.

Esther was ranked 898 in 2013 list of US boys name and dropped by 1.13% from its previous ranking of 888 in 2010. Esther was ranked 201 in 2015 US female names list and elevated by 0.50% from its previous ranking of 202 in 2014. Comes from the Hebrew "aster" means "star" in the July 1 celebration.. Often beautiful and very feminine,Esthercharm by their simplicity and discretion. Esther are frank, direct, respectful and you will never hear of gossip in their mouth. Generally cheerful, balanced,Esthersometimes have moments of depressionEstherquickly overcome becauseEstherhave the will and never let go.

Full form of Esther : Energetic Sincere Thoughtful High-Spirited Ethical Religious

Esther is a very very popular first name for a girl in England & Wales which is popular since 2006 and ranked 152 in 2014. Around 5473 people wear Esther as their first name. Esther is a very consistent name over the past 18 years.

Esther is a very very popular first name for a girl in United States which is popular since 1885 and ranked 201 (0.040409% bearer) in 2015 in US. Around 252319 people wear Esther as their first name. Esther is a rare first name for a boy in United States which is a rare name since 1890 and ranked 201 (0.040409% bearer) in 2015 in US. Only 252319 people have Esther as their first name. Esther is not a native United States and Esther may be came from another language or is a short form of some other name. 0.070582% of people in US have this given name.

Complete history of Esther
Year
Rank
Occurence
Popular girl name in
1885
89
320
1886
83
396
1887
77
431
1888
72
572
1889
74
553
1890
75
619
1891
64
710
Expression number of Esther is 3.
Esther are lively, imaginative, enthusiastic and optimistic. Esther are expressive and inspire others wherever they go. Esther possess great verbal skills which make them good comedian, artist or writer.
Names that rhyme with Esther
Areather, Arether, Arlether, Arther, Aruther, Ather, Aurther, Auther, Balther, Beather, Berther, Brother, Cather, Cleother, Doreather, Dorether, Earther, Easther, Eather, Esther
Famous people named Esther
Esther García in Relatos salvajes as Producer
Esther in Drishyam as Actress
Esther Lee in 21 & Over as Costume and Wardrobe Department
Esther Gorintin in Depuis qu'Otar est parti... as Actress
Esther Goris in Eva Perón as Actress
Esther Ellsworth in Charlie Wants an Abortion as Actress
Esther Hanuka in Dakota Bound as Actress
Little Esther Phillips in Candice Bergen/Esther Phillips as
Esther Song in Arrested Development as Actress
Esther McAuley in Deaf Beat as Actress
Esther Fernández Esther Fernandez was an actress and Mexican painter.
Esther Adler in movie The Yiddish King Lear as Actress
Names like Esther
Esther Namesakes
Related Names:
Esta, Estaban, Estacia, Estafani, Estafania, Estal, Estalee, Estaleen, Estalene, Estaline, Estanislada, Estanislado, Estanislao, Estarlin, Estavan, Estavon, Estère, Estève, Estcott, Esteban
Posts having Esther:
Comments :
Esther or Ester is a name feminine Hebrew origin meaning Star, is a biblical character and is likely to come from the Babylonian goddess Ishtar. The Jewish people celebrate the commemoration of the 14th of the month of Adar, the feast of Purim. It is said that all have a point of Esther mischievously. Etymologically speaking, is generally considered to be a derivative of the name of the goddess Babylonian Ištar , known by Jews as עַשְׁתֹרֶת ( 'Ashtoret ), (the name of which has unknown origin) ; alternative hypotheses the lead back instead to the Persian sitareh ( " Star ", in which case it would have a meaning similar to the names Stella, Hoshi, Najm, Astro, Ylli, Csilla and Tara). In Italy the name is more prevalent in North, and is also attested to a male form, "Foreign", however, very rare. English forms are used since the Protestant Reformation. It should be noted that the two English Hypocorism Essie and Hettie are shared with one Estelle and the other with Henrietta. Quite peculiar way, from the name of a woman named (Esther Vanhomrigh) derives the name Vanessa.
Linguistic versions of the name are Catalan : Ester, Czech : Ester, Danish : Esther, Hebrew : אֶסְתֵר ( 'Ester ), Finland : Foreign, Esther, French : Esther, Biblical Greek : Εσθήρ ( Esther ), English : Esther, Hester.
- Loree Didion
Popularity of Esther
Other variants of Esther :
'Ester
Ester

Esteri
Essi
Eszter

Eszti

Estera
Esfir
Yesfir
English Boy Names :
A
B
C
D
E
F
G
H
I
J
K
L
M
N
O
P
Q
R
S
T
U
V
W
X
Y
Z
---
English Girl Names :
A
B
C
D
E
F
G
H
I
J
K
L
M
N
O
P
Q
R
S
T
U
V
W
X
Y
Z
Get the meaning of Esther and celebrities who also shares the same name and some names related to Esther, english baby names list, list of names in english. Know what does Esther mean?
This website serves as the extended english names list which will help in naming your child.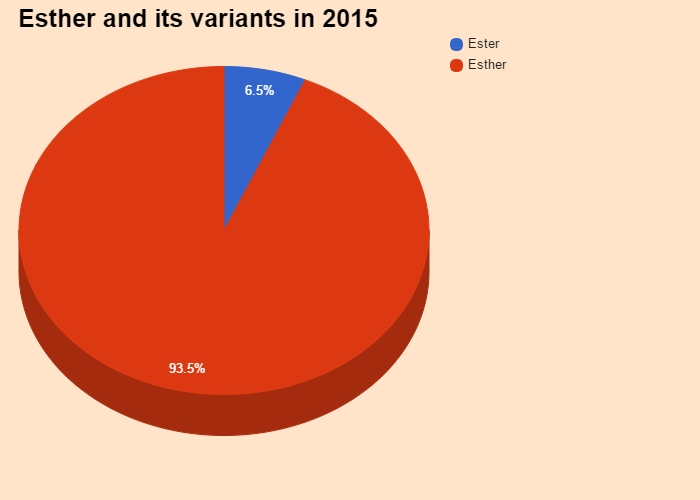 Share your opinion on Esther