Name: Eva
No. of characters: 3
Gender:
Origin of Eva:
Spanish

Italian

Portuguese

English

Czech

Slovak

German

Dutch

Swedish

Norwegian

Danish

Icelandic

Greek

Slovene

Bulgarian

Croatian

Russian

Georgian

Old Church Slavic

Biblical Latin


How to pronounce Eva e-va What does my name mean? Meaning of Eva:

Life, To Live, To Breath, Good News, Form of Eve, Beloved, Living One, Breath of Life, Life-giving, biblical name of Hebrew origin, meaning: mother of the living. In Germany timelessly popular. Known from the Old Testament. Namesake: Eva Mattes, German actress.

Baby name Eva is originated as Latinate form of Eve which is derived from the Hebrew chavah meaning "life, living one". The name starts gaining its popularity after it appears in Harriet Beecher Stowe's novel 'Uncle Tom's Cabin' (1852), in which the name belong to a character Little Eva, which is the short form of her real name Evangeline. The name is also borne by various actresses also like Eva Marie Saint, Eva Mendes and Eva Moore. Another famous bearer of the name is Eva Perón (1919–1952) who was an Argentinian First Lady, political leader, actor, philanthropist and wife of Juan Perón. Eva Ushiromiya is also a character in the visual novel, manga.

Biblical, yet simple, divine yet soft, feminine yet essential. One cannot present Eva as much as they would wish, and while most opt for another variation Eve, this one is just as impressive, and for all the fans of Eva Green, this name is probably already on their list. Eva means life, and what better way to honor your first born daughter other than with this name, as it is short yet meaningful, just the combination you need to keep up with the modern era of the shorter the sweeter principle, while also impressing your parents with a name choice.

Eva was ranked 924 in 2015 list of US boys name and dropped by 0.43% from its previous ranking of 920 in 2014. Eva was ranked 75 in 2015 US female names list and elevated by 9.64% from its previous ranking of 83 in 2014.

Full form of Eva : Earnest Versatile Accepting

Eva is a very very popular first name for a girl in England & Wales which is popular since 2002 and ranked 27 in 2014. Around 16956 people wear Eva as their first name. Eva is a very consistent name over the past 18 years.

Eva is a very very popular first name for a girl in United States which is popular since 1880 and ranked 924 (0.000177% bearer) in 2015 in US. Around 256249 people wear Eva as their first name. Eva is a rare first name for a boy in United States which is a rare name since 1887 and ranked 924 (0.000177% bearer) in 2015 in US. Only 256249 people have Eva as their first name. Eva is not a native United States and Eva may be came from another language or is a short form of some other name. 0.071682% of people in US have this given name.

Complete history of Eva
Year
Rank
Occurence
Popular girl name in
1880
40
614
1881
34
661
1882
41
765
1883
32
879
1884
37
929
1885
38
971
1886
32
1155
History of Eva

According to the Book of Genesis, Eve was the first woman, the wife of Adam, the mother of Cain and Abel, fashioned out of man's rib. -In Gaul, in Eure, Saint Eva is martyred in the early centuries of Christianity. This is the patroness of Dreux. We know nothing more about his life.
Expression number of Eva is 1.
Eva loves adventure and independence and possess determination and originality. Eva generally leads and direct others and likes to establishes their individual identity.
Names that rhyme with Eva
Adeva, Aeva, Alieva, Alveva, Alvieva, Aneva, Bassheva, Batsheva, Beneva, Beva, Bloneva, Boneva, Bricteva, Britheva, Cleva, Deeva, Deneva, Deva, Domneva, Doneva
Famous people named Eva
Valentine Chevalier in Rocco's POV 9 as Actress
Eva Berger in Sweetwater as Miscellaneous Crew
Eva Cools in The Broken Circle Breakdown as Casting Department
Eva Ugarte in El ritmo en sus venas as Actress
Khloe Evans in Episode #3.2 as
Tatyana Dogileva in Est - Ouest as Actress
Hannah Evans in Layer Cake as Art Department
Mary Evans in Chapter One: 'Tis the Season as Actress
Svetlana Alliluyeva in Svetlana About Svetlana as
Eva Sigurdardottir in The Special Relationship as Miscellaneous Crew
Eva Funck Eva Rose-Marie Funk Beskow is a television presenter, voice actress and Swedish puppeteer.
Eva Gabor is notable for her acting in movie The Aristocats
Names like Eva
Eva Namesakes
Related Names:
Evaan, Evabelle, Evada, Evadean, Evadell, Evadene, Evadine, Evadna, Evadne, Evaeh, Evagelia, Evagelos, Evagene, Evaggelia, Evah, Evaine, Evajane, Evajean, Evajo
Posts having Eva:
Comments :
Eva is the name of Adam, the first man according to Genesis 3:20, he gave to his companion after they had called her "woman". The Bible gives an etymology of these two popular names. Eva is made ​​to derive from "living" or "that arouses the life" (Mother of humanity). The name "woman" ( 'ishshah) is regarded as feminine form of ish (= male). The woman understood as a "male-to" indicates a fundamental relationship: both origin for purposes, the woman is a unit with the man. At this also it alludes the Genesis 2,18-22, according to which the woman is from the side of the first man.
Variants of the name are Jewa ( Ева ), Ev, Eve , Evi, Eve, Eeva, Ève, Chava, Chawah (חוּה), Aoife, Heva, Ieva, Eveke, Evi, JewA.
- Kristen Gieseke
Popularity of Eva
Updated on: August 11th, 2019
Other variants of Eva :
Hawa

Yeva
Eve
Eua
Chawwah
Eeva
Eevi
Ève
Chava

Hava

Éva

Évike

Éabha
Ieva

Ewa
Havva

Efa
English Boy Names :
A
B
C
D
E
F
G
H
I
J
K
L
M
N
O
P
Q
R
S
T
U
V
W
X
Y
Z
---
English Girl Names :
A
B
C
D
E
F
G
H
I
J
K
L
M
N
O
P
Q
R
S
T
U
V
W
X
Y
Z
Get the meaning of Eva and celebrities who also shares the same name and some names related to Eva, english baby names list, list of names in english. Know what does Eva mean?
This website serves as the extended english names list which will help in naming your child.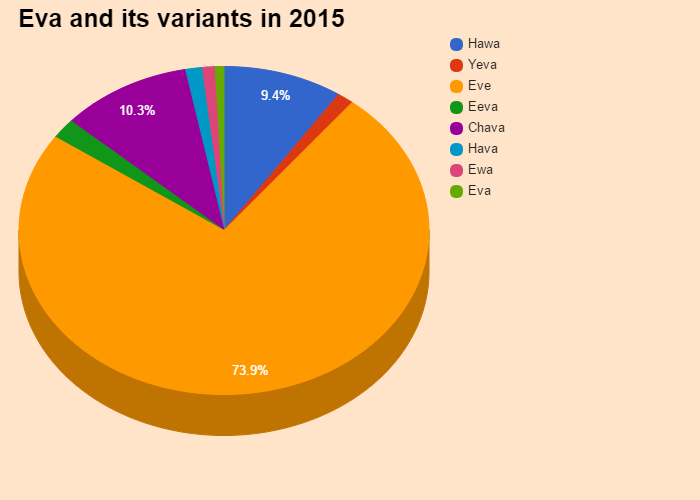 Share your opinion on Eva