Name: Ian
No. of characters: 3
Gender:
Origin of Ían:
Hebrew

Scottish

English


How to pronounce Ian ían What does my name mean? Meaning of Ían:

Icelandic spelling of Ian

Ian was ranked 76 in 2015 US male names list and elevated by 1.30% from its previous ranking of 77 in 2014. Ian was ranked 956 in 2015 list of US girls name and dropped by 0.42% from its previous ranking of 952 in 2014. English form of John. Comes from the Hebrew "yo and Hanan" Means "God is merciful" If Day 27 December.. Intelligent, always mind alert, very active, voluntary,Ianexhaust their entourage that is slowing to want to follow them. Stubborn,Ianare also sensitive, always in search of tenderness and affection. Quiet, little tolerant, forIanalone hold the truth, their moral is exemplary. Workers, their family life is often disturbed by their intense work. In love is passion and that's life.

Full form of Ian : Impulsive Active Nice

Ian is a very consistent name over the past 18 years.

Ian is a very very popular first name for a boy in United States which is popular since 1963 and ranked 76 (0.133469% bearer) in 2015 in US. Around 212803 people wear Ian as their first name. Ian is a rare first name for a boy in United States which is a rare name since 1912 and ranked 76 (0.133469% bearer) in 2015 in US. Only 212803 people have Ian as their first name. Ian is not a native United States and Ian may be came from another language or is a short form of some other name. 0.059528% of people in US have this given name.

Complete history of Ian
Year
Rank
Occurence
Popular boy name in
1963
390
362
1964
352
434
1965
327
491
1966
292
621
1967
255
773
1968
265
718
1969
246
829
Expression number of Ian is 6.
Ian have a great affection towards creativity, beauty and domestic activities of life. Ian are trustworthy, honest and behave responsibly. Ian have tendency to sacrifice their needs for others'.
Names that rhyme with Ian
Aadrian, Aarian, Abian, Abrian, Adarian, Adian, Adorian, Adreian, Adrian, Aerian, Ahian, Aian, Aidian, Aidrian, Airian, Ajavian, Akadian, Aladrian, Alexian, Alian
Famous people named Ian
Ian McElhinney, Northern-Ireland actor and film director
Ian Smith, Australian television actor, best known for playing Harold Bishop on the Australian series "Neighbors"
Ian Livingstone, English fantasy author and entrepreneur
Ian Rotten, American professional wrestler, has fought in the Global Wrestling Federation, Extreme Championship Wrestling
Ian Hill, British bass player, known worldwide for being a member of the heavy metal band Judas Priest
Ian Bannen, Scottish actor
Ian Vougioukas, Greek basketball player
Diane Hetfield in Lethal Weapon as Stunts
Mariana Lima in Kenoma as Actress
Diana Colton in Fucking Around in NYC as Actress
Liana Montoro in Episode #1.1 as Actress
Marian Diamond in Tale of a Vampire as Actress
Bianca Bai in The Shinning Days as Actress
Delia Tatiana in The Good Samaritan as Actress
Marianne Lawrence in Steele at It as Actress
Bianca Hyslop in The Dead Lands as Actress
Larissa Kasian in Fairfield, Idaho as Actress
Ian Holm, actor,animation department
Ian Abercrombie, actor
Ian Bannen, actor
Ian Fleming, writer
Ian Hart, actor,writer
Ian McDiarmid, actor
Ian D. Tootle, producer,production manager
Ian B. Wile, production manager,editor
Ian James Corlett, actor,writer
Ian Gilmour, director,actor,producer
Ian Ford, actor
Ian McKellen, actor,writer
Ian Ziering, actor,producer
Ian Brown, writer,producer,actor
Ian Dodd, cinematographer
Ian Ellis, cinematographer
Ian Dodd, cinematographer
Ian Quiles, actor
Ian Richardson, actor
Ian Abbey, actor
Ian Abrams, writer,producer,actor
Ian Adams, writer
Ian Adkins, producer,production manager
Ian Adley, costume designer,costume department
Ian Adrian, cinematographer
Names like Ian
Ian Namesakes
Related Names:
Ian, Iana, Ianah, Iancarlo, Iane, Ianie, Ianis, Ianmichael, Iann, Ianna, Iannah, Iannic, Iannick, Iannis, Iantha, Ianthe, Ianthia
Posts having Ian:
Comments :
Ian, [iːˌən], is a Scottish Gaelic variant of the first name John. Other variants are Iain, Eian and Eoin. John is a male first name and a last name. The Latinized name John goes to the Greek form Ἰωάννης (JOHN) of Hebrew יוחנן ( Yohanan back) and means "God ( YHVH ) is gracious" / "God has shown mercy". Thus, the name can be interpreted as an expression-conceived as a gift of birth.
People named Ian are Ian Ziering- American actor, Ian Anderson- singer and frontman of Jethro Tull.
- Mitch Post
my name is ian

- ian
Popularity of Ian
Other variants of Ian :
Deshaun
Deshawn
Keshaun
Keshawn
Rashaun
Rashawn
Gjon

Yahya


Yuhanna

Hovhannes
Hovik
Hovo
Ohannes
Ganix
Ion
Jon

Yan
John
Ioannes
Yehochanan
Yochanan

Iohannes
Yann
Yanick
Yannic
Yannick
Ioan
Ivan



Yoan
Ivo


Yanko
Joan


Jan


Jowan
Ghjuvan
Ivica

Janko

Vanja

Johan

Honza
Janek
Jens

Johannes

Hans

Jannick
Jannik
Hanne
Hannes
Jo
Joop
Johano
Joĉjo
Jaan
Juhan
Jani

Janne
Joni
Jouni
Juhana
Juhani
Hannu
Juha
Juho
Jukka
Jussi
Jean
Jeannot
Xoán
Ioane
Ivane
Vano
Johann
Gianni

Giannis

Ioannis

Yanni

Yannis

Yianni

Yiannis

Keoni
János

Jancsi

Janika

Jóhann

Jóhannes

Jón

Eoin
Sean
Seán
Shane
Giovanni
Ivano
Gian
Giannino
Nino
Vanni
Joannes
Jānis

Sjang

Sjeng

Jonas
Hanke
Jovan

Ean
Juan
Hann
Hankin
Jackin
Jankin
Jehan
Zuan

Iwan
Janusz
João
Joãozinho
Iancu
Ionel
Ionuț
Nelu
Ioann
Vanya
Juhán

Ján
Janez
Žan
Anže
Iván
Xuan
Juanito
Hampus
Hasse
Evan
Iefan
Ieuan
Ifan
Siôn
Ianto
English Boy Names :
A
B
C
D
E
F
G
H
I
J
K
L
M
N
O
P
Q
R
S
T
U
V
W
X
Y
Z
---
English Girl Names :
A
B
C
D
E
F
G
H
I
J
K
L
M
N
O
P
Q
R
S
T
U
V
W
X
Y
Z
Get the meaning of Ian and celebrities who also shares the same name and some names related to Ian, english baby names list, list of names in english. Know what does Ian mean?
This website serves as the extended english names list which will help in naming your child.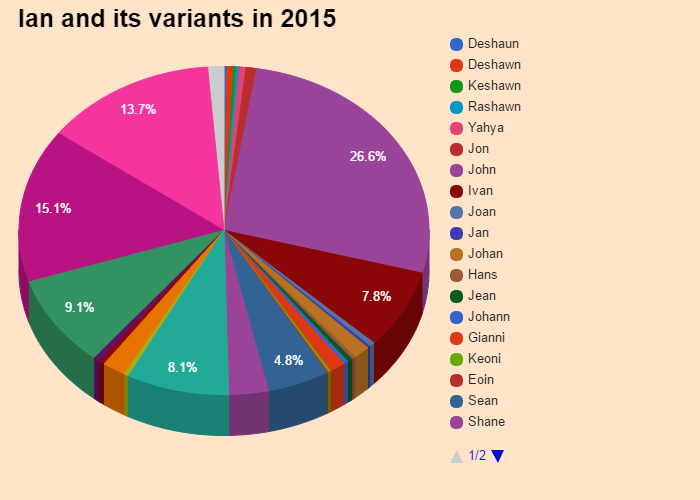 Share your opinion on Ian