Name: Isaac
No. of characters: 5
Gender: Boy
Origin of Isaac:
Hebrew


How to pronounce Isaac i-saac What does my name mean? Meaning of Isaac:

Laughing One, Laughter, He will Laugh, He Laug

Baby name Isaac is originated from the Hebrew name Yitzchaq meaning "he will laugh, he will rejoice" which in turn is derived from tzachaq meaning "to laugh". The name was borne in the Old Testament by the Son of Abraham and his wife Sarah. When Isaac was very young then to test Abraham 's faith, God ordered him to sacrifice his son 's life, although an angel prevented the act at the last moment. Later on Isaac became the father of Esau and Jacob with his wife Rebecca. Few more notable bearers include Sir Isaac Newton who was the physicist and mathematician and Isaac Asimov who was the science-fiction writer. This is also a character name in the British web series Corner Shop Show.

Isaac was ranked 31 in 2015 boys names list in US and remain unchanged from its previous ranking in 2014. Isaac was ranked 957 in 2015 list of US girls name and dropped by 1.27% from its previous ranking of 945 in 2014.

Full form of Isaac : Informal Shrewd Alert Aggressive Companionable

Isaac is a very very popular first name for a boy in England & Wales which is popular since 1996 and ranked 25 in 2014. Around 27631 people wear Isaac as their first name. Isaac is a very consistent name over the past 18 years.

Isaac is a very very popular first name for a boy in United States which is popular since 1912 and ranked 31 (0.249320% bearer) in 2015 in US. Around 256356 people wear Isaac as their first name. Isaac is a rare first name for a girl in United States which is a rare name since 1919 and ranked 31 (0.249320% bearer) in 2015 in US. Only 256356 people have Isaac as their first name. Isaac is not a native United States and Isaac may be came from another language or is a short form of some other name. 0.071712% of people in US have this given name.

Complete history of Isaac
Year
Rank
Occurence
Popular boy name in
1912
155
359
1913
166
398
1914
170
496
1915
191
568
1916
178
629
1917
185
622
1918
186
658
History of Isaac

When the first glad tidings of the CHild of Promise were announced, Sarah laughed for very joy and wonder, and Laughter became the name of her son; known in Latin and to the European world as Isaac.
It was not revived among the early Jews; but, like Abraham, it was used by the eastern Christians, and St. Isaac, bishop of Beth Seleucia, was put to death with other Christian martyrs by Sapor II. or Persia. Another eastern Isaac was a hermit at Spoleto, in the sixth century, and Isaak has always been a favorite in the Greek Church. Several of the family of Comenus, both at Constantinopole and Trebizond, rendered Isaak a royal name; and Isaak or Eisaak, whose feast falls on the 30th of May, is the patron of that cathedral at Petersburg which the czars have been said to dread to finish, on account of the prediction that he who completes it shall not long survive the end of the work. The name is frequently used in Russia and the other Greco Slavonic countries, though not much varied.
It had not much favour in the West, though it appears once in Domesday Book, and occurs in the Cambray registers. But its chief popularity was after the reformation, when it continually to be found among the Hugenots, and it seems to have passed from them to other French families, since it is sometimes found in pedigrees, and the noted de Sacy, a grandson of the Amauld family, was thus christened after his forefathers had long since conformed to the Roman Catholic Church.
To us Izaak, as our ancestors spelt it, is endeared for the sake of 'meek Walton;' and it is just so prevalent among us as to have the recognised contraction, Ike or Ikkey, but it is not old enough in use to have left any patronymics except what are probably brought in from some family of Jews - Isaacs and Isaacson. To these, however, Mr. Lower adds, Hyke, Hiscock, Higue, and Hickey. The German surname of Itzig was once a contraction of Isaac current among German Jews.
Isaac's wife was called from rabak (to bind). The word Ribka meant a cord with a noose, and probably was given as conveying the firmness of the marriage bond. The Septuagint and Latin gave her as Rebecca ; the authorized version as Rebekah ; and it is spelt in both ways by those who bear the name, who are chiefly of the lower ranks and generally called Becky.
Here too should be mentioned the faithful nurse of Rebekah, who was so lamented that the tree beneath which she was buried was known as the oak of weeping. Her name of Deborah came from a verb meaning to hum or buzz, and signified a bee, or, in after times, eloquent. Perhaps in the one sense it was borne by the simple nurse of Padan-aram, in the other by the prophetess, the wife of Lapidoth, who roused the northern tribes of Israel to victory, and celebrated the battle afterwards in one of the most glorious of the songs of Scripture.
But Deborah found no favour as a name except among English Puritans, and has acquired a certain amount of absurdity from various literary associations, which prevent ' Deb.' from being used except by the peasantry.
Of Rebekah's two daughters-in-law, Rachel signified an ewe. The aspirate in the middle of her name is more softly marked where, in the prophet Jeremiah, her descendants, the Benjamite women, who dwelt around her early grave at Bethlehem, are spoken of as 'Rahel weeping for her children because they are not,' and are assured that they shall yet come again to their own border. But she is Rachel, where St. Matthew again shows the mothers of Bethlehem weeping over their lambs, who should come agsin in a higher sense.
Dante made Vantica Rachele with her beautiful eyes, the type of heavenly contemplation, ever gazing at the miiror that reflected heavenly glory ; but her name was not popular, although the Manx princess Affrica was thus translated upon her marriage with Somerled, Lord of the Isles, somewhere about the eleventh century.
But Puritan days loved the sound of the word, and 'that sweet saint who sat by Russell's side' has given it a place in many an English family. Polish Jews call it Rahel ; in which form it was borne by the metaphysical lady who became the wife of Vamhagen von Ense.
Rachel's less beloved and favoured sister had a name that came from lawah (hanging upon, dependence, or, as in her case it is explained, weariness) — Leah, in French Lea, in Italian Lia, under which title Dante makes her the emblem of active and fruitful, as is her sister of meditative, love. It was from the same word that she named her third son Levi, when she hoped that her husband would be more closely united or depending on her. Levi's name was carried on into the Gospel times, and belonged to the publican who was called from the receipt of custom to become an apostle and an evangelist. His Aramean name was, however, that by which he calls himself in his own narrative, or more correctly speaking, by its Graecised form. The old Hebrew Mattaniah (gift of the Lord) was probably the origin of both the names that we have in the Greek Testament as Matthaeus and Matthias as the Latin renders them. Some, however, make the first mean a faithful man ; but it is not possible to distinguish between the various forms that have risen out of the two among persons who, probably, had no idea that the Apostle who supplied the place of Judas was a different person from the Evangelist. The name has been more popular in Germany and its dependencies than elsewhere, though everywhere known. In Italy it heads the brave family of Visconti, who were all called after the Evangelists; and in Hungary Matthias Corvinus is honoured as the last native hero who wore St. Stephen's crown.
Expression number of Isaac is 6.
Isaac have a great affection towards creativity, beauty and domestic activities of life. Isaac are trustworthy, honest and behave responsibly. Isaac have tendency to sacrifice their needs for others'.
Names that rhyme with Isaac
Issaac, Izaac
Famous people named Isaac
Susan Isaacs in Shining Through as Writer
January Isaac in Blue Moon as Actress
Nicole Ashley Isaacs in Episode #1.2 as Actress
Gina Isaac in Men Only as Actress
Cleo Isaacs in Apaharan as Actress
Cheryl Boone Isaacs in Tupac: Resurrection as Miscellaneous Crew
Gemma Isaac in I'm No Angel as Actress
Margaret French-Isaac in Stepmom as Producer
Leilah Isaac in Agent Cody Banks 2: Destination London as Actress
Donna Isaacson in 127 Hours as Casting Director
Isaac Steinberg Isaac Nachman Steinberg was a politician, lawyer, writer, revolutionary and leader of the Jewish territorialist movement in Soviet Russia and in exile.
Isaac Asimov in movie Star Trek: The Motion Picture as Writer
Names like Isaac
Isaac Namesakes
Related Names:
Isa, Isaabella, Isaack, Isaacs, Isaah, Isaak, Isaam, Isaaq, Isaël, Isaïah, Isaïe, Isabé, Isabeau, Isabel, Isabela, Isabelah, Isabele, Isabelette, Isabeli
Posts having Isaac:
Comments :
Isaac (Heb .: יִצְחָק yiṣḥāq , "God laughed / joked" or "God (someone) to make you laugh" ) is a male first name, also known as the name is common. The name tradition dates to the biblical patriarch Isaac back, whose Hebrew name יצחק (Jitzchaq) on Greek and Latin to Isaac was transcribed. Außerbiblisch the name is not assigned. The name contains the Hebrew root word "laugh" and literally means "he laughs". When the subject is probably El supplement for "God". Accordingly, it is a set name that probably as much as "God laughed" or "God is smiling (the child)" means. The name is on the Judaism, the Christianity and the Islam was widespread.
Linguistic versions of the name Arabic: Ishaq, Armenian: Sahak, English: Isaac, Greek (antique): Hesychios, Hebrew: Yitzchak, Yitzhak, Yiddish: Itzig , Itzik, Icek, Kurdish: Ishak, Portuguese: Isac, Romanian: Isac.
- Porsche Ferrin
Popularity of Isaac
Updated on: August 1st, 2019
Other variants of Isaac :
Sahak
Isaak
Yitzhak
Izaäk
Sjaak
Sjakie
Iisakki
Iikka
Iiro
Izsák

Izaak
Isak
English Boy Names :
A
B
C
D
E
F
G
H
I
J
K
L
M
N
O
P
Q
R
S
T
U
V
W
X
Y
Z
---
English Girl Names :
A
B
C
D
E
F
G
H
I
J
K
L
M
N
O
P
Q
R
S
T
U
V
W
X
Y
Z
Get the meaning of Isaac and celebrities who also shares the same name and some names related to Isaac, english baby names list, list of names in english. Know what does Isaac mean?
This website serves as the extended english names list which will help in naming your child.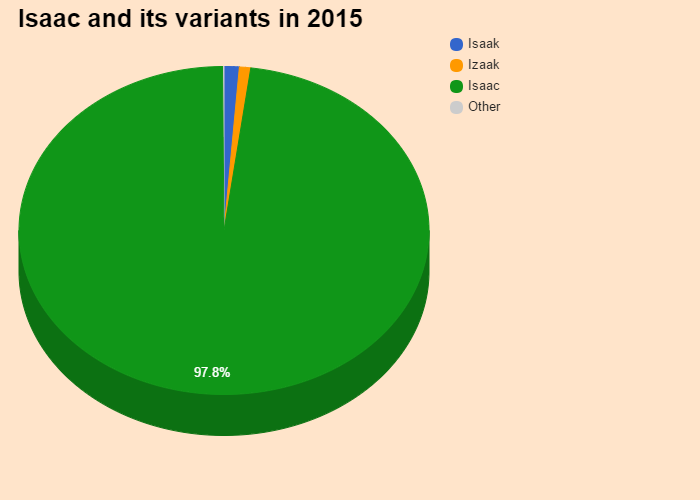 Share your opinion on Isaac