Name: Jack
No. of characters: 4
Gender: Boy
Origin of Jack:
Hebrew


Religion: Hindu How to pronounce Jack ja-ck What does my name mean? Meaning of Jack:

God is Gracious, Son of Jack, He who Supplants, Diminutive of Jack, Yahweh is Gracious, One Who Supplants, God is Merciful

Baby name Jack is a male given name which is originated from Jackin and which in turn is derived as a diminutive form of John meaning "God is gracious". A famous bearer of the name is Jack Abel (1927–1996) who was an American comic book artist and most famous as an inker for leading publishers DC Comics and Marvel Comics. Another notable bearer of the name is John F. Kennedy who was an American president and known for serving the 35th president of the United States from January 1961 until his assassination in November 1963. Jack "Caul" Bentham is also the name of the abusive older brother of Alma Peregrine in the novels Hollow City and Library of Souls.

Jack was ranked 40 in 2015 US male names list and elevated by 2.44% from its previous ranking of 41 in 2014. Jack was ranked 963 in 2015 list of US girls name and dropped by 1.48% from its previous ranking of 949 in 2014. Anglo-Saxon form of Jacques. Comes from the Hebrew "ya'agob" Means: "he who supplants" If party on July 25 or May 3. Particularly effective in the business world,Jackflourish on the ground in the concrete. More sellers than managers,Jackare made for direct contact and quick decisions. Jack are stubborn and tricky temperaments that make their own way, even ifJackgive you the impression to follow you. Fighting men, volunteers,Jackare also contestaires stimulate and failures.

Full form of Jack : Judicious Admirable Cheerful Kind-Hearted

Jack is a very very popular first name for a boy in England & Wales which is popular since 1996 and ranked 2 in 2014. Around 155215 people wear Jack as their first name. Jack is a very consistent name over the past 18 years.

Jack is a very very popular first name for a boy in United States which is popular since 1888 and ranked 40 (0.213429% bearer) in 2015 in US. Around 670805 people wear Jack as their first name. Jack is a rare first name for a girl in United States which is a rare name since 1889 and ranked 40 (0.213429% bearer) in 2015 in US. Only 670805 people have Jack as their first name. Jack is not a native United States and Jack may be came from another language or is a short form of some other name. 0.187647% of people in US have this given name.

Complete history of Jack
Year
Rank
Occurence
Popular boy name in
1888
61
329
1889
58
322
1890
49
368
1892
54
401
1893
48
406
1894
46
441
1895
44
479
History of Jack

Fifty six Jacques is listed in the catalog of saints. Among the key: Jacques le Majeur, elder brother of John the Evangelist. It is one of the first to leave everything to follow Christ and was martyred in Jerusalem in the year 44. We celebrated on July 25; then Jacques le Mineur, considered the first bishop of Jerusalem and author of the Epistle of St. Jacques, died stoned in AD 62. It celebrates May 3
Do you like Jack? Read these names too: Anick is used chiefly in Danish, Finnish and Swedish given to girls meaning "Graceful" celebrated on July 26th. Jalmiina is used commonly in Finnish used for girls. Jalmiina is Finnish equivalent of Hjalmina with similar prefix Ja-. Old-school baby girl name Placida which means "Calm or Gentle" that of Latin origin. Lucetta is variant of Lucy is a baby girl name and is rooted from Latin. The name is quite Common in Sweden. On baby girl names chart, a pleasing Lucetta bagged 813th position in 1882 while Many Contemporary moms may find the Trease interesting used for girls.
Expression number of Jack is 7.
Jack likes to research and reason to know the answers of hidden questions as Jack are gifted with an analytical mind. Jack are always on the quest for knowledge and wisdom and loves being alone.
Names that rhyme with Jack
Barack, Billyjack, Black, Boback, Brack, Cormack, Dack, Isaack, Isack, Issack, Izaack, Izack, Johnjack, Lujack, Mack, Malack, Meshack, Pollack, Shack
Famous people named Jack
Lani Jackson in The Lord of the Rings: The Fellowship of the Ring as Stunts
Jacklynn Smith in Ain't Them Bodies Saints as Actress
Jackie Goldberg in You Must Remember This as Actress
Angela Jackson in The Mask as Editorial Department
Alexis Jackson in Gardens of the Night as Actress
Jackie Lou Blanco in Hihintayin kita sa langit as Actress
Sarah Jackman in Vagabond as Actress
Jacki MacDonald in Hey Hey, It's Saturday as
Susan Jackson in Cabin Fever as Producer
Carolyn Jackson in Fast Cars Fast Women as Actress
Jack Hobbs, English footballer.
Jack Nicholson in movie As Good as It Gets as Actor
In 1959 comedy and music flick, Some Like It Hot, Jack Lemmon characterized Jerry and Daphne.
Jack Benny played the leading character of Joseph Tura in 1942 comedy, war film To Be or Not to Be.
Jack Carson played important character of O'Hara in 1944 comedy and crime film Arsenic and Old Lace.
In 1915 drama movie, Graft, Jack Abbott played The Sheriff.
Jack Anthony played critical role of Bill Latimer in 1928 western movie The Texas Tornado.
In 1967, Jack Ary characterized the role of Inspector Baxter in action and crime flick Flashman.
In 1951, Jack Bailey played the role of Jack Bailey - Program Host in comedy, drama film Queen for a Day.
In 1934, Jack Barty portrayed the role of Simoni in drama, musical film My Song Goes Round the World.
Jack Baston, from 1927 action and adventure movie Chain Lightning, who characterized the Campan.
In 1946, Jack Baxley characterized the role of Sheriff Ed Rawlins in action and adventure movie Song of the Sierras.
Jack 'Kid' Berg played the central role of N in 1933 comedy film L'argent par les fenêtres.
Jack Bittner played the central character of Joe and Narcissus in 1947 drama, fantasy movie Dreams That Money Can Buy.
Jack Black, from 2003 comedy, music movie The School of Rock, who characterized the Dewey Finn.
Jack Bliesener, from 1985 action, crime movie Crime Killer, who characterized President of the United States.
Jack Lionel Bohn characterized central character of Arthur Wadsworth in 1921 0 movie Ashamed of Parents.
In 1915, Jack Brawn played the role of Pitah - an Indian in drama movie The Island of Regeneration.
Jack Brosseit played vital character of Uncle Boss in 2000 comedy, drama movie DeathSweat.
Jack Brown portrayed critical character of N in 1984 action and adventure movie Diamond Connection.
Jack Buchanan characterized the leading role of Dave Harber in 1938 comedy, musical movie The Sky's the Limit.
Jack Butler, from 1938 0 flick Calling All Crooks, who characterized the Jack.
In 1924 action and adventure film, A Fight for Honor, Jack Byron characterized Walter Bradson.
Jack Cameron, from 1929 drama, musical flick Applause, who played Joe King.
Jack Castello, from 1929 0 movie La copla andaluza, who portrayed N.
Jack Clifford, from 1914 drama movie Threads of Destiny, who portrayed Fedor Tomspky.
In 1918, Jack Connors characterized the role of Mr. Jack La Salle in 0 flick The Woman and the Law.
Jack Crosby portrayed vital character of Frederick Brood in 1920 drama flick Black Is White.
Jack Curtis characterized the central character of Don Lowrie in 1916 drama film Secret Love.
In 1916, Jack Dale portrayed the role of George Spicer in drama flick The Sting of Victory.
Jack Daniel played leading character of Jack in 2001 comedy film Special Mike & Honey Girl.
Jack Dean characterized key character of Richard Hardy in 1915 drama, romance flick The Cheat.
Names like Jack
Jack Namesakes
Related Names:
Jac, Jacab, Jacaden, Jacai, Jacaiden, Jacaleb, Jacalyn, Jacalynn, Jacameron, Jacan, Jacara, Jacaranda, Jacare, Jacaree, Jacarey, Jacari, Jacaria, Jacarie, Jacarion, Jacarious
Posts having Jack:
Comments :
Jack [ dʒæk ] is an english first name and last name originated in medieval period. It is most commonly known as first name for people with the (official) name John (German: Johannes), but partly also as a nickname for people named Jacob employed or assigned as an independent name. Jack comes from Jankin, short Anglo-Saxon for the first name John (January and the diminutive kin, "Little John") but also for the first names like Jackson, Jonathan, etc. It tends to emerge as full name. In Hebrew Jack means the by Yahweh gifted. Jack may also be a variant of Spanish name Juan / Santiago.
In the Middle Ages, the name was so widespread that jack , via a process deonomastico , became a common term to refer broadly to a "man" (especially those belonging to the classes below), similar to what happened with the names Jenny , Tom and Godric . From there, exactly as happened with Jenny , the use is also extended to male animals and mechanical tools (as they replaced these human workers). The name Jack is also very common in fairy tales and folklore of medieval origin, with well-known characters like Jack Sprat , Jack Frost , Jack-o'-lantern and many others. In France , it is used as a "modern" version of the name Jacques. It should be noted that the diminutive Jackie, if female, it should be related not to Jack but Jacqueline.
Variants: Jake, Jace, Jacke, Jackie, Jeike
- Luise Lavigne
Popularity of Jack
Updated on: December 4th, 2019
Other variants of Jack :
Deshaun
Deshawn
Gjon

Yahya


Yuhanna

Hovhannes
Ganix
Ion
Jon

Yan
John
Ioannes
Yehochanan
Yochanan

Iohannes
Yann
Ioan
Ivan



Yoan
Joan


Jan


Jowan
Ghjuvan
Johan

Jens

Johannes

Johano
Jaan
Juhan
Jani
Janne
Joni
Jouni
Juhana
Juhani
Jean
Jeannot
Xoán
Ioane
Ivane
Johann
Gianni

Giannis

Ioannis

Yanni

Yannis

Yianni

Yiannis

Keoni
János

Jóhann

Jóhannes

Jón

Eoin
Sean
Seán
Shane
Giovanni
Ivano
Joannes
Jānis

Sjang

Sjeng

Jonas
Jovan

Ean
Juan
Hann
Jackin
Jankin
Jehan
Iwan
Janusz
João
Ioann
Juhán

Iain
Ian
Jock
Seoc
Jockie
Jocky
Ján
Janez
Žan
Anže
Iván
Xuan
Evan
Iefan
Ieuan
Ifan
Siôn
English Boy Names :
A
B
C
D
E
F
G
H
I
J
K
L
M
N
O
P
Q
R
S
T
U
V
W
X
Y
Z
---
English Girl Names :
A
B
C
D
E
F
G
H
I
J
K
L
M
N
O
P
Q
R
S
T
U
V
W
X
Y
Z
Get the meaning of Jack and celebrities who also shares the same name and some names related to Jack, english baby names list, list of names in english. Know what does Jack mean?
This website serves as the extended english names list which will help in naming your child.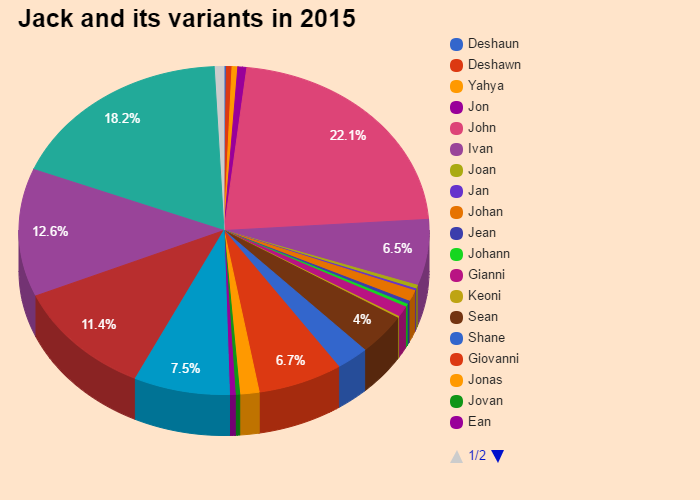 Share your opinion on Jack