Name: Jenny
No. of characters: 5
Gender: Girl
Origin of Jenny:
Hebrew

Welsh


Religion: Hindu How to pronounce Jenny je-nny What does my name mean? Meaning of Jenny:

White Wave, Diminutive of Jane and Jennifer, White Spirit, Race of Women, Fair, Smooth, White and Smooth, Soft, Yahweh Is Gracio
Origin and Meaning
Baby name Jenny was originally derived as a diminutive form of Janet, Jane and Jean but now is associated with Jennifer as its pet name. The name Jennifer is derived Welsh Guinevere which is composed of elements gwen meaning "fair" and hwyfar meaning "smooth", thus the meaning of the name is "the fair one, fair lady". The name is feminine form of Jack. Few notable bearers of the name are Jenny Agutter, English actress; Jenny Berthelius, Swedish crime novelist and children's writer; Jenny Buckley, Irish television presenter and Jennie Casseday, American philanthropist. The name is also used a character name in Larry Clark's film Kids and in the film Oliver & Company as Jenny Foxworth.
Jenny was ranked 784 in 1995 list of US boys name and dropped by 1.82% from its previous ranking of 770 in 1994. Jenny was ranked 694 in 2015 list of US girls name and dropped by 8.78% from its previous ranking of 638 in 2014. First name derived from Jeanne. Comes from the Hebrew "yo and Hanan" Means "God is merciful" If party on the 8th or 30th of May.. Courageous, loyal,Jennyare women of action organized and efficient. We can trust them without reservation, and trust them when it comes to help. Tireless workers,Jennydeplete their surroundings that is slowing to want to follow them. Stubborn, little tolerant, because onlyJennyhold the truth,Jennyare difficult to navigate, sometimes aggressive and react like clockwork.
Full form of Jenny : Joyful Excited Natty Nonconforming Youthful
Jenny is a rare first name for a girl in England & Wales which is a rare name since 2013 and ranked 1070 in 2014. Only 1272 people have Jenny as their first name. Jenny is a very consistent name over the past 18 years.
Jenny is a very very popular first name for a girl in United States which is popular since 1945 and ranked 694 (0.007017% bearer) in 2015 in US. Around 90832 people wear Jenny as their first name. Jenny is a rare first name for a boy in United States which is a rare name since 1880 and ranked 694 (0.007017% bearer) in 2015 in US. Only 90832 people have Jenny as their first name. Jenny is not a native United States and Jenny may be came from another language or is a short form of some other name. 0.025409% of people in US have this given name.
Complete history of Jenny
Year
Rank
Occurence
Popular girl name in
1945
364
302
1946
347
396
1947
328
534
1948
348
465
1949
324
536
1950
304
568
1951
298
660
Expression number of Jenny is 5.
Jenny love adventure, excitement and freedom. Jenny are clever, quick-witted and unusually adaptable. Jenny are capable of doing anything they wish for.
Names that rhyme with Jenny
Adrianny, Ailanny, Alanny, Alianny, Anny, Anthonny, Antonny, Arianny, Benny, Bethanny, Bethenny, Bianny, Binny, Bonny, Brianny, Britanny, Brithanny, Brittainny, Brittanny, Bunny
Famous people named Jenny
Jenny Spark in Andrew Lloyd Webber: Masterpiece as Miscellaneous Crew
Jenny Garris in Time Lost as Actress
Jenny Heaton in In the Future Love Will Also as Actress
Jenny Leonhardt in Eloise at Large as Actress
Jenny Dahlström in Hymypoika as Actress
Jenny Ledel in Spider Veins as Actress
Jenny Atkins in Sei iellato, amico hai incontrato Sacramento as Actress
Jenny Fine in Key of Awesome in the Lipton Book of World Records as Actress
Jenny Jacobs in Caroline? as Actress
Jenny Cox in Carry on Behind as Actress
Jenny Jugo was an Austrian theatrical actress and cinematographer.
Jenny McCarthy in movie Dirty Love as Actress
Names like Jenny
Jenny Namesakes
Related Names:
Jen, Jena, Jenabelle, Jenacia, Jenae, Jenafer, Jenah, Jenai, Jenaia, Jenaiah, Jenaiya, Jenaka, Jenal, Jenalea, Jenalee, Jenali, Jenalis, Jenalise, Jenaliz, Jenalyn
Posts having Jenny:
Comments :
Jenny is a first female name, which is originally the diminutive of Jane ( Jeanne ), but it originated as a diminutive medieval Jane (a medieval English form of Joan ). Before the twentieth century was the most common form Jennie, and from the middle of that century the name is generally considered to be a derivative of Jennifer, the shape Cornish of Geneva.
Variants of the name are Jen, Jenni, Jennie, Jenna, Janne.
Famous bearers of the name are Jenny B - Italian singer, Jenny Barazza - Italian volleyball player, Jenny Tamburi - Italian actress, Jenny Luna , Italian singer.
- Wanita Escareno
Popularity of Jenny
Updated on: July 6th, 2019
Other variants of Jenny :
Lashawn
Tajuana
Guenevere
Guinevere
Gwenhwyfar

Jone
Joanna
Ioanna

Iohanna
Ioana
Ivana


Yana
Yoana
Joana

Jana

Jenifer
Žana

Johana
Johanna


Johanne

Hanna


Hanne

Janne

Jannicke

Jannike

Jeanette

Jonna
Janina
Hannele
Janna
Jenna
Jenni
Guenièvre
Jeanne
Jeanine
Jeannette
Jeannine
Joanne
Xoana
Gianna

Yanna

Nana

Zsanett

Jóhanna

Jóna

Chevonne
Shavonne
Shevaun
Shevon
Síne
Siobhán
Sinéad
Ginevra
Giovanna
Gia
Giannina
Giovannetta
Nina
Vanna
Jovana

Jehanne
Asia
Joasia
Joaninha
Zhanna
Zhannochka
Jean
Seona
Seonag
Sheena
Sheona
Shona
Sìne
Jessie
Seònaid
Sìneag
Teasag
Gaenor
Siân
Siwan
Siana
Siani
Sioned
English Boy Names :
A
B
C
D
E
F
G
H
I
J
K
L
M
N
O
P
Q
R
S
T
U
V
W
X
Y
Z
---
English Girl Names :
A
B
C
D
E
F
G
H
I
J
K
L
M
N
O
P
Q
R
S
T
U
V
W
X
Y
Z
Get the meaning of Jenny and celebrities who also shares the same name and some names related to Jenny, english baby names list, list of names in english. Know what does Jenny mean?
This website serves as the extended english names list which will help in naming your child.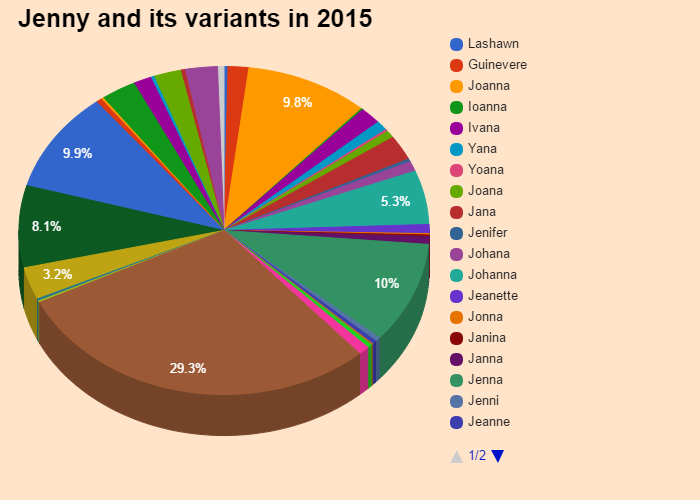 Share your opinion on Jenny