Name: Josephine
No. of characters: 9
Gender: Girl
Origin of Josephine:
English

German

Dutch


How to pronounce Josephine jo-se-phi-ne What does my name mean? Meaning of Josephine:

God will Add, God will Increase, God will Multiply, The Lord Increases, older variant of Josefine and Josefina (meaning: God would multiply). Namesake: Josephine Baker, American dancer.

The French baby name Josephine is the feminine form of Joseph. It was originally derived from the Hebrew name 'Yosef' meaning 'Yahweh shall grow', 'God will add' or 'God will increase'. The name had biblical mentions as 'Joseph' who was the elder son of Jacob and Rachael. Josephine is a diminutive form of the French name Josephe, but it started getting its recognition in the 19th century, replacing Josephe. The name gained all its popularity due to the high profile of a French noblewoman, Josephine de Beauharnais who was the wife of Napoleon and the Empress of French.

The name that is often neglected for its religious themes, Josephine still finds its fandom with the parents that are somewhat interested in cherishing the tradition. It's hard to neglect the French origin when it comes to Josephine, but the striking sound of it will influence the way you see this name. The meaning is strictly Hebrew, even though the name itself originated in France. Anyway, we still get to see Josephine being one of the choices in the modern era, at least in in the Christian communities, given that a name with such historical value deserves to be cherished.

Josephine was ranked

750

in 1989 list of US boys name and dropped by

3.59%

from its previous ranking of

724

in 1988. Josephine was ranked

130

in 2015 US female names list and elevated by

11.56%

from its previous ranking of

147

in 2014.

Full form of Josephine : Joyful Outspoken Suave Extroverted Proud Humble Intuitive Nurturing Eager

Josephine is a very consistent name over the past 18 years.

Josephine is a very very popular first name for a girl in United States which is popular since 1880 and ranked 130 (0.062519% bearer) in 2015 in US. Around 299575 people wear Josephine as their first name. Josephine is a rare first name for a boy in United States which is a rare name since 1885 and ranked 130 (0.062519% bearer) in 2015 in US. Only 299575 people have Josephine as their first name. Josephine is not a native United States and Josephine may be came from another language or is a short form of some other name. 0.083801% of people in US have this given name.

Complete history of Josephine
Year
Rank
Occurence
Popular girl name in
1880
49
544
1881
47
563
1882
49
638
1883
46
697
1884
44
800
1885
46
783
1886
46
844
Expression number of Josephine is 11.
Josephine have high energy levels, just like a child. Josephine are highly sensitive and possess a high sense of awareness. Josephine are gifted with a sixth-sense, in addition to discerning and inspiring qualities.
Names that rhyme with Joséphine
Adelphine, Adolphine, Alberthine, Alphine, Berthine, Bethine, Dalphine, Daphine, Dauphine, Delaphine, Delephine, Delphine, Dolphine, Joachine, Joephine, Joesphine, Josaphine, Josehine, Josephine, Josiephine
Famous people named Joséphine
Joséphine Avril is credited as writer of tvMovie Lovestruck: Laure
Names like Joséphine
Joséphine Namesakes
Related Names:
Jos, Josa, Josabet, Josabeth, Josael, Josafat, Josai, Josaia, Josaiah, Josaih, Josalin, Josalina, Josalind, Josaline, Josalyn, Josalyne, Josalynn, Josan, Josann, Josanna
Posts having Josephine:
Comments :
Josephine is a female first name. Josephine is the expansion of the female first name Josefa, the feminine form of the masculine name Josef - (Hebrew ) meaning: God adds / may multiply. Josephine is variants in different languages ​​of the proper name of person Giuseppina.
Variants of the name are Josefin, Josefina, Josefine, Joséfine, Josephina, Joséphine; also: Fina, Fini, Finja, Finnja, Josi, Josie , Josy, Josey, Jo, Finette, Finn, Fine, Josette, Josianne, Josina, Josl, Pepi, Phini, Jossica, Finchen, Jozefína, Josáe (Slovak), Fifi (French), Joe, yosephine, Phine, Jojo, Jozefin, Jozephin, Josephin, Jose, Finika.
- Ivory Ingles
Popularity of Josephine
Updated on: July 8th, 2019
Other variants of Josephine :
Josipa

Jozefina

Finka

Ina

Josefa
Josefiina
Iina
Josée
Josèphe
Joséphine
Fifi
Josette
Josiane
Jozefa

Giuseppa
Giosetta
Józefa
Józefina
Josefina
Jozefína
Jožefa
English Boy Names :
A
B
C
D
E
F
G
H
I
J
K
L
M
N
O
P
Q
R
S
T
U
V
W
X
Y
Z
---
English Girl Names :
A
B
C
D
E
F
G
H
I
J
K
L
M
N
O
P
Q
R
S
T
U
V
W
X
Y
Z
Get the meaning of Josephine and celebrities who also shares the same name and some names related to Josephine, english baby names list, list of names in english. Know what does Josephine mean?
This website serves as the extended english names list which will help in naming your child.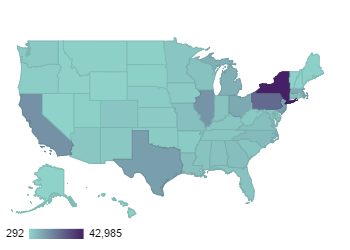 Share your opinion on Josephine