Name: Kyra
No. of characters: 4
Gender:
Origin of Kyra:
Old Persian

English


How to pronounce Kyra kyra What does my name mean? Meaning of Kyra:

Incense, Greek origin, feminine form of Cyrus or Cyrillus (meaning 'Lord, lord).

Kyra was ranked 877 in 2005 list of US boys name and dropped by 7.08% from its previous ranking of 819 in 2000. Kyra was ranked 440 in 2015 girls names list in US and remain unchanged from its previous ranking in 2014. Anglo-Saxon form of Cyriaque. Comes from the Greek "kurios" means "lord, master" If Day August 8.. To look good, a little haughty,Kyraare attractive women. Of strong character, adversity builds. Curious, passionate,Kyraare interested in everything. Rather opportunistic, calculators,Kyrado sometimes use trickery to achieve their ends. Creative, innovative,Kyrado a lot of projects. Kyra have business acumen and luck is often at the appointment.

Full form of Kyra : Knowledgeable Youthful Resourceful Amusing

Kyra is a very consistent name over the past 18 years.

Kyra is a very very popular first name for a girl in United States which is popular since 1988 and ranked 440 (0.016330% bearer) in 2015 in US. Around 33725 people wear Kyra as their first name. Kyra is a rare first name for a boy in United States which is a rare name since 1919 and ranked 440 (0.016330% bearer) in 2015 in US. Only 33725 people have Kyra as their first name. Kyra is not a native United States and Kyra may be came from another language or is a short form of some other name. 0.009434% of people in US have this given name.

Complete history of Kyra
Year
Rank
Occurence
Popular girl name in
1988
483
382
1989
501
373
1990
500
407
1991
443
458
1992
398
574
1993
366
647
1994
381
618
Expression number of Kyra is 1.
Kyra loves adventure and independence and possess determination and originality. Kyra generally leads and direct others and likes to establishes their individual identity.
Names that rhyme with Kyra
Ahmyra, Akeyra, Akiyra, Akyra, Allyra, Almyra, Alyra, Amayra, Amiyra, Amyra, Anayra, Anyra, Ashyra, Asyra, Ayra, Azyra, Betzayra, Byra, Camyra, Cayra
Famous people named Kyra
Kyra Azzopardi in Savage Messiah as Actress
Kyra Santoro in Episode #2.105 as
Kyrannio Margaros in Wilshire & Grand as Actress
Kyra Groves in Virus X as Actress
Kyra Steele in Amateur Angels 21 as Actress
Kyra Panchenko in Kill Bill: Vol. 2 as Make-Up Department
Kyra Locke in ReMoved as Actress
Kyra Freeman in Idlewild as Actress
Kyra Hendricks in Jonas Brothers: The 3D Concert Experience as
Kyra Shade in Ohne Bockschein darf kein Bock rein! as Actress
Kyra Sedgwick, actress,producer
Names like Kyra
Kyra Namesakes
Related Names:
Kyra, Kyrah, Kyralee, Kyralynn, Kyran, Kyre, Kyrea, Kyree, Kyreek, Kyreem, Kyreese, Kyrei, Kyrek, Kyrel, Kyrell, Kyren, Kyrene, Kyreon, Kyrese, Kyrha
Posts having Kyra:
Comments :
Kyra is a female first name of Persian origin. In Russian, Kira means "cheerful". Also, Kira is the English translation of the Irish name "Ciara" pronounced similarly and means "black" or "dark". The Japanese name, Latinized as Kira has nothing to do etymologically. It is a common name in Japan; "Kira kira" also means "bright" or "shining" in that language. There is a misunderstanding about this name, in English - speaking countries, which is that means "murderer" in Japanese. It could also be in relation to the term Greek "kyrios" (κύριος, Κύριλλος (Kyrillos)), which means "Lord, " so it could be used as the feminine form of Cyril.
Versions of the name are Cyra, Chiara, Keira, Kiara, Kiera, Kira, Kyra, Sierra, Ciro, Akira, Ciara.
- Zenia Xu
Popularity of Kyra
Other variants of Kyra :
Kiira
Ciara
Kiera
Kira
English Boy Names :
A
B
C
D
E
F
G
H
I
J
K
L
M
N
O
P
Q
R
S
T
U
V
W
X
Y
Z
---
English Girl Names :
A
B
C
D
E
F
G
H
I
J
K
L
M
N
O
P
Q
R
S
T
U
V
W
X
Y
Z
Get the meaning of Kyra and celebrities who also shares the same name and some names related to Kyra, english baby names list, list of names in english. Know what does Kyra mean?
This website serves as the extended english names list which will help in naming your child.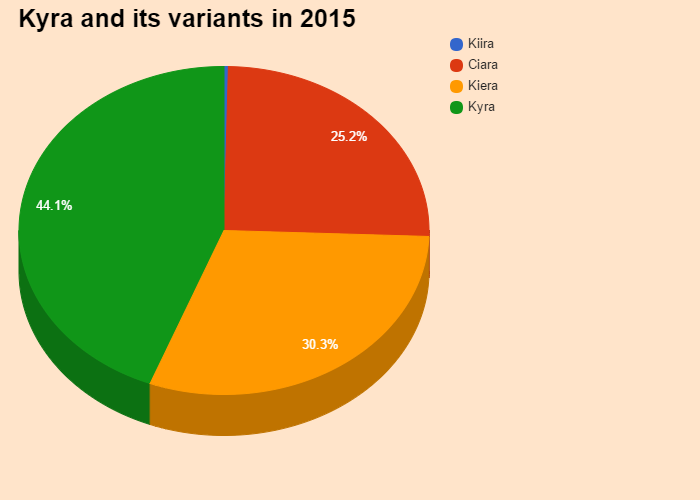 Share your opinion on Kyra