Name: Lily
No. of characters: 4
Gender: Unisex
Origin of Lily:
English


How to pronounce Lily li-ly What does my name mean? Meaning of Lily:

Lily, Form of Lillian, Manuscripts of God, Lily Flower, A Symbol of Purity, God is Fullness, My God is Perfect, The Lily Flower

Baby name Lily is taken from the name of trumpet-shaped flowers regarded as a symbol of purity and perfection. The word is ultimately derived from Latin lilium meaning "innocence, purity, a blossoming flower". The name is also used as a short form of both Lilian and Lilith. Many famous celebrities like Chris O'Donnell, Kate Beckinsale, Greg Kinnear, Fred Savage, and Johnny Depp had given this name to their daughters. This is also the name many fictional characters like Lily Bart, the main character of Edith Wharton's House of Mirth; Lily Owens in The Secret Life of Bees and both mother and daughter of Harry Potter. Few more current bearers include Lily Tomlin, singer Lily Allen, and actress Lily James.

The name that has been there for centuries, as one of the most used girl's names in the world, but what is it that makes it so special nowadays? Well, for what it's worth, naming your daughter after a flower is never a bad choice to begin with, but for Lily, the celebrities did the job, as Lily Depp is more than a famous young actress with even more popular father. Besides, other celebrities like Kate Beckinsale also named their daughter Lily, which automatically made a trendy name again. After all, Lily is quite a noble name in its core.

Lily was ranked 925 in 2015 list of US boys name and dropped by 0.65% from its previous ranking of 919 in 2014. Lily was ranked 25 in 2015 US female names list and elevated by 7.41% from its previous ranking of 27 in 2014.

Full form of Lily : Logical Inoffensive Likable Youthful

Lily is a very very popular first name for a girl in England & Wales which is popular since 1996 and ranked 9 in 2014. Around 49448 people wear Lily as their first name. Lily is a rare first name for a boy in England & Wales which is a rare name since 2011 and ranked 9 in 2014. Only 49448 people have Lily as their first name. Lily is a very consistent name over the past 18 years.

Lily is a very very popular first name for a girl in United States which is popular since 1915 and ranked 925 (0.000151% bearer) in 2015 in US. Around 129986 people wear Lily as their first name. Lily is a rare first name for a boy in United States which is a rare name since 1927 and ranked 925 (0.000151% bearer) in 2015 in US. Only 129986 people have Lily as their first name. Lily is not a native United States and Lily may be came from another language or is a short form of some other name. 0.036362% of people in US have this given name.

Complete history of Lily
Year
Rank
Occurence
Popular girl name in
1915
303
343
1916
298
373
1917
320
330
1918
308
388
1919
314
368
1920
318
386
1921
307
407
Other names liked by would be moms that are similar to Lily: Originated from Celtic, Maëly that means "Lord or Prince" celebrated on May 13th. Loma is resulted from Paloma has its origin in Latin and Spanish, a unisex name. In United States, the name is quite a bit common. In 1899, loved Loma was the 835th most popular name on baby girl names chart. Ejgild is used chiefly in Swedish and Danish, Ejgild is Danish cognate of Eigil given to boys. Lisbeth means My God is Abundance, My God has Sworn or My God is Perfect. Its origin is in Hebrew bestowed upon girls with same prefix Li- which happens to be the name of Author Lisbeth. While Unfamiliar name Claborn bestowed upon boys.
Expression number of Lily is 22.
Lily are persistent and possess leadership abilities. Lily dream big and so are their achievements in real world. Lily can transform any idea into reality which make them a master builder equipped with ingenuity and innovation.
Names that rhyme with Lily
Aily, Aleily, Amarily, Amily, Anaily, Analily, Annily, Baily, Beily, Bily, Braily, Caily, Callalily, Camily, Cecily, Cescily, Cesily, Cessily, Chantily, Cicily
Famous people named Lily
Lily Wen in Fortune Sun as Actress
Lily Rubenstein in Looking Down the Road as Actress
Lily Charms in Saloon Hidden Camera as Actress
Lily Santangelo in Wife Missing as Actress
Lily Dixon in Helpless Teens as Actress
Lily Alejandra in A tus espaldas as Actress
Lily Avidan in An American Hippie in Israel as Actress
Lily Tien in Yu hou chiao yang as Actress
Lily Bevan in The Waters of Mars as Actress
Lily Williams in Scarlet Samurai: Incarnation as Actress
Lily Braun was a German writer and feminist.
Actor Lily Tomlin, noted for movie Grandma
In 1951, Lily Aclemar characterized the role of N in comedy and drama flick Los huéspedes de La Marquesa.
Lily van den Bergh played the significant character of N in 1966 drama movie Een ochtend van zes weken.
In 1940, Lily Bouwmeester played the role of Nellie van Loon in romance, war film Ergens in Nederland.
Lily Chung characterized leading role of Lily in 1992 action and drama movie Qing zhai.
In 1911, Lily Dampier portrayed the role of N in drama movie The Life of Rufus Dawes.
In 1925 0 film, Como Don Lucas Gómez, Lily Dorian portrayed N.
In 1920 0 movie, Le petit poucet, Lily Fairlie played N.
In 1972 action, drama film, Ai nu, Lily Ho portrayed Ai Nu.
Lily Li characterized the important role of N in 1978 action, adventure film Jue dou zhe de sheng ming.
In 1935 crime and drama flick, The Burgomeister, Lily Molloy characterized N.
Lily Phillips, from 1923 drama, romance flick The White Flower, who played Bernice Martin.
In 1933, Lily Rodien portrayed the role of Synnöve Heidecker in 0 film Mädels von heute.
Lily Saxby, from 1915 crime, drama movie Vice and Virtue, who characterized Bella Brown.
In 1931 comedy film, La bande à Bouboule, Lily Zévaco characterized Nénette.
In 1993, Lily Zhang portrayed the role of Sally in 0 movie Small Pleasures.
In 1945 comedy, musical flick, Bambucos y corazones, Lily Álvarez characterized N.
Lily Rochefort played small role of Mrs. Drew in 1918 0 flick The Enemy Within.
In 1922, Lily Iris characterized the role of Sally Dutton in drama film Dick Turpin's Ride to York.
Lily Patra played the small role of Ros in 1995 action and comedy film Bisikan Cinta.
In 2013 thriller movie, Kyôaku, Lily Franky characterized N.
Lily Hessing portrayed crucial role of N in 1919 0 movie Die Angelfreude.
Lily Snowden-Fine characterized central character of Peppa Pig in 2012 animation movie Peppa Pig: Flying a Kite and Other Stories.
Lily Frederiksen characterized important role of N in 1912 romance film Kærlighed og venskab.
In 0, Lily Bloom characterized the role of Daphne in drama movie Veil of Dreams.
Lily Collins, from 2014 comedy, romance movie Love, Rosie, who characterized Rosie Dunne.
Names like Lily
Lily Namesakes
Related Names:
Lil, Lila, Lilac, Lilah, Lilak, Lilamae, Lilan, Lilana, Lilandra, Lilani, Lilany, Lilar, Lilarose, Lilas, Lilbern, Lilbert, Lilborn, Lilburn, Lile, Lilea
Posts having Lily:
Comments :
Lily is a first female name. Is based on the Latin lilium , meaning " lily ", a classic symbol of purity. It can also be seen as a ipocoristico of Liliana, which is a derivative of Elizabeth but, in turn, is occasionally regarded as an elaboration of Lilia ; moreover also several variations of Lilia, such as Lady and Lillie, may be truncated forms of Elizabeth.
Variants of the name are Лилия ( Lilija ), Lilja, Lilli, Lily, Lillie, Lilly, Lile, Lilja, Lilia, Лилия ( Lilija ), Лилька ( Lil'ka ), [5] Лиля ( Lilja ), Лілія ( Lilija ).
- Cherokee Ed
Popularity of Lily
Updated on: July 15th, 2019
Other variants of Lily :
Liliya

Lilyana
Ljiljana

Lilly

Lilja

Lilli
Lili

Liliane
Lilianne
Liliána

Líle
Liliana
Liana
Lilija

Liljana

Lílian
Lilia

Lilya

Lileas
Lilias
Lillias
Ljilja
Lilijana
English Boy Names :
A
B
C
D
E
F
G
H
I
J
K
L
M
N
O
P
Q
R
S
T
U
V
W
X
Y
Z
---
English Girl Names :
A
B
C
D
E
F
G
H
I
J
K
L
M
N
O
P
Q
R
S
T
U
V
W
X
Y
Z
Get the meaning of Lily and celebrities who also shares the same name and some names related to Lily, english baby names list, list of names in english. Know what does Lily mean?
This website serves as the extended english names list which will help in naming your child.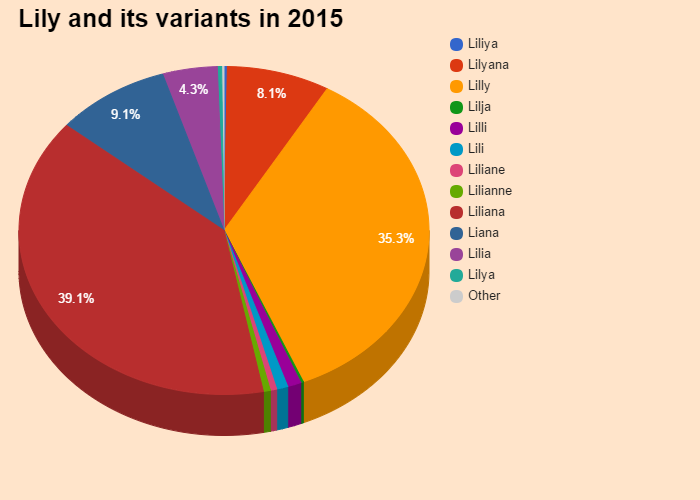 Share your opinion on Lily