Name: Mark
No. of characters: 4
Gender: Boy
Origin of Mark:
Latin


Religion: Hindu How to pronounce Mark ma-rk What does my name mean? Meaning of Mark:

War-like, Mars, From the God Mars, Dedicated to Mars, Horse, Dedicated To Mars (The Roman God Of Wa
Origin and Meaning
Baby name Mark is an English cognate of the Latin Marcus which is of debated origin and meaning. Some believes that that it is taken from Mars which is the name of Roman mythological god of war and thus the meaning is "war-like". While other thinks that it is from Greek malakoz meaning "soft, tender". The name is borne in the Bible by one of the four evangelists who was the author of the second Gospel. A famous bearer of the name is Marcus Tullius Cicero who was a 1st-century BC statesman and orator. Mark Z. Danielewski is also the name of an American novelist. Mark Greene is the name of the doctor on NBC's medical drama ER.
Mark was ranked 193 in 2015 list of US boys name and dropped by 2.66% from its previous ranking of 188 in 2014. Mark was ranked 950 in 2014 list of US girls name and dropped by 2.04% from its previous ranking of 931 in 2013.
Full form of Mark : Mathematical Active Realistic Kind
Mark is a very very popular first name for a boy in England & Wales which is popular since 1996 and ranked 218 in 2014. Around 9345 people wear Mark as their first name. Mark is a very consistent name over the past 18 years.
Mark is a very very popular first name for a boy in United States which is popular since 1913 and ranked 193 (0.051742% bearer) in 2015 in US. Around 1350349 people wear Mark as their first name. Mark is a rare first name for a girl in United States which is a rare name since 1892 and ranked 193 (0.051742% bearer) in 2015 in US. Only 1350349 people have Mark as their first name. Mark is not a native United States and Mark may be came from another language or is a short form of some other name. 0.377739% of people in US have this given name.
Complete history of Mark
Year
Rank
Occurence
Popular boy name in
1913
185
349
1914
201
386
1915
199
529
1916
189
571
1917
204
528
1918
195
627
1919
202
587
Expression number of Mark is 7.
Mark likes to research and reason to know the answers of hidden questions as Mark are gifted with an analytical mind. Mark are always on the quest for knowledge and wisdom and loves being alone.
Names that rhyme with Mark
Ark, Bismark, Clark, Demark, Denmark, Edmark, Johnmark, Jonmark, Klark, Lamark, Lark, Lemark, Mmark, Park, Roark, Ruark, Spark, Stark
Famous people named Mark
Emily Marks in Erin Brockovich as Actress
Dana Marks in Teen Maar as Actress
Julia Markovski in Centre Place as Actress
Meredith Markworth-Pollack in Pilot as Costume Designer
Markéta Hrubesová in Winter '89 as Actress
Ylva Fröjmark in Eva & Adam - Fyra födelsedagar och ett fiasko as Actress
Becca Marks in Parker as Actress
Havana Marking in Afghan Star as Producer
Erin Markey in 4 Stars Out of 2 as Actress
Michelle Marks in Crossroads Café as Art Department
Mark Feuerstein Feuerstein got a TV role as a recurring character on the soap opera Loving.
Mark Wahlberg acted in movie Boogie Nights
Names like Mark
Mark Namesakes
Related Names:
Mar, Mara, Maraam, Marabel, Marabella, Marabelle, Marabeth, Marache, Maradee, Maradith, Marae, Maragaret, Maragret, Marah, Marai, Maraia, Maraiah, Maraih, Maraina, Maraiya
Posts having Mark:
Comments :
Ha! That's me in a nutshell. Spooky.

- Mark
Mark is a male first name and last name. The first name Mark is a young short form or the English version of the name Markus.
The name Mark is polygenic:
It is a short form of nicknames which marka with the word, Old High German for "border, borderland, joint ownership of a community", are formed (for example, Mark Ward / t, Mark Hard / t). Variant in different languages of the proper name of the person Italian Marco.
it is a home to name althochdeutsch and altniederdeutsch marka "border, borderland, joint ownership of a community";
He is an origin name to the frequent place name Mark (Lower Saxony, North Rhine-Westphalia, Thuringia, Bavaria, Prussia).
The name Mark (Marc) was late fifties quickly became popular. Mid-seventies he was one of the ten most popular boys' names of the year. Then his popularity declined slightly and remained in the eighties and nineties on constant medium level among the fifty most popular name. In the new millennium its popularity has again declined slightly.
Variants: Marc Marko Marco Markus Marcus
- Blythe Foutch
Popularity of Mark
Updated on: July 24th, 2019
Other variants of Mark :
Markos

Marcus
Marko



Marc

Margh
Marek
Markku
Markus
Marco
Maleko
Márk

Marcas
Markuss

Marcos
Marquinhos
Mars

English Boy Names :
A
B
C
D
E
F
G
H
I
J
K
L
M
N
O
P
Q
R
S
T
U
V
W
X
Y
Z
---
English Girl Names :
A
B
C
D
E
F
G
H
I
J
K
L
M
N
O
P
Q
R
S
T
U
V
W
X
Y
Z
Get the meaning of Mark and celebrities who also shares the same name and some names related to Mark, english baby names list, list of names in english. Know what does Mark mean?
This website serves as the extended english names list which will help in naming your child.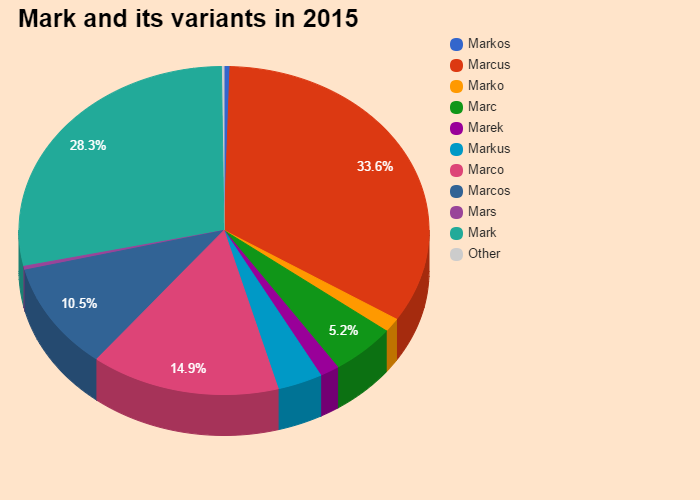 Share your opinion on Mark