Name: Martin
No. of characters: 6
Gender: Boy
Origin of Martin:
English

French

German

Swedish

Norwegian

Danish

Russian

Romanian

Czech

Slovak

Slovene

Croatian

Hungarian

Bulgarian

Macedonian

Finnish


How to pronounce Martin ma-rtin What does my name mean? Meaning of Martin:

From the God Mars, War-like, Dedicated to Mars, Warring, Latin origin, meaning similar to the god of war Mars. Traditional, timeless, common in many languages ​​name. In Germany encountered since the early Middle Ages. Known as Pope and by the Holy Name. Martin, Bishop of Tours. Namesakes: Martin Luther, German reformer.
Origin and Meaning
Baby name Martin is a surname as well as given name which is derived from the Roman name Martinus which in turn is derived from Martis meaning "the god of war". Martis was the name of the Roman god Mars which was the protective godhead of the Latins. The name was borne by a 4th-century bishop Saint Martin who was the patron saint of France. He was famous for using his military sword to cut his cloak into two and gave half of it to a cold beggar in the middle of winter. Other famous bearers of the name are Martin Luther who was a German theologian and began the Protestant Reformation and American filmmaker Martin Scorsese.
Martin was ranked 270 in 2015 list of US boys name and dropped by 4.65% from its previous ranking of 258 in 2014. Martin was ranked 953 in 2014 US female names list and elevated by 2.46% from its previous ranking of 977 in 2007.
Full form of Martin : Meticulous Alert Reliable Thoughtful Informal Normal
Martin is a very very popular first name for a boy in England & Wales which is popular since 1996 and ranked 247 in 2014. Around 4036 people wear Martin as their first name. Martin is a very consistent name over the past 18 years.
Martin is a very very popular first name for a boy in United States which is popular since 1880 and ranked 270 (0.033620% bearer) in 2015 in US. Around 305083 people wear Martin as their first name. Martin is a rare first name for a girl in United States which is a rare name since 1887 and ranked 270 (0.033620% bearer) in 2015 in US. Only 305083 people have Martin as their first name. Martin is not a native United States and Martin may be came from another language or is a short form of some other name. 0.085342% of people in US have this given name.
Complete history of Martin
Year
Rank
Occurence
Popular boy name in
1880
43
357
1881
43
327
1882
45
387
1883
45
377
1884
47
385
1885
48
357
1886
57
329
Expression number of Martin is 3.
Martin are lively, imaginative, enthusiastic and optimistic. Martin are expressive and inspire others wherever they go. Martin possess great verbal skills which make them good comedian, artist or writer.
Names that rhyme with Martin
Artin, Aubertin, Bertin, Juanmartin, Mertin, Nortin
Famous people named Martin
Katherine Scarlet Martin in Lou Diamond Phillips/Brooke Burns/Parker Stevenson as Actress
Ana Martin in Casino, No Limit as Actress
Meghan Victoria Martin in Chalk It Up as Actress
Marta Martín in Tres metros sobre el cielo as Actress
Carla Martinez in All My Life as Actress
Martina Kratka in Nestyda as Actress
Jennifer Martin in The Wicker Man as Actress
Martina Messing in Children of Men as Actress
Marilyn Martinez in Pauly Shore Is Dead as Actress
Françoise Martinelli in La sonate à Kreutzer as Actress
Martin Gardner was a scientific and philosopher of American science, as well as magician illusionist, very popular for his books of recreational mathematics.
Martin Scorsese is notable for directing movie Mean Streets
Names like Martin
Martin Namesakes
Related Names:
Mar, Mara, Maraam, Marabel, Marabella, Marabelle, Marabeth, Marache, Maradee, Maradith, Marae, Maragaret, Maragret, Marah, Marai, Maraia, Maraiah, Maraih, Maraina, Maraiya
Posts having Martin:
Comments :
Martin is a male first name and a last name. The feminine form of the name is Martina. The surname Martin is widespread in many countries. In France, for example, he is the most common name and in the English speaking many bear that surname.
The name Martin comes from Latin Martinus. Martinus is the adjective for the Roman god of war Mars. According to the name "Son of Mars", means "Mars consecrated" or "warrior" or "martial" (see. Martialisch ). Even the late 19th century Martin was a moderately well-known first name in Germany. His popularity then declined initially to sharply rise late forties. From the late fifties, the name was among the twenty most awarded boy names, towards the middle of the eighties even a few times among the top ten . By the early nineties his popularity then took off quickly.
Versions of the name Martin: Maarten, Marten, Martinus, Merten, Martijn ( Dutch ), Marcin ( Polish ), Martinaj (Albanian name), Martegn ( Romansh ), Mart and Mart ( Estonian ), Mårten ( Swedish ), Martí ( Catalan ), Martín ( Spanish ), Martina (feminine form), Martine ( French ) (feminine form).
- Ta Twellman
Popularity of Martin
Updated on: July 18th, 2019
Other variants of Martin :
Martinus
Mattin
Matxin
Martí

Maarten
Marten
Martijn
Tijn
Máirtín
Martino
Tino
Martynas
Marcin
Martim
Martinho
Mars

Martín
Martyn

English Boy Names :
A
B
C
D
E
F
G
H
I
J
K
L
M
N
O
P
Q
R
S
T
U
V
W
X
Y
Z
---
English Girl Names :
A
B
C
D
E
F
G
H
I
J
K
L
M
N
O
P
Q
R
S
T
U
V
W
X
Y
Z
Get the meaning of Martin and celebrities who also shares the same name and some names related to Martin, english baby names list, list of names in english. Know what does Martin mean?
This website serves as the extended english names list which will help in naming your child.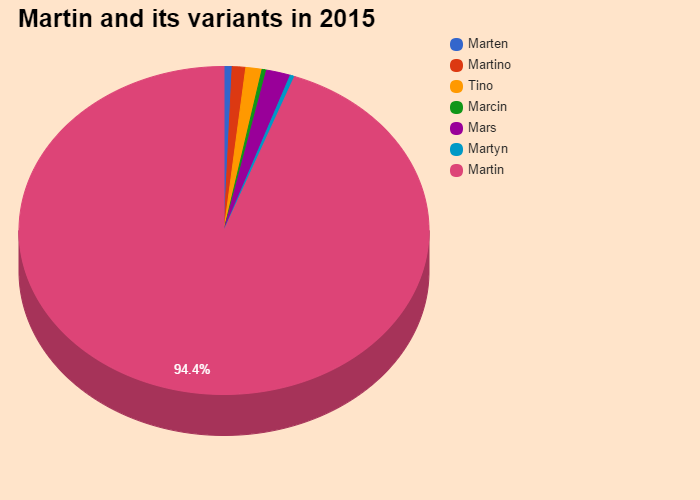 Share your opinion on Martin