Name: Molly
No. of characters: 5
Gender: Girl
Origin of Molly:
Hebrew


How to pronounce Molly mo-lly What does my name mean? Meaning of Molly:

Pet Form of Mary, The Perfect One, Bitterness, Sorrow, Star of the Sea, Maybe Bitterne

Molly was ranked 921 in 2014 list of US boys name and dropped by 4.07% from its previous ranking of 885 in 2012. Molly was ranked 143 in 2015 list of US girls name and dropped by 17.21% from its previous ranking of 122 in 2014. First name derived from Melle. Comes from the Latin "mel" Means: "honey" If Day March 9.. Small, elegant and charming women who bring happiness whereMollyare. Natural, simple, soft,Mollyshow extraordinary patience. Dreamy, idealistic,Mollywould argue for hours putting the world. Their capricious side is quickly forgotten when you see them go that extra mile to help. Their melancholy moments never last and energy helps resurface quickly.

Full form of Molly : Middleclass Optimistic Lively Lonesome Youthful

Molly is a very very popular first name for a girl in England & Wales which is popular since 1996 and ranked 41 in 2014. Around 39485 people wear Molly as their first name. Molly is a very consistent name over the past 18 years.

Molly is a very very popular first name for a girl in United States which is popular since 1915 and ranked 143 (0.056411% bearer) in 2015 in US. Around 159824 people wear Molly as their first name. Molly is a rare first name for a boy in United States which is a rare name since 1880 and ranked 143 (0.056411% bearer) in 2015 in US. Only 159824 people have Molly as their first name. Molly is not a native United States and Molly may be came from another language or is a short form of some other name. 0.044708% of people in US have this given name.

Complete history of Molly
Year
Rank
Occurence
Popular girl name in
1915
311
325
1916
317
333
1917
326
310
1918
345
306
1921
351
302
1928
360
314
1929
341
320
Expression number of Molly is 5.
Molly love adventure, excitement and freedom. Molly are clever, quick-witted and unusually adaptable. Molly are capable of doing anything they wish for.
Names that rhyme with Molly
Adanelly, Ally, Anally, Anayelly, Anelly, Angelly, Anlly, Aracelly, Arelly, Arielly, Ashelly, Ashlly, Bailly, Banelly, Billy, Cally, Camilly, Cecilly, Chanelly, Chantilly
Famous people named Molly
Molly Jane Levine Zuckerman in Killer Instinct as Actress
Molly Kerr in Hotel as Actress
Molly Erdman in The Goods: Live Hard, Sell Hard as Actress
Molly Moore in The Notorious Bettie Page as Actress
Molly Nikki Anderson in Wisconsin Death Trip as Actress
Molly Line in Episode dated 17 August 2014 as
Molly Moynihan in Avery Park as Actress
Molly Innes in Ratcatcher as Actress
Molly Celaschi in Attack of the Zombie Luchadores as Actress
Molly Rogers in The Devil Wears Prada as Costume and Wardrobe Department
Molly Bobak was a Canadian teacher, writer, recorder and painter who worked on oils and watercolors.
Actor Molly Ringwald, well-known for movie The Breakfast Club
Names like Molly
Molly Namesakes
Related Names:
Molde, Moleena, Molene, Molette, Molik, Molika, Molina, Molinda, Moline, Molique, Molissa, Moll, Molla, Mollee, Molleigh, Molley, Molli, Mollie, Molloy, Molly
Posts having Molly:
Comments :
Molly is a proper name of person English female. English names medieval Malle and springs, diminutive of Mary. Polly is in turn a medieval variant of the name: the reason for the initial exchange rate is unknown, but is also found in Meggy -Peggy and Matty - Patty.
Variants of the name are Mollie, Polly, Pollie, Mallaidh.
Famous bearers of the name : Molly Culver- American actress, Molly Hagan- American actress, Molly Parker- Canadian actress, Molly Price- American actress, Molly Quinn- American actress.
- Carlton Villano
Popularity of Molly
Other variants of Molly :
Mariam

Maryam

Maria




Miren
Maia
Maryia
Mary
Miriam

Mari


Mariya

Mariona

Marija



Marie

Madlenka
Maja

Marika

Maiken

Majken
Marianne

Mia

Marja
Marjo
Mirjam
Maaike
Manon
Marieke
Mariëlle
Mariëtte
Marijke
Marijse
Marike
Mariska

Marita
Marjan
Meike
Mieke
Miep
Mies
Ria
Maarja
Maarika
Mare
Maaria
Marjaana
Mirjami
Maija
Maritta
Marjatta
Marjukka
Marjut
Myriam
Marielle
Mariette
Marion
Marise
Maike
Mareike
María

Mariami
Meri
Mariele
Mitzi
Malia
Mele
Mária

Mara

Marica

Mæja

Máire
Mallaidh
Maura
Moira
Mairenn
Máirín
Mariella
Marietta
Mimi
Moirrey
Voirrey
Mere

Molle
Malle
Mariazinha
Marya
Maryana
Márjá

Màiri
Maritza
My
Meryem


Mair
Mairwen
English Boy Names :
A
B
C
D
E
F
G
H
I
J
K
L
M
N
O
P
Q
R
S
T
U
V
W
X
Y
Z
---
English Girl Names :
A
B
C
D
E
F
G
H
I
J
K
L
M
N
O
P
Q
R
S
T
U
V
W
X
Y
Z
Get the meaning of Molly and celebrities who also shares the same name and some names related to Molly, english baby names list, list of names in english. Know what does Molly mean?
This website serves as the extended english names list which will help in naming your child.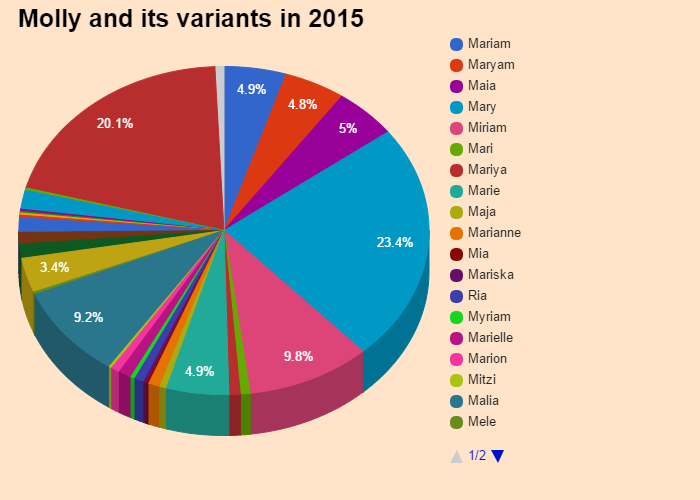 Share your opinion on Molly