Name: Oli
No. of characters: 3
Gender: Boy
Origin:
Old High German
English
How to pronounce Oli
óli
What does my name mean?
Meanings:
Wealth
Defender of Mankind
Ancestor
Ancestor's Descendent
Courageous
Elf Army
Oli was ranked 905 in 2016 US male names list and elevated by 1.09% from its previous ranking of 915 in 2015.
Full form of Oli : Original Lonesome Intellectual
Oli is a rare first name for a boy in England & Wales which is a rare name since 2000 and ranked 1279 in 2015. Only 133 people have Oli as their first name.
Oli is very very rare boy name with few occurences i.e., 2009, 2014, 2015, 2016, during previous 120 years which is a rare boy name since 2009 and ranked 905 in 2016 in United States. Only 31 people have Oli as their first name. Oli is not a native United States name and Oli might have came from another language or is a variant form of some other name. 0.000009% of people in US have this given name.
Complete history of Oli
Year
Rank
Occurence
Rare boy name in
2009
892
5
2014
920
7
2015
915
9
2016
905
10
Expression number of Oli is 9.

Oli are idealistic who embrace the principles of compassion and forgiveness. Oli are visionary who is wiling to make a better world and have the ability to influence masses. Oli are also creative and imaginative that gives them an artistic talent.

Names that rhyme with Oli Anatoli, Anjoli, Atoli, Bartoli, Enjoli, Holi, Joli, Koli, Loli, Naftoli, Niccoli, Nicholi, Nickoli, Nicoli, Nikkoli, Nikoli, Noli, Oli, Soli, TivoliFamous people named Oli

Olivia Grace in Bad Kids as Actress

Caroline Leaf in The Metamorphosis of Mr. Samsa as Director

Olivia Hill in Deadly Sanctuary as Actress

Nadine Jolie Courtney in The Final Push as

Angelina Capozzoli in Feed Me as Actress

Hailey Holiday in Black Bi Cuckolding 17 as Actress

Codie Elaine Oliver in A Terrified Terrier as Actress

Caroline Sheen in Les Misérables as Actress

Gene Polito in Westworld as Cinematographer

Mariolina De Fano in L'uomo nero as Actress

Names like Oli Oli, Olia, Oliana, Olianna, Olibia, Olice, Olicia, Olida, Olie, Olif, Oligana, Olijah, Olimpia, Olimpias, Olin, Olina, Olinda, Olindo, Oline, Olinka
Oli Namesakes
Other variants of Oli :
Oliver



Olivier
Olivér

Oliviero
Noll
Oliwier
English Boy Names :
A
B
C
D
E
F
G
H
I
J
K
L
M
N
O
P
Q
R
S
T
U
V
W
X
Y
Z
---
English Girl Names :
A
B
C
D
E
F
G
H
I
J
K
L
M
N
O
P
Q
R
S
T
U
V
W
X
Y
Z
Get the meaning of Oli, list of names in english. Know what does Oli mean, what is the meaning of name Oli?
This website serves as the extended english names list which will help in naming your child.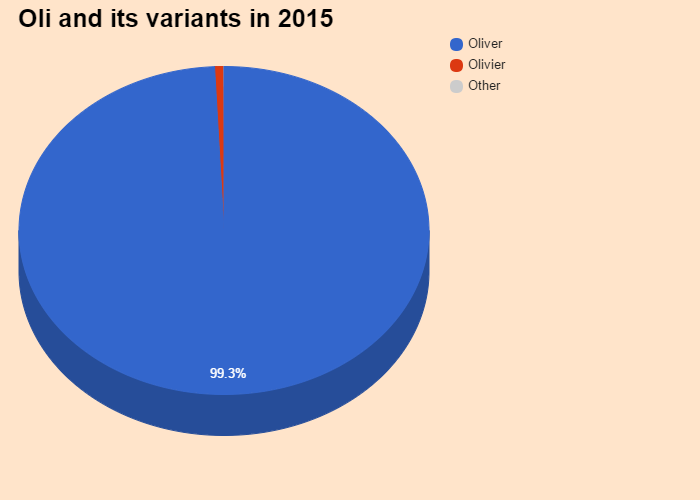 Share your opinion on Oli