Name: Pablo
No. of characters: 5
Gender: Boy
Origin of Pablo:
Spanish

Latin


Religion: Hindu How to pronounce Pablo pa-blo What does my name mean? Meaning of Pablo:

Holly, Ancestor, Little, The Sma

Pablo was ranked 377 in 2015 US male names list and elevated by 0.53% from its previous ranking of 379 in 2014. Pablo was ranked 897 in 2000 list of US girls name and dropped by 3.70% from its previous ranking of 865 in 1996. Comes from the Latin "paulus" Means "small, weak" If Day June 29. Their strong personality inspires respect. Pablo are men of action, enterprising, unremitting up stubbornness. On authoritarian appearancePablodo in fact hide a certain timidity. In private,Pabloare tender, public,Pabloare quite aggressive and not very easy. Workers, perfectionists,Pablohave a moral demanding. These are good that breathe life living lungs.

Full form of Pablo : Painstaking Accepting Balanced Level-Headed Obedient

Pablo is a rare first name for a boy in England & Wales which is a rare name since 1996 and ranked 1178 in 2014. Only 485 people have Pablo as their first name. Pablo is a very consistent name over the past 18 years.

Pablo is a very very popular first name for a boy in United States which is popular since 1968 and ranked 377 (0.020167% bearer) in 2015 in US. Around 42603 people wear Pablo as their first name. Pablo is a rare first name for a boy in United States which is a rare name since 1880 and ranked 377 (0.020167% bearer) in 2015 in US. Only 42603 people have Pablo as their first name. Pablo is not a native United States and Pablo may be came from another language or is a short form of some other name. 0.011918% of people in US have this given name.

Complete history of Pablo
Year
Rank
Occurence
Popular boy name in
1968
399
308
1969
399
329
1970
390
378
1971
391
354
1972
389
352
1973
371
364
1974
355
409
History of Pablo

Born in Turkey around the year 5 or 10 AD, Jew and Roman citizen, Paul comes to study and work in Jerusalem. There he meets and persecuted the early Christians. Converted after an apparition of Christ, he was baptized and became the apostle of the Gentiles. He spends his life traveling and evangelizing. Arrested, he was sentenced and executed in Rome around 67.
Expression number of Pablo is 1.
Pablo loves adventure and independence and possess determination and originality. Pablo generally leads and direct others and likes to establishes their individual identity.
Names that rhyme with Pablo
Diablo, Josepablo, Juanpablo, Luispablo, Paublo
Famous people named Pablo
Norma Pablo in Man on Fire as Actress
Cote de Pablo in Truth or Consequences as Actress
Juan Pablo Llano in Episode #1.1 as Actor
Pablo Alborán in Solamente Pablo... y tú as
Pablo Hidalgo in Star Wars Rebels as Miscellaneous Crew
Pablo Martínez de Velasco in Amor letra por letra as Producer
Pablo Agüero in Primera nieve as Director
Pablo Marcovsky in Envela as Actor
Pablo Stoll in Whisky as Director
Pablo Larcuen in Hooked Up as Writer
Pablo Aimar Pablo Cé sar Aimar is an exFutbolista argentino.
Pablo Alarcón in TV series Little Women Forever as Actor
Names like Pablo
Pablo Namesakes
Related Names:
Pabel, Pabla, Pablita, Pablito, Pablo
Posts having Pablo:
Comments :
The name originated Pablo was a male English first name-which still remains in some peninsular rural areas, which then changed to the current "Paul" because of the custom of the Spanish language male names end in "-o". Paul is a proper name male Latino ( Paulus ) that exists from ancient Rome and was a cognomen of gens (family) Roman ilustrísima called Gens Emilia.
Variants of the name in other languages are Armenian : Poghos, Boghos, Esperanto : Paulo, Irish : Pól, Polet, Russian : Павел (Pavel), Breton : Pol, Paol, Danish : Poul, Spanish : Pablo, Greek : Παύλος (Pávlos).
- Malinda Treese
Popularity of Pablo
Other variants of Pablo :
Pal

Pali

Pavli

Paulus
Boulos

Bulus

Boghos
Poghos
Paul

Paulos
Paol
Pavel

Pau


Pol

Paulu
Pavao

Pavle


Pavo

Poul
Palle
Pauwel
Paulie
Paŭlo
Paĉjo
Paavo
Paavali
Pauli
Paulo
Pavlos

Pál

Páll

Pól
Paolo
Pāvils

Paulius
Paora

Pål

Paweł
Paulinho
Pasha
Pàl
Pòl
Pavol
Pavlo

English Boy Names :
A
B
C
D
E
F
G
H
I
J
K
L
M
N
O
P
Q
R
S
T
U
V
W
X
Y
Z
---
English Girl Names :
A
B
C
D
E
F
G
H
I
J
K
L
M
N
O
P
Q
R
S
T
U
V
W
X
Y
Z
Get the meaning of Pablo and celebrities who also shares the same name and some names related to Pablo, english baby names list, list of names in english. Know what does Pablo mean?
This website serves as the extended english names list which will help in naming your child.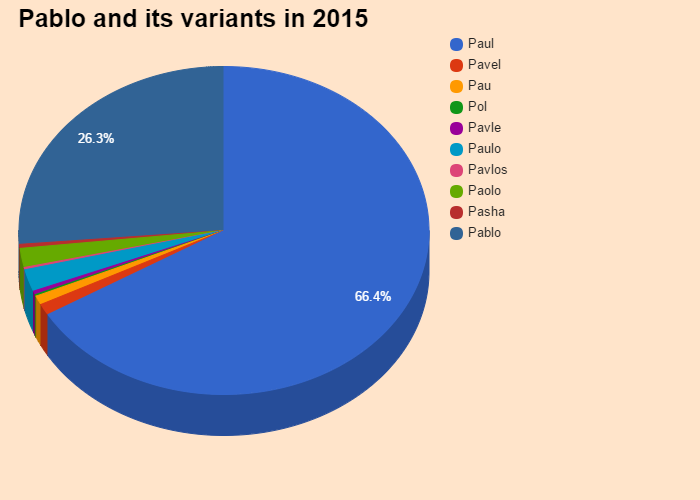 Share your opinion on Pablo