Name: Paul
No. of characters: 4
Gender: Boy
Origin of Paul:
Latin


Religion: Hindu How to pronounce Paul paul What does my name mean? Meaning of Paul:

Small, Little, Biblical Apostle and Evangelist Paul's Letters to Early Christians Comprise Many New Testament Books, Humble, The Sma

Paul was ranked 197 in 2015 US male names list and elevated by 1.50% from its previous ranking of 200 in 2014. Paul was ranked 954 in 2006 list of US girls name and dropped by 0.95% from its previous ranking of 945 in 2005. Comes from the Latin "paulus" Means "small, weak" If Day June 29. Their strong personality inspires respect. Paul are men of action, enterprising, unremitting up stubbornness. On authoritarian appearancePauldo in fact hide a certain timidity. In private,Paulare tender, public,Paulare quite aggressive and not very easy. Workers, perfectionists,Paulhave a moral demanding. These are good that breathe life living lungs.

Full form of Paul : Polite Agreeable Unmethodical Lively

Paul is a very very popular first name for a boy in England & Wales which is popular since 1996 and ranked 305 in 2014. Around 7402 people wear Paul as their first name. Paul is a very consistent name over the past 18 years.

Paul is a very very popular first name for a boy in United States which is popular since 1880 and ranked 197 (0.050858% bearer) in 2015 in US. Around 1389004 people wear Paul as their first name. Paul is a rare first name for a girl in United States which is a rare name since 1884 and ranked 197 (0.050858% bearer) in 2015 in US. Only 1389004 people have Paul as their first name. Paul is not a native United States and Paul may be came from another language or is a short form of some other name. 0.388552% of people in US have this given name.

Complete history of Paul
Year
Rank
Occurence
Popular boy name in
1880
55
301
1882
42
397
1883
47
358
1884
44
422
1885
43
428
1886
37
466
1887
38
449
Expression number of Paul is 5.
Paul love adventure, excitement and freedom. Paul are clever, quick-witted and unusually adaptable. Paul are capable of doing anything they wish for.
Names that rhyme with Paul
Adrianpaul, Aul, Baul, Christianpaul, Christopherpaul, Davidpaul, Depaul, Elijahpaul, Elisaul, Esaul, Ethanpaul, Gianpaul, Iouanaul, Isaul, Jamaul, Jamespaul, Japaul, Jasonpaul, Jean-Paul, Jeanpaul
Famous people named Paul
Paula Muñoz in El club de los incomprendidos as Actress
Paula Polak in Vermisst - Alexandra Walch, 17 as Actress
Paula Bruss in Kokowääh 2 as Actress
Paula Fortunato in Des nouvelles du bon Dieu as Miscellaneous Crew
Paula Forrest in Episode #1.2986 as Actress
Pauline Dyer in Expecting Amish as Actress
Paulette Randall in The Real McCoy as Producer
Paula Picerni in Gone in Sixty Seconds as Stunts
Sophia Paulmier in Apollo Guidance as Actress
Georgie Paul in Demon Seed as Actress
Paul Gottlieb Werlhof Paul Gottlieb Werholf was a German clerk.
Actor Paul Newman, known for movie The Hustler
Names like Paul
Paul Namesakes
Related Names:
Pau, Paublita, Paublo, Pauee, Pauie, Paul-Adrien, Paul-Alexandre, Paul-Antoine, Paul-Emile, Paul-Emilien, Paula, Paulann, Paulanne, Paulanthony, Paule, Paulean, Pauleen, Paulena, Paulene
Posts having Paul:
Comments :
Paul is a male name from the Latin paulus (small, humble). This name gave the Paul surname and place names.
Les Paul is celebrated on June 29 in honor of Paul of Tarsus, apostle and evangelist.
Sixty saints and blessed Christians have this name or one of its derivatives and 8 popes (if you count the two Jean-Paul).
It was Paul of Tarsus who is behind the popularity of the name. Jew and Roman citizen, he was, after his conversion, one of the first theologians of Christianity in the middle of the first century. It was he who allowed Christianity to flourish out of Judea and Palestine to convert non-Jews to Christianity.
His name became a common name from the second century in Asia Minor as in Gaul. Like many Latin or Greek names, he experienced a long eclipse from the eighth century, but never disappeared from use. From the thirteenth century, he resumed with success and has often been since the ranking of male names in many countries: it is the case in France in the late nineteenth and early twentieth century. Today there is again received with great favor.
The main variants encountered in Francophone countries are male Paol, Pau, Paulo, Paulus and Pol and feminine, Paula, Paula, Paulette, Pauline and Paulia
- Edie Abarca
Popularity of Paul
Other variants of Paul :
Pal

Pali

Pavli

Paulus
Boulos

Bulus

Boghos
Poghos
Paulos
Paol
Pavel

Pau


Pol

Paulu
Pavao

Pavle


Pavo

Paŭlo
Paĉjo
Paavo
Paavali
Pauli
Paulo
Pavlos

Pál

Páll

Pól
Paolo
Pāvils

Paulius
Paora

Paweł
Paulinho
Pasha
Pàl
Pòl
Pavol
Pablo
Pavlo

English Boy Names :
A
B
C
D
E
F
G
H
I
J
K
L
M
N
O
P
Q
R
S
T
U
V
W
X
Y
Z
---
English Girl Names :
A
B
C
D
E
F
G
H
I
J
K
L
M
N
O
P
Q
R
S
T
U
V
W
X
Y
Z
Get the meaning of Paul and celebrities who also shares the same name and some names related to Paul, english baby names list, list of names in english. Know what does Paul mean?
This website serves as the extended english names list which will help in naming your child.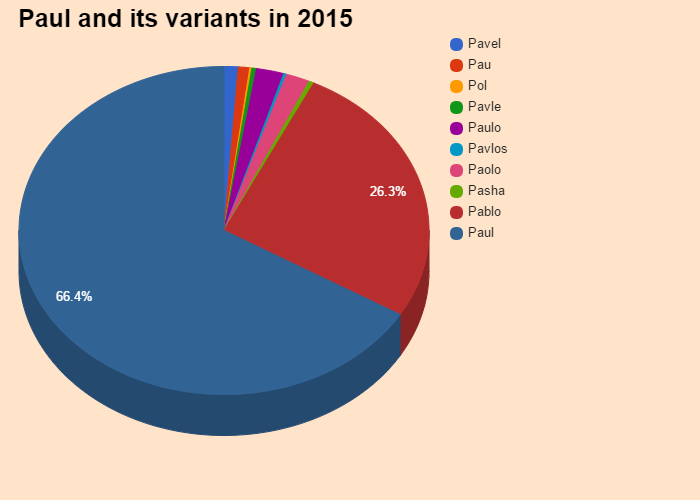 Share your opinion on Paul