Name: Paula
No. of characters: 5
Gender: Girl
Origin of Paula:
Latin


How to pronounce Paula pau-la What does my name mean? Meaning of Paula:

Small, Humble, String, Little, The Sma
Origin and Meaning
Baby name Paula is originated as a feminine form of name Paul which is derived from Paulus and which in turn is a Roman name taken from the Latin paulus meaning "small". The name was borne by Saint Paula who was a 4th-century Roman saint and companion of Saint Jerome. The name starts gaining its popularity after during the 1960s after the release of the No. 1 song 'Hey, Paula'. Another notable bearer of the name is Paula Cole who is an American singer and songwriter and best known for winning a Grammy Award for Best New Artist. Doctor Paula Hutchison is also a character name in the animated series Rocko's Modern Life.
Paula was ranked 922 in 2015 list of US boys name and dropped by 2.90% from its previous ranking of 896 in 2009. Paula was ranked 664 in 2015 US female names list and elevated by 5.14% from its previous ranking of 700 in 2014.
Full form of Paula : Painstaking Able Unconventional Level-Headed Alert
Paula is a rare first name for a girl in England & Wales which is a rare name since 1999 and ranked 779 in 2014. Only 619 people have Paula as their first name. Paula is a very consistent name over the past 18 years.
Paula is a very very popular first name for a girl in United States which is popular since 1917 and ranked 922 (0.000227% bearer) in 2015 in US. Around 278219 people wear Paula as their first name. Paula is a rare first name for a boy in United States which is a rare name since 1880 and ranked 922 (0.000227% bearer) in 2015 in US. Only 278219 people have Paula as their first name. Paula is not a native United States and Paula may be came from another language or is a short form of some other name. 0.077827% of people in US have this given name.
Complete history of Paula
Year
Rank
Occurence
Popular girl name in
1917
328
303
1920
334
343
1921
341
326
1922
348
305
1923
317
378
1924
315
418
1925
295
464
History of Paula

Saint Paula was born in Rome in 347, in an illustrious patrician family. She had five children, two of which appear in the catalog of saints. She was a disciple of St. Jerome and lived piously and charitably. Party for a trip to the Holy Land, she settled there and founded a monastery in Bethlehem where she died in 404.
Expression number of Paula is 6.
Paula have a great affection towards creativity, beauty and domestic activities of life. Paula are trustworthy, honest and behave responsibly. Paula have tendency to sacrifice their needs for others'.
Names that rhyme with Paula
Abdula, Adula, Alula, Anapaula, Angula, Anthoula, Arsula, Aula, Azula, Bakula, Batula, Beaula, Beula, Bula, Chrisoula, Chrysoula, Cordula, Coula, Cula, Darthula
Famous people named Paula
Paula Muñoz in El club de los incomprendidos as Actress
Paula Polak in Vermisst - Alexandra Walch, 17 as Actress
Paula Bruss in Kokowääh 2 as Actress
Paula Fortunato in Des nouvelles du bon Dieu as Miscellaneous Crew
Paula Forrest in Episode #1.2986 as Actress
Paula Picerni in Gone in Sixty Seconds as Stunts
Paula Humby in Buridan's Ass as Actress
Paula Thomas in A View to a Kill as Actress
Paula Victor in The Entity as Actress
Paula Price in What a Girl Wants as Miscellaneous Crew
Paula Badosa Gibert is a Spanish tennis player, belonging to Real Club de Tenis Barcelona.
Paula Abdul acted in movie American Beauty
Names like Paula
Paula Namesakes
Related Names:
Pau, Paublita, Paublo, Pauee, Pauie, Paul, Paul-Adrien, Paul-Alexandre, Paul-Antoine, Paul-Emile, Paul-Emilien, Paulann, Paulanne, Paulanthony, Paule, Paulean, Pauleen, Paulena, Paulene
Posts having Paula:
Comments :
Paula is a name feminine of origin Latin meaning small. There is an Italian variant: Paola, which is also used in Spanish. Paula comes from the Latin and is the feminine form of Paul. Paula is the Low, the Small. Paula also has a Greek origin, the meaning is then the Beautiful.
Variants of the Paula: Paulina, Pauline, Paulette (French), Paola (Italian), Paulita (Spanish), Pavla (Czech), Paulinchen.
Famous bearers of the name are Santa Paula, Paula - a Brazilian basketball former player, Paula Abdul, Paula Toller.
- Lakesha Fleischman
Popularity of Paula
Updated on: August 10th, 2019
Other variants of Paula :
Pavla
Paule
Paulette
Pála

Paola
English Boy Names :
A
B
C
D
E
F
G
H
I
J
K
L
M
N
O
P
Q
R
S
T
U
V
W
X
Y
Z
---
English Girl Names :
A
B
C
D
E
F
G
H
I
J
K
L
M
N
O
P
Q
R
S
T
U
V
W
X
Y
Z
Get the meaning of Paula and celebrities who also shares the same name and some names related to Paula, english baby names list, list of names in english. Know what does Paula mean?
This website serves as the extended english names list which will help in naming your child.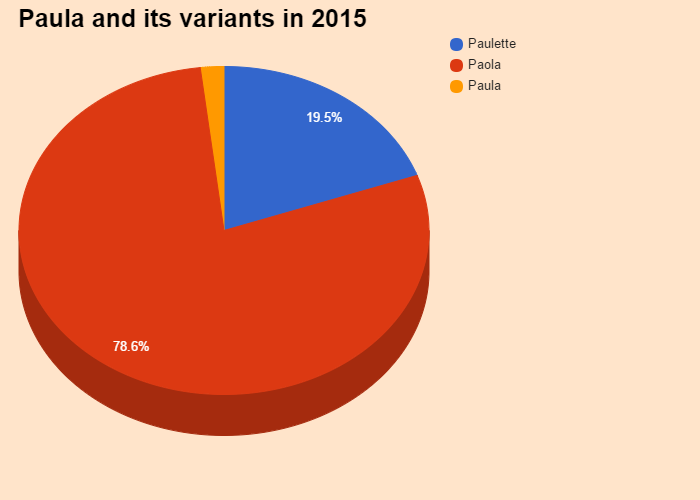 Share your opinion on Paula