Name: Peter
No. of characters: 5
Gender: Boy
Origin of Peter:
English

German

Dutch

Swedish

Norwegian

Danish

Slovene

Slovak

Biblical

Old Greek


Religion: Hindu How to pronounce Peter pe-ter What does my name mean? Meaning of Peter:

Rock, Stone, River, Strong, The Ro

Peter was ranked 203 in 2015 boys names list in US and remain unchanged from its previous ranking in 2014. Peter was ranked 955 in 2006 list of US girls name and dropped by 1.17% from its previous ranking of 944 in 2005. Comes from the Latin "petros" Means "stone, rock" festival in June 29. Peter are embodied goodness and generosity. Active, determined,Peterare made to realize large projects and never give up. Honest,Peternever transgress moral. Indulgent,Peterforget and forgive easily. Balanced, thoughtful, always welcoming,Peterare hard workers and success is always at the end of their business. Peter trust too easily, which plays tricks on them and are the man of one love.

Full form of Peter : Poised Emotional Thorough Encouraging Relaxed

Peter is a very very popular first name for a boy in England & Wales which is popular since 1996 and ranked 152 in 2014. Around 10747 people wear Peter as their first name. Peter is a very consistent name over the past 18 years.

Peter is a very very popular first name for a boy in United States which is popular since 1880 and ranked 203 (0.048284% bearer) in 2015 in US. Around 573127 people wear Peter as their first name. Peter is a rare first name for a girl in United States which is a rare name since 1887 and ranked 203 (0.048284% bearer) in 2015 in US. Only 573127 people have Peter as their first name. Peter is not a native United States and Peter may be came from another language or is a short form of some other name. 0.160323% of people in US have this given name.

Complete history of Peter
Year
Rank
Occurence
Popular boy name in
1880
30
496
1881
35
428
1882
35
461
1883
35
450
1884
34
524
1885
33
516
1886
41
437
History of Peter

Peter was the leader of the 12 apostles. He was a fisherman on the Sea of ​​Galilee and was called Simon when Jesus asked him to follow him. It is Christ who gives him the name "Peter" to mean that he would make him the foundation of his Church. He settled in Rome. It is considered the first pope. He was martyred, crucified upside down, under Emperor Nero in 64.
Expression number of Peter is 1.
Peter loves adventure and independence and possess determination and originality. Peter generally leads and direct others and likes to establishes their individual identity.
Names that rhyme with Peter
Alaster, Aleister, Alister, Allister, Almeater, Almeter, Almetter, Alter, Alvester, Alyster, Arguster, Arlester, Armster, Arter, Arvester, Aster, Ater, Attewater, Atwater, Auguster
Famous people named Peter
Kristina M. Peterson in Thor as Second Unit Director or Assistant Director
Melody Peters in Big Tit Patrol 5 as Actress
Verena Peter in Der Erfinder as Actress
Mercedes Peterson in Larva as Actress
Megan Petersen in That Loving Feeling as Miscellaneous Crew
Edith Peters in Il bisbetico domato as Actress
Nicole Peters in Nicole Peters as Actress
Christie Lynn Peterson in Island Bruthas as Actress
Jessica Peters in Commendatori as Actress
Sarah K. Peterson in Conscious as Actress
Peter Heylin or Heylyn was an Englishman and ecclesiastical author of many polemics, histories, policies and theological treatises.
Peter Lorre acted in movie Arsenic and Old Lace
Names like Peter
Peter Namesakes
Related Names:
Pet, Peta, Petal, Petar, Pete, Peterey, Peteris, Peterjohn, Peterkin, Peterson, Peteve, Petey, Petie, Petina, Petipace, Petite, Petr, Petra, Petre
Posts having Peter:
Comments :
Peter is a male first name and a last name. Peter is of Greek origin (πέτρος petros) and means rock within the meaning of Boulder. Patronymic, formed from the name - Petrovich , Petrovna. The grown rock is in Greek as petra referred. In Jesus -word Matthew 16:18 both terms appear as a pun abreast on: "You are Petros '(Boulder), and on, Petra' (grown rock) I want my community build. " In German Peter also has the appellative meaning of boobies "clumsy person". The word German Peter (Pierre in French) comes from the Latin Petrus. It originally means stone, but in Dutch it also means godfather. These or similar meanings occur in compound words as lies Peter, Heulpeter, minced or Ziegenpeter on. The origin of the names the buck for a card game, Hackepeter for a meat dish and Killjoy for a bad-tempered man is uncertain. The name of the chemical substance saltpeter perhaps modeled on Latin sal petrae "rock salt".
Peter is in Germany a very popular name, it is the period of the last 120 years of the most frequently assigned name at all. At the beginning of the 20th century Peter was a moderately popular name. More and more boys were named Peter from the early 1930s. In the 1940s and 1950s, the name was several times the most frequently assigned name for newborn boys at all. From the early 1960s its spread gradually fell back to an average level at which it remained until the late 1980s. From the early 1990s, the popularity of the name is, however, then dropped even further.
In Russian panegyric literature abroad XVII-XVIII centuries. extraordinary popularity enjoyed "an etymological play on" behalf of Peter (Greek πετρος -. stone). As some researchers believe, the first time such a technique applied Simeon in his poem, written in the birth of Prince Peter Alekseevich. Subsequently, the authors of the Petrine era repeatedly likened the Russian tsar "stone" or "fortress" e.g., Carion Istomin in his "admonition smart view", referring to the young monarch; Rtishchev FM , in his eulogy comparable Peter-stone with the biblical David. Later, the image of Peter, David becomes a major panegyrics. Such comparisons are also characteristic of the South Slavic authors baroque, glorifying Peter in his work.
Names derived from Peter: Peter, Peter, Petrunya, Petrus, Petrushka, Petrushka, Peter, Peta, Petryakov, Petryanov, Petusya, Petryata, Petryaha, Petryashov, Petrasha, Petyasha, petunias, Parsley, Petyuka, Petyunya , Petyusya, Rooster, Petyusha, Peter, Petka, Petrik, Petryaev, rooster, barnyard, Petyayka, Petyanya, Peter Petyaha, Petechka.
- Meghan Maupin
Popularity of Peter
Other variants of Peter :
Botros

Boutros

Butrus

Bedros
Petros

Peru
Petri
Peio
Petrus
Per
Perig
Pierrick
Petar


Penko
Pere

Petru
Pejo

Perica

Pero

Petr
Petro

Peeter
Petteri
Pietari
Pekka
Pierre
Pitter

Petre

Pika
Péter

Peti

Pétur

Peadar
Piaras
Pietro
Piero
Pit

Petras
Pece

Petera

Piers
Petruccio

Pèire

Piotr
Pedro
Pedrinho
Petrica
Pyotr
Petia
Petya
Pedr
English Boy Names :
A
B
C
D
E
F
G
H
I
J
K
L
M
N
O
P
Q
R
S
T
U
V
W
X
Y
Z
---
English Girl Names :
A
B
C
D
E
F
G
H
I
J
K
L
M
N
O
P
Q
R
S
T
U
V
W
X
Y
Z
Get the meaning of Peter and celebrities who also shares the same name and some names related to Peter, english baby names list, list of names in english. Know what does Peter mean?
This website serves as the extended english names list which will help in naming your child.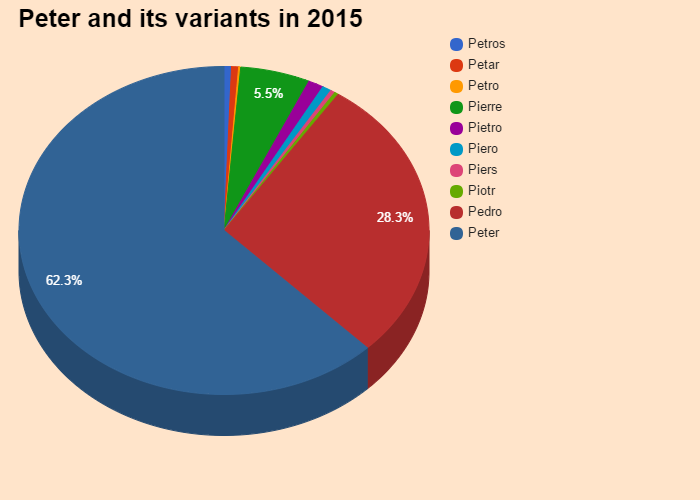 Share your opinion on Peter