Name: Rebecca
No. of characters: 7
Gender: Girl
Origin of Rebecca:
English

Italian

Swedish

Biblical

Biblical Latin


How to pronounce Rebecca re-be-cca What does my name mean? Meaning of Rebecca:

Bound, Tied, Captivating, Knotted Cord, To Tie, To Bind, Strong Combatant Hearty, Moderator, Noose, Beguiling

The name Rebecca is originated from Hebrew language which is feminine given name. Rebecca name is derived from verb (rbq) meaning (join, tie, snare). According to the Jones' Dictionary of Old Testament Proper Names and the NOBS Study Bible Name List, the name Rebecca means "captive beauty" or "to tie" or "to bind". In the Hebrew Bible, The matriarch Rebecca is the name of wife of Isaac and the mother of Jacob and Esau. After Protestant Reformation Rebecca is the name that comes in to use as a Christian name. Among the Puritans it was popular in 17th century.

Rebecca was ranked 897 in 2009 US male names list and elevated by 0.77% from its previous ranking of 904 in 2008. Rebecca was ranked 187 in 2015 list of US girls name and dropped by 3.31% from its previous ranking of 181 in 2014. Comes from the Hebrew "ribgah" Signfie "cow, heifer" If Day March 23.. On the first smiling, relaxed,Rebeccaare workaholics. Ambitious, voluntary, passionate,Rebeccamake every effort to ensure their professional success. Rebecca have many friends, but in reality,Rebeccaare independent and lonely women. Rebecca hate routine, never remain in place and conduct several projects at once. Intelligent, diplomats,Rebeccaknow how to ingratiate around them.

Full form of Rebecca : Religious Enterprising Bold Entertaining Composed Congenial Altruistic

Rebecca is a very very popular first name for a girl in England & Wales which is popular since 1996 and ranked 135 in 2014. Around 43287 people wear Rebecca as their first name. Rebecca is a very consistent name over the past 18 years.

Rebecca is a very very popular first name for a girl in United States which is popular since 1885 and ranked 187 (0.043135% bearer) in 2015 in US. Around 745956 people wear Rebecca as their first name. Rebecca is a rare first name for a boy in United States which is a rare name since 1909 and ranked 187 (0.043135% bearer) in 2015 in US. Only 745956 people have Rebecca as their first name. Rebecca is not a native United States and Rebecca may be came from another language or is a short form of some other name. 0.208669% of people in US have this given name.

Complete history of Rebecca
Year
Rank
Occurence
Popular girl name in
1885
94
302
1886
92
355
1888
104
337
1889
109
337
1890
103
374
1891
115
320
1892
121
353
Expression number of Rebecca is 1.
Rebecca loves adventure and independence and possess determination and originality. Rebecca generally leads and direct others and likes to establishes their individual identity.
Names that rhyme with Rebecca
Becca, Brecca, Caecca, Daecca, Debecca, Decca, Ebecca, Ecca, Fecca, Jamecca, Lamecca, Mecca, Paecca, Rabecca, Rbecca, Rebbecca, Rececca, Revecca, Robecca
Famous people named Rebecca
Rebecca L. Baldwin in Druid Peak as Actress
Rebecca Perry Cutter in Viper as Producer
Rebecca Rogers in Badge of Faith as Actress
Rebecca Mason in Fatal Crossroads as Actress
Rebecca Meis DeMarco in The Wolf of Wall Street as Art Department
Rebecca Mir in Tag 11: Die schwangere Kuh as
Rebecca Rees in Aladdin as Writer
Rebecca Robertson in O Little Town of West Monroe as
Rebecca Jordan in Tinselwood as Actress
Rebecca O'Flanagan in Shrooms as Producer
Rebecca Abe Stephanie Fey aka Rebecca Abe German writer and illustrator.
Actor Rebecca De Mornay, renowned for movie Risky Business
In 1985, Rebecca Ashley portrayed the role of N in action, drama flick Bruce Lee's Dragons Fight Back.
In 1982, Rebecca Bach played the role of Sarah in horror flick The Curse of the Screaming Dead.
Rebecca Frith portrayed crucial character of Susan in 1999 crime and mystery movie The Missing.
In 1993 comedy movie, Bikini Squad, Rebecca Rocheford Davies portrayed Cathy Price.
In 1985, Rebecca Gilling played the role of Mary Dillon in action and drama movie The Naked Country.
Rebecca Hall, from 2010 crime and drama movie The Town, who characterized Claire Keesey.
Rebecca Jones, from 1994 action and crime flick Días de combate, who portrayed Muchacha Cola de Caballo.
In 2000, Rebecca Lewis portrayed the role of The Woman in drama flick Migrating Forms.
Rebecca Nunn portrayed central character of Tracy in 1997 drama movie A Little Rain Must Fall.
Rebecca Palmer characterized leading role of Francine in 2001 drama movie This Filthy Earth.
In 1981 drama flick, Die Reise nach Lyon, Rebecca Pauly characterized Elisabeth.
Rebecca Pidgeon, from 1999 drama, romance movie The Winslow Boy, who played Catherine Winslow.
In 1986 drama film, Queen City Rocker, Rebecca Saunders-Smith characterized Fran.
In 2005 drama and horror film, Resurrection Mary, Rebecca Shea portrayed Amy.
Rebecca Dianna Smith, from 1974 crime and drama movie Nightmare Honeymoon, who played the Jill Binghamton Webb.
In 1956 action and adventure film, The Brass Legend, Rebecca Welles played Millie Street.
In 1987, Rebecca Watson played the role of Vocalist in fantasy, music flick Alarming Trends.
In 1922 drama movie, Breaking Home Ties, Rebecca Weintraub characterized Mother Bergman.
In 2018, Rebecca Van Kirk played the role of Audrey Collins in drama flick Finding Me.
In 1994 action and crime flick, Walker Texas Ranger 3: Deadly Reunion, Rebecca Bustamante portrayed Bank Teller.
In 2000 drama movie, Naked August, Rebecca Ford portrayed N.
Rebecca Nygard portrayed leading character of N in 2002 drama movie Canadiana Blaze.
Rebecca Stauber played leading character of Judith in 2007 drama flick Naked Under Heaven.
Rebecca Havey, from 2003 0 film The 13th House, who characterized Minerva.
In 2010 thriller flick, Justify, Rebecca Larsen characterized Abby Lombard.
Rebecca Chamberlain, from 2004 comedy movie Nausea II, who portrayed the Giselle Thurst.
Rebecca Beazley played the leading role of Alexis in 2007 comedy movie Case Study.
Rebecca Calhoun, from 2005 comedy, drama movie A Coat of Snow, who characterized Jill.
Rebecca Haydon characterized central character of Rose in 2003 0 flick Fallen Eagle.
Rebecca Giggey played the main role of Jennie in 2010 comedy, drama movie Wishful, Sinful.
Names like Rebecca
Rebecca Namesakes
Related Names:
Reba, Rebacca, Rebakah, Rebba, Rebbeca, Rebbecca, Rebbie, Rebcca, Rebe, Rebeca, Rebecaa, Rebecah, Rebecc, Rebeccaann, Rebeccah, Rebeccajo, Rebeccalynn, Rebecka, Rebeckah
Posts having Rebecca:
Comments :
Rebecca is a female first name. The name comes from the Torah : The wife of Isaac, Rebecca ( Heb. רבקה Rivqah ), daughter of Bethuel and mother of Jacob and Esau in Genesis , the first book of the Bible, with the importance of ensnaring 'or, the compound creators' or by Ribhqeh , "connection" , "bond", but could also be derived from a name Aramaic. Traditionally the ' name day falls on September 23 in memory of the aforementioned Rebecca , Isaac's wife
Variants: Rebeca, Rivkah, Rebeccah, Rebekah, Rebeka, Rebekah, Rebekka Rivka
English was one of the names Christians who took to be used after the Protestant Reformation , and became popular among the Puritans during the seventeenth century.
- Barbie Mullins
Popularity of Rebecca
Updated on: June 26th, 2019
Other variants of Rebecca :
Rebekka

Rivqah
Rébecca
Rivka

Riva

Rebeka

Rebeca
Rifka
English Boy Names :
A
B
C
D
E
F
G
H
I
J
K
L
M
N
O
P
Q
R
S
T
U
V
W
X
Y
Z
---
English Girl Names :
A
B
C
D
E
F
G
H
I
J
K
L
M
N
O
P
Q
R
S
T
U
V
W
X
Y
Z
Get the meaning of Rebecca and celebrities who also shares the same name and some names related to Rebecca, english baby names list, list of names in english. Know what does Rebecca mean?
This website serves as the extended english names list which will help in naming your child.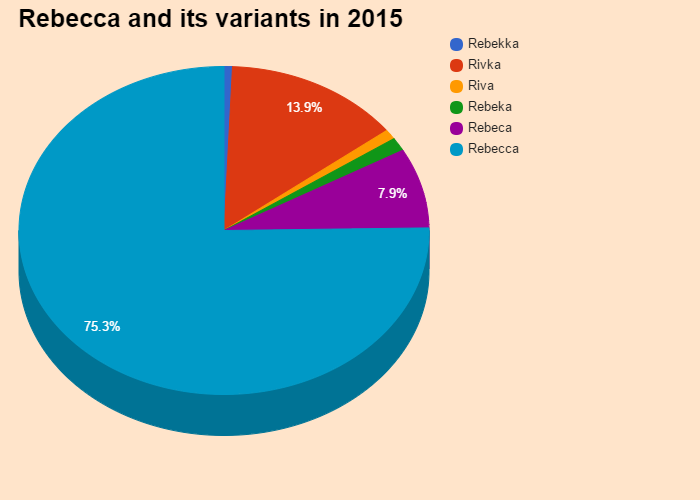 Share your opinion on Rebecca