Name: Sara
No. of characters: 4
Gender: Girl
Origin of Sara:
Greek

Spanish

Italian

Portuguese

Catalan

Swedish

Norwegian

Danish

Icelandic

Finnish

German

Dutch

Slovene

Croatian

Serbian

Macedonian

Polish

English

Arabic

Persian

Bosnian


How to pronounce Sara sa-ra What does my name mean? Meaning of Sara: Greenlandic form of Sara

Sara was ranked 919 in 2014 list of US boys name and dropped by 3.37% from its previous ranking of 889 in 2010. Sara was ranked 161 in 2015 US female names list and elevated by 3.59% from its previous ranking of 167 in 2014. Comes from the Hebrew "sarah" Means: "Princess" If party October 9 or 24 May. What characterizes them all, it is their presence, poise and natural authority. Under sometimes haughty appearances,Sarahide a genuine shyness. Sara are very sociable, love to receive love and family gatherings. These are "fonceuses" to make every effort to succeed. Sara are generally gentle and discreet. In love,Saraare faithful women who willingly live in the shadow of the oneSaralove.

Full form of Sara : Sociable Amusing Resourceful Accepting

Sara is a very very popular first name for a girl in England & Wales which is popular since 1996 and ranked 96 in 2014. Around 8765 people wear Sara as their first name. Sara is a very consistent name over the past 18 years.

Sara is a very very popular first name for a girl in United States which is popular since 1894 and ranked 161 (0.049521% bearer) in 2015 in US. Around 420261 people wear Sara as their first name. Sara is a rare first name for a boy in United States which is a rare name since 1908 and ranked 161 (0.049521% bearer) in 2015 in US. Only 420261 people have Sara as their first name. Sara is not a native United States and Sara may be came from another language or is a short form of some other name. 0.117561% of people in US have this given name.

Complete history of Sara
Year
Rank
Occurence
Popular girl name in
1894
136
304
1895
125
363
1896
135
326
1897
129
353
1898
134
362
1899
139
323
1900
148
375
History of Sara

Very beautiful wife of Abraham, according to the Bible, a woman of strong character, it shares the fate of her husband and follows him in his march to the promised land. The pretty name is also given to Arab children. On 24 May, we celebrate the holy Sara, Mary Salome and Mary Jacobe-driven from Galilee and found refuge in the Camargue, at the beginning of our era, according to legend. Sara is the patron saint of the Gypsies. A large gathering, the Saintes Marie of the sea, evidenced every year.
Expression number of Sara is 3.
Sara are lively, imaginative, enthusiastic and optimistic. Sara are expressive and inspire others wherever they go. Sara possess great verbal skills which make them good comedian, artist or writer.
Names that rhyme with Sara
Aara, Adara, Adhara, Ahmara, Aimara, Ainara, Akara, Akeara, Akshara, Alara, Albara, Aleara, Amara, Ameara, Ammara, Anaclara, Anara, Anetara, Annaclara, Ansara
Famous people named Sara
Sarah Enright in A Constellation of Doubt as Actress
Sarah Moon in Bruno B.: The World's Luckiest Guy 3 as Actress
Sara Bruner in Most Funniest as Actress
Sara Loscos in Episode dated 24 September 2008 as
Sarah McArthur in The Lion King as Producer
Sarah Poindexter in Brainiacs in La La Land as Producer
Sarah Gilbert in Flying on Empty as Miscellaneous Crew
Sarah Holland in Love Actually as Actress
Sara Seidman in The Box as Make-Up Department
Ana Maria Saragia in Fright Night 2 as Actress
Sara Carrigan is an Australian professional exciclist.
Actor Sara Barrett, noted for movie The Affair
Names like Sara
Sara Namesakes
Related Names:
Saraa, Saraann, Saraanne, Sarabel, Sarabella, Sarabelle, Sarabeth, Sarabi, Sarada, Sarae, Saraelizabeth, Sarafina, Saragosa, Saragrace, Sarah, Saraha, Sarahann, Sarahanne, Sarahbella
Posts having Sara:
Comments :
The name derived from שָׂרָה ( Sarah ), which means "lady" or "princess"; is a name of tradition, biblical, being led by the wife of Abraham and mother of Isaac, Sara, whose name was changed by God, as it was originally called שָׂרָי ( Saray , Sarai ), which probably means "litigious". Sara is, according to the ' ISTAT, one of the most used names for new born in Italy in the early twenty-first century, being the fourth most popular name of the 2004 and the second of 2006; in the United States, in the form Sarah, the name was among the most popular in both the 1870s that between 1978 and 2000 [5] . In English the name has been used since the Protestant Reformation.
Versions in other languages of the name Sara are Amharic and Tigrinya : ሳራ ( Sara ), Old Church Slavonic : Сарра ( Sarra ), Arabic : سارة ( Sara , Sarah ), Bosnian : Sara, Catalan : Sara, Czech : Sára, Croatian : Sara, Hebrew : שָׂרָה ( Sarah ), Altered: שָׂרִית ( Sarit ), Finland : Saara, Sari, Altered: Saija, Salli, French : Sarah, Sara, Biblical Greek : Σαρρα ( Sarra ), Modern Greek : Σαρα ( Sara ), English : Sarah.
- Cameron Clagon
Popularity of Sara
Other variants of Sara :
Forms: Salia, Saretta (Hebrew Sanskrit),
Derivatives: Serita, Sarit, Salka, Sadie , Salya, Saletta, Sarke, Sailee, Zarita, Sarita, Sâla, Sallyann, Sarlina, Sally
Spelling variants: Sady, Salley, Saley, Salye, Salleigh, Sarra, Saleigh, Sárá, Sallee, Sâra, Saryta, Salei, Sali, Saly, Sareeta (Sanskrit), Sarrah, Sára, Sallie, Sallye, Salli
Male variants:
Saras
Diminutive and pet forms:
Saija
Other Variants: Salletta, Saryt, Saleah, Saili, Sallette, Salliah, Salette, Seidi, Zarah, Sarett, Salea, Sâraĸ, Sailia, Saliah, Sallyah, Saily
English Boy Names :
A
B
C
D
E
F
G
H
I
J
K
L
M
N
O
P
Q
R
S
T
U
V
W
X
Y
Z
---
English Girl Names :
A
B
C
D
E
F
G
H
I
J
K
L
M
N
O
P
Q
R
S
T
U
V
W
X
Y
Z
Get the meaning of Sara and celebrities who also shares the same name and some names related to Sara, english baby names list, list of names in english. Know what does Sara mean?
This website serves as the extended english names list which will help in naming your child.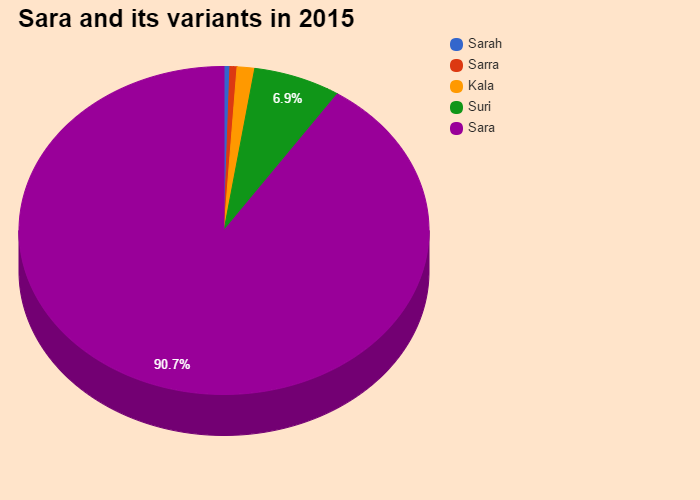 Share your opinion on Sara