Name: Sophia
No. of characters: 6
Gender: Unisex
Origin of Sophia:
English

Greek

German

Ancient Greek


How to pronounce Sophia so-phia What does my name mean? Meaning of Sophia:

Wisdom, Form of Sophie, Skill, Graceful

Baby name Sophia is originated from the Greek word sophia meaning "wisdom, skill". The name was commonly used during 17th and 18th century in England. This was the name of an early saint who was died of grief after her three daughters Faith, Hope and Charity were martyred during the reign of the emperor Hadrian. The name starts gaining its popularity when the name was used by Henry Fielding in his novel 'Tom Jones' (1749) and Oliver Goldsmith in his novel 'The Vicar of Wakefield' (1766). Sophia Loren was also the name of an Italian actress who was an academy award winner. Sofia Dupre, is also a character name in the American soap opera The Young and the Restless.

Sophia was ranked 917 in 2015 list of US boys name and dropped by 0.88% from its previous ranking of 909 in 2014. Sophia was ranked 3 in 2015 girls names list in US and remain unchanged from its previous ranking in 2014.

Full form of Sophia : Soft-Hearted Orderly Prideful Honorable Inquisitive Analytical

Sophia is a very very popular first name for a girl in England & Wales which is popular since 1996 and ranked 12 in 2014. Around 25333 people wear Sophia as their first name. Sophia is a very consistent name over the past 18 years.

Sophia is a very very popular first name for a girl in United States which is popular since 1912 and ranked 917 (0.000353% bearer) in 2015 in US. Around 305237 people wear Sophia as their first name. Sophia is a rare first name for a boy in United States which is a rare name since 1917 and ranked 917 (0.000353% bearer) in 2015 in US. Only 305237 people have Sophia as their first name. Sophia is not a native United States and Sophia may be came from another language or is a short form of some other name. 0.085385% of people in US have this given name.

Complete history of Sophia
Year
Rank
Occurence
Popular girl name in
1912
217
397
1913
223
429
1914
226
548
1915
222
692
1916
225
697
1917
224
698
1918
248
629
Expression number of Sophia is 5.
Sophia love adventure, excitement and freedom. Sophia are clever, quick-witted and unusually adaptable. Sophia are capable of doing anything they wish for.
Names that rhyme with Sophia
Adelphia, Alphia, Anasophia, Annasophia, Apphia, Avasophia, Bellasophia, Delphia, Ellasophia, Emmasophia, Isabellasophia, Ophia, Orphia, Phia, Philadelphia, Saphia, Sephia, Séraphia, Xophia
Famous people named Sophia
Sophia von Haeften in Stephanie Daley as Actress
Sophia Abrahão in Confissões de Adolescente as Actress
Sophia Mounds in Mothers Teaching Daughters How to Suck Cock 5 as Actress
Sophia Paulmier in Apollo Guidance as Actress
Sophia The Cat in Nosferatu vs. Father Pipecock & Sister Funk as Actress
Sophia Grunow in Breath Play as Actress
Sophia Tallon in Kiss Me, Kill Me as Actress
Sophia Arias in Cielo Lindo as Actress
Sophia Rosalyn Allen in Always and Forever as Actress
Sophia Lee in Jack & Sarah as Actress
Sophia Rossi is an American porn actress.
Actor Sophia Loren, known for movie Marriage Italian Style
Sophia Bush, from 2006 comedy, romance flick John Tucker Must Die, who characterized the Beth.
In 2018 thriller movie, 22 Days, Sophia Singh characterized N.
Sophia Yi, from 1988 action film Shark Operation, who portrayed N.
In 1988, Sophia Latjuba characterized the role of Danti in drama movie Setegar gunung batu.
In 2019, Sophia Di Martino portrayed the role of Carol in comedy and fantasy film Yesterday.
Sophia Reis played the critical character of Barbara in 2011 drama, romance film Os 3.
In 2000 0 flick, Pourquoi se marier le jour de la fin du monde?, Sophia Carvalho played N.
Sophia Mihopoulou, from 2004 drama flick Prin ti nyhta, who portrayed the Actress.
Names like Sophia
Sophia Namesakes
Related Names:
Sopath, Sopaul, Sopha, Sophal, Sophan, Sophana, Sophanna, Sophany, Sophat, Sophea, Sopheak, Sopheap, Sophear, Sophee, Sopheia, Sophelia, Sophey, Sopheya, Sophi, Sophia
Posts having Sophia:
Comments :
Sophia (Σοφία, Greek for "wisdom") is a female first name. Originally it referred to the virtue or divine wisdom, later contributed several holy name. Sophia is a Greek form, English and German of the proper name of the person Italian female Sofia. The name variant Sophia / Sophie is awarded very often since 1995th Since 1997, the name is consistently among the five most awarded female names in Germany found, and is considered very popular.
Linguistic variants of the name Sophia: German : Sophia, Sofia, Sophie, Sofie, Danish : Sofie, English : Sophia, Sophie, Sophy, French : Sophie (also German and English), Georgian : სოფია (Sopia) სოფო (Sopo), Greek : Σοφία (Sophia, Sofia), Italian : Sofia.
- Kaylene Peed
Popularity of Sophia
Updated on: August 2nd, 2019
Other variants of Sophia :
Cognates: Sofía (Spanish), Soffía (Icelandic)
Forms: Fieke,
Derivatives: Soffá, Suunia, Sophi, Sonja, Sofe, Sonya, Sofija, Sonnia
Spelling variants: Sophea, Sofiya, Sofya, Sonjá, Sofia
Diminutive and pet forms: Sophie, Soffy, Soppa, Soffi
Other Variants: Suffía, Sofie, Sofja, Sophey
Combinations: Annasophia (English)
English Boy Names :
A
B
C
D
E
F
G
H
I
J
K
L
M
N
O
P
Q
R
S
T
U
V
W
X
Y
Z
---
English Girl Names :
A
B
C
D
E
F
G
H
I
J
K
L
M
N
O
P
Q
R
S
T
U
V
W
X
Y
Z
Get the meaning of Sophia and celebrities who also shares the same name and some names related to Sophia, english baby names list, list of names in english. Know what does Sophia mean?
This website serves as the extended english names list which will help in naming your child.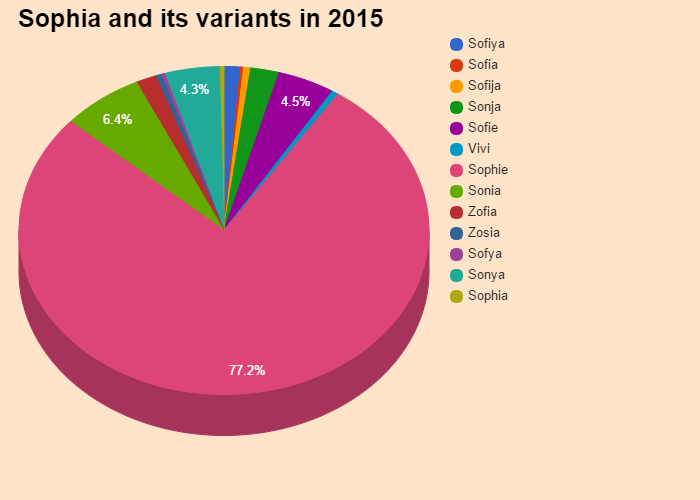 Share your opinion on Sophia