Name: Tim
No. of characters: 3
Gender: Boy
Origin of Tim:
English

German

Dutch

Slovene

Swedish

Norwegian

Danish


How to pronounce Tim tim What does my name mean? Meaning of Tim:

One who Honors God, To Fear God, Form of Timothy, Honoring God, Short form of Timothy (meaning: God the Honourable) Dietmar (meaning composition of "folk" and "famous") and Timo. In many countries, widespread in Germany since the late 20th century popular.

Tim was ranked 870 in 2015 list of US boys name and dropped by 2.11% from its previous ranking of 852 in 2014. Tim was ranked 745 in 1976 US female names list and elevated by 1.72% from its previous ranking of 758 in 1975. Short for Timothy. Comes from the Greek "Time and Theos" Means: "Honor God and" If party January 26th.. Tim have an insatiable need to be explained and express themselves. Tim are curious about everything and love sharing their feelings. Gays, welcoming,Timhave generally good character. Tim are worried, often invaded by doubt. We must reassure them constantly. Tim are men of action who act without haste. Tim remain happy in the shadows, asTimare discreet people. Altruistic, good,Timdo not know selfishness.

Full form of Tim : Tolerant Inquisitive Moderate

Tim is a rare first name for a boy in England & Wales which is a rare name since 1996 and ranked 1630 in 2014. Only 350 people have Tim as their first name. Tim is a very consistent name over the past 18 years.

Tim is a very very popular first name for a boy in United States which is popular since 1940 and ranked 870 (0.001540% bearer) in 2015 in US. Around 83103 people wear Tim as their first name. Tim is a rare first name for a boy in United States which is a rare name since 1880 and ranked 870 (0.001540% bearer) in 2015 in US. Only 83103 people have Tim as their first name. Tim is not a native United States and Tim may be came from another language or is a short form of some other name. 0.023247% of people in US have this given name.

Complete history of Tim
Year
Rank
Occurence
Popular boy name in
1940
289
333
1941
274
388
1942
244
512
1943
230
618
1944
219
606
1945
189
778
1946
169
1134
History of Tim

Born in Asia Minor, Timothy was baptized by St. Paul in 47 and became his disciple. He accompanies him in all his voyayes. To 63, it is placed at the head of the community of Ephesus where he received two letrres of St. Paul which have been preserved. He is stoned in 97, during a pagan holiday he wants to divert the Ephesians.
Expression number of Tim is 6.
Tim have a great affection towards creativity, beauty and domestic activities of life. Tim are trustworthy, honest and behave responsibly. Tim have tendency to sacrifice their needs for others'.
Names that rhyme with Tim
Betim, Fatim, Hatim, Kujtim, Pajtim, Tim
Famous people named Tim
Fatima Grate in Genius in Heels as Actress
Sarah Elena Timpe in Hammer as Actress
Timolin Cole in When I Fall in Love: The One & Only Nat King Cole as
Fatima Alvir in Sinungaling mong puso as Actress
Clare Mortimer in Im Alter von Ellen as Actress
Patharawarin Timkul in Bangkok Dangerous as Actress
Timea Saghy in Dark Moon Rising as Actress
Penelope Mortimer in Bunny Lake Is Missing as Writer
Fátima Toledo in Cidade de Deus as Miscellaneous Crew
Protima Bedi in Miss Beatty's Children as Actress
Tim Kincaid is an American director, screenwriter and film producer, who sometimes uses the pseudonyms of Joe Gage or Mac Larson.
Tim Robbins is notable for his acting in movie The Shawshank Redemption
Names like Tim
Tim Namesakes
Related Names:
Tima, Timaeus, Timaj, Timaka, Timan, Timani, Timar, Timara, Timarah, Timarcus, Timaree, Timari, Timaria, Timarie, Timarion, Timathy, Timaya, Timayah, Timber
Posts having Tim:
Comments :
Tim is a male first name. Until the beginning of 1963 the name of the German language area was not in use. It suddenly became very popular, which is primarily the main characters Max Eckard is due. In Latin, the name is short for Timotheos (Τιμόθεος), composed of the words τιμάω ( Timão , German "estimate" or "honor") or latin timere ( "fear") and θεός ( theós , German "God") to German so so much as: "the God honors" or "God-fearing".
Variants of the name are Timmi, Timy, Timie, Timi, Timbo, Timme, Timmy.
- Olen Gines
Popularity of Tim
Other variants of Tim :
Timoteus
Timotheos
Timothy
Timotheus
Timotei
Timo
Timothée
Timothé
Timoteo
Timotej

Timoti

Tymoteusz
Timofei
Timofey
English Boy Names :
A
B
C
D
E
F
G
H
I
J
K
L
M
N
O
P
Q
R
S
T
U
V
W
X
Y
Z
---
English Girl Names :
A
B
C
D
E
F
G
H
I
J
K
L
M
N
O
P
Q
R
S
T
U
V
W
X
Y
Z
Get the meaning of Tim and celebrities who also shares the same name and some names related to Tim, english baby names list, list of names in english. Know what does Tim mean?
This website serves as the extended english names list which will help in naming your child.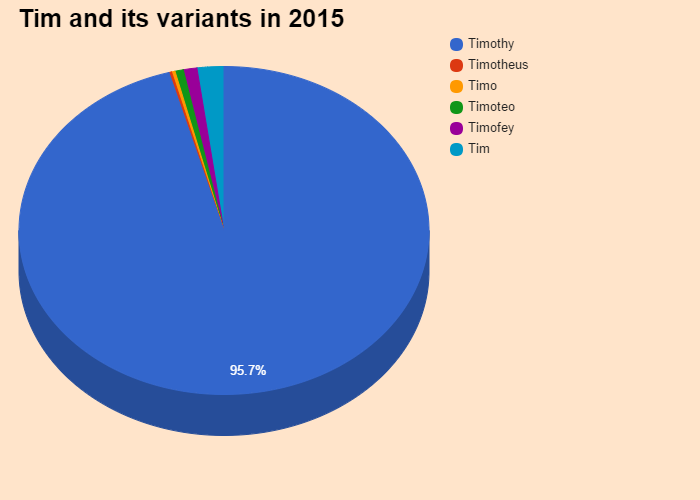 Share your opinion on Tim