Name: Aapru
No. of characters: 5
Gender: Boy
Used in: Finnish
How to pronounce Aapru
aa-pru
What does my name mean?
The baby boy name Aapru commonly used in Finnish. Aapru means Finnish short form of Abram.
Variants
Forms: Donzelle (varied) Derivatives: Aapram, Eeprami, Prami, Avram, Ábrrán, Aapar, Apru, Aaprami Spelling variants: Ábram Diminutive and pet forms: Ábo, Aappar (Finnish), Aapro Other variants: Robin, Abramo (Hebrew), Donzell, Donzello (Various), Donzeil (Varied)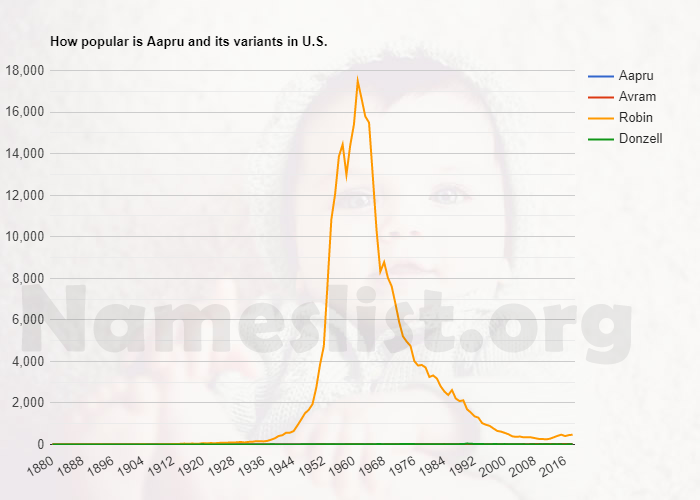 Popularity
Given name Aapru is an uncommon name and no Nordic country have recorded any recent usage.
Facts:
A proper repositioning of letters tranformed Aapru into name Arupa used in Sanskrit which means Unbounded. Both of the names are unique too!
Names that rhyme with Aapru
Famous people named Aapru
Names like Aapru
Related Names:
Aapa
Aapak
Aapakuk
Aapal
Aapalaat
Aapar
Aaparaami
Aaparna
Aape
Aapeksha
Aapel
Aapeli
Aapep
Aaperaat
Aaperat
Aapi
Aapia
Aapikka
Aapilaaq
Aapilannguaq
Get the meaning of Aapru, all baby names list, Know what does Aapru means in english, what is the meaning of name Aapru?
This website serves as the extended english baby names book which will help in naming your child.
Share your opinion on Aapru