Name: Aatoli
No. of characters: 6
Gender: Boy
Used in: Finnish
How to pronounce Aatoli
aa-to-li
What does my name mean?
The baby boy name Aatoli used in Finnish. Meaning of Aatoli is Finnish pet form of Adolf.
Variants
Forms: Adolpho (Germanic), Adolphus Derivatives: Aatoltti, Adolphe, Âtulfe, Aatovi, Aatu (German) Spelling variants: Aadolf, Adolph Diminutive and pet forms: Ádo Other variants: Adulphus, Adolfo, Ádolfe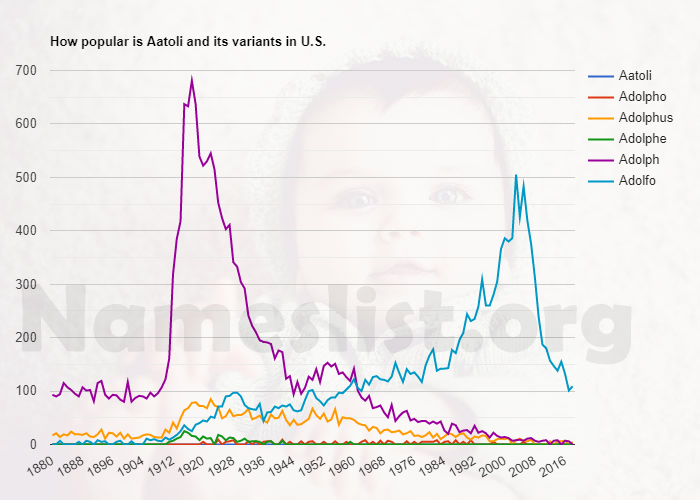 Popularity
Given name Aatoli is an unfamiliar name and none of the Nordic countries have any recorded usage.
Facts:
Putting letters of the name Aatoli in different order gives name Latoia commonly used in English which is interpreted as Rejoiced. The two are seldomly used!
Names that rhyme with Aatoli
Famous people named Aatoli
Names like Aatoli
Related Names:
Aato
Aatohviina
Aatolfi
Aatoli
Aatolppi
Aatoltti
Aatolva
Aatolvi
Aatolviina
Aatoon
Aatos
Aatovi
Anatoli
Atoli
Bartoli
Naftoli
Toli
Share your opinion on Aatoli