Name: Abdall
No. of characters: 6
Gender: Boy
Origin: Arabic
Used in: Arabic
How to pronounce Abdall
a-bda-ll
What does my name mean?
The baby boy name Abdall has it"s roots in Arabic language used in Arabic and are mostly Muslim. Meaning of Abdall is Substitutes, Variation of Abdal.
Variants
Forms: Abdus, Abdeel Derivatives: Abdu, Abdurrahman, Abdoull Other variants: Abdoul, Abdull, Abdual, Abdell, Abdel, Abul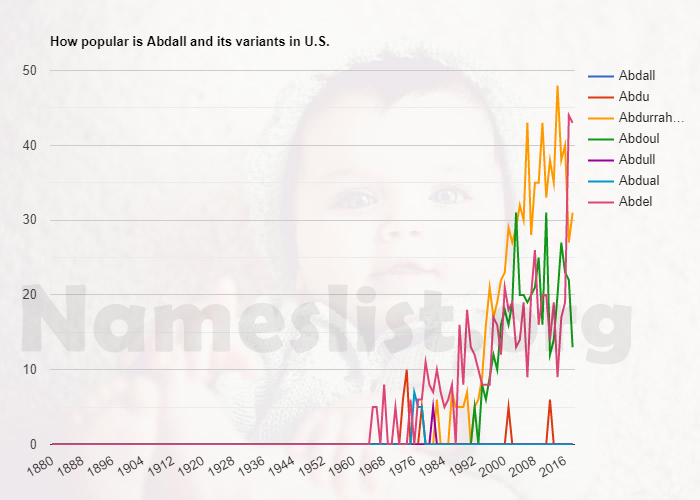 Frequency of baby name Abdall in different countries
Countries
Men
First Name
Men
Secondary Name
Women
First Name
Women
Secondary Name
[1]
0
5
0
0
[2]
0
5
0
2
[1] Name count till 2014
[2] Baby name stats up to 31 December, 2018
Names that rhyme with Abdall
Famous people named Abdall
Names like Abdall
Related Names:
Abda
Abdah
Abdal
Abdala
Abdalah
AbdAlala
AbdAlAlim
AbdalAti
AbdalAziz
AbdAlBari
AbdalFattah
AbdalHadi
AbdalHakim
AbdalHalim
AbdalHamid
AbdalJabbar
AbdalJabir
AbdalJawwad
AbdalKadir
AbdalKarim
Updated on: July 12th, 2019
Get the meaning of Abdall, all baby names list, Know what does Abdall means in english, what is the meaning of name Abdall?
This website serves as the extended english baby names book which will help in naming your child.
Share your opinion on Abdall