Name: Acasha
No. of characters: 6
Gender: BoyGirl
Origin: Old Greek
Used in:
How to pronounce Acasha
a-ca-sha
What does my name mean?
The unisex baby name Acasha can be used for boy or girl has it"s roots in Old Greek language. Meaning of Acasha is Example, Ruler of the House, A Kind of Boat, Father of a Multitude, Point, Fire, Cloud, Short Form of Henrietta, Another form of Acacia, Lesson, Generous, Thorn, Female Version of Henry.
Variants
Forms: Kaci (Old Greek and Celtic) Derivatives: Kassja, Kasi, Kakia, Cacie, Acaysha Spelling variants: Akacia (Old Greek Sanskrit), Acacya, Acasia, Accassia, Accacia, Akaciah Diminutive and pet forms: Kacia, Casi, Casia, Cacia, Caciah Other variants: Acai, Kashi (Sanskrit), Cassy, Akaysha, Akaia, Caci (Old Greek Celtic), Kassi, Caysha, Kassya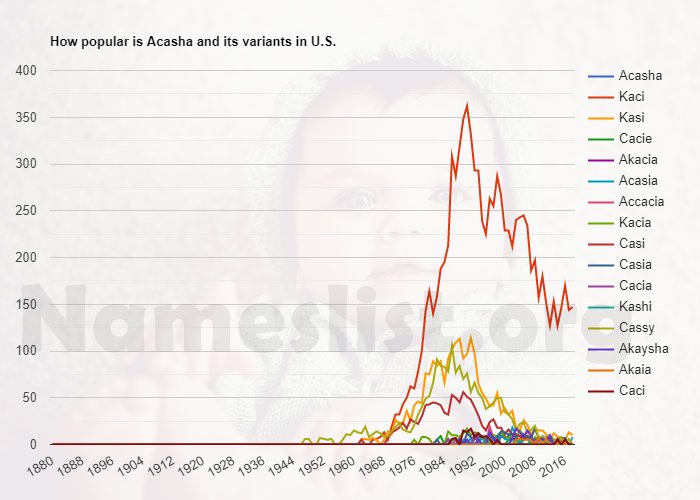 Names that rhyme with Acasha
Famous people named Acasha
Names like Acasha
Related Names:
Aaleasha
Aasha
Abhilaasha
Abhilasha
Abhylasha
Abilaasha
Abilasha
Abinasha
Abirasha
Abirnasha
Acasha
Acasia
Acasius
Adasha
Adyasha
Aiasha
Akalmasha
Akasha
Alasha
Aleasha
Share your opinion on Acasha