Name: Aieshah
No. of characters: 7
Gender: Girl
Origin: Arabic
Used in:
How to pronounce Aieshah
a-ies-hah, ai-esh-ah ,
What does my name mean?
The baby girl name Aieshah has origin in Arabic language and prevalent among Muslim. Aieshah means Woman.
Variants
Cognates: Aishat (Chechen) Forms: Ieashia, Aeisha, Kaneisha, Kaleesha (English-American), Kadysha, Ieeshah, Ieshah, Ieasha, Oneshiah, Ronisha, Miesha, Oneshah, Yiesha, Aeshah, Ronesha, Aiysha, Aixa (Arabic Hebrew) Derivatives: Roneeka, Liesha, Kadeisha, Aisiah, Aouicha, Kalishia, Ashra, Kadeshia, Tyisha (Arabic American), Myeisha, Oneisha, Myisha, Kyesha (American), Kadeesha, Kadesia, Kadessa, Ayse, Onieshah, Takisha, Asha (Sanskrit), Maisha, Aisa, Ieashiah, Oneshea, Tynisha, Aishatu, Aysa, Aysia (Arabic!English) Spelling variants: Ciara, Ayesha, Aeshia, Ayeeshah, Kalishah, Kaylie, Aasha, Ayeshah, Aeeshah, Kalyshah, Ayeishah, Aysha, Ambrose, Aiesha, Kaleasha, Kenisha, Kaleeshah, Kaleisha, Carwyn, Ayeisha, Aiyesha, Rodnisha, Ayshah, Ayeisa, Aeesha, Kenysha, A'isha , Oneashah, Aaisha, Lyesha, Ayisha, Quinesha, Aishah (English), Yoganand, Aaishah, Kaliesha, Jakisha, Iesha (Arabic Sanskrit), Ayeesah, Oneishah, Ayeesha, Kalysha Diminutive and pet forms: Keosha Other variants: Kenesha, Deke, Marjorie, Onesheah, Kineesha, Shonda, Onyshah, Aicha, Faustina, Kinesha, Tysin, Oneasha, Ayisa, Rodnesha, Oneshia, Aisia (Arabic and English), Aishiah, Ayishah, Ayeesa, Anders, Eshe (Swahili), Romana, Zahira, Ayeisah, Ayisat, Aish, Aischa, Asiah (Arabic English), Ashia (Arabic and Sanskrit), Kadiesha, Kanesha, Aiasha, Oniesha, Ayisah, Oneesha, Oneeshah, Kadisha, Meisha, Asya, Ayasha, Ashiah (Arabic and Sanskrit), Kaneesha, Aishia, Ieeshia, Yieshah, Ieshia, Ieesha Combinations: Quenisha, Onesha, Keneisha, Jakeisha, Laneisha (America), Kadesha, Roneisha, Leneisha, Kalisha, Rodneisha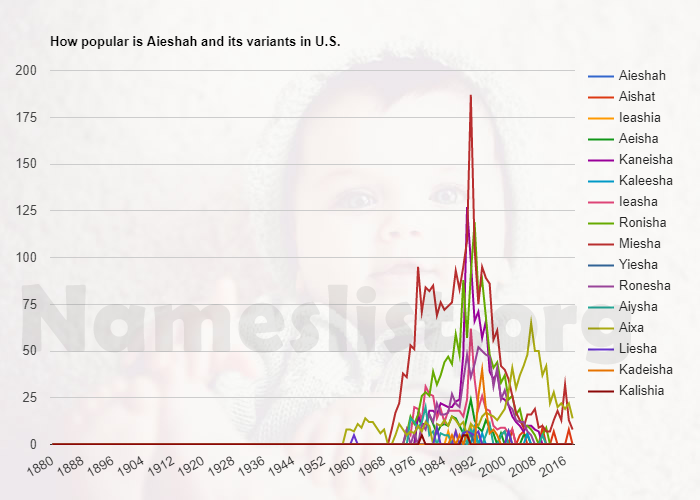 Facts:
Shuffling of letters in baby name Aieshah gives name Ieashah that can be interpreted as Woman. None of them are used often!
Names that rhyme with Aieshah
Famous people named Aieshah
Names like Aieshah
Related Names:
Aaishah
Abhilashah
Abhylashah
Abishah
AdilShah
Aeeshah
Aeshah
Aiesha
Aieshah
Aieshia
Aishah
Akashah
Alishah
Ashah
Aushah
Ayeeshah
Ayeishah
Ayeshah
Ayishah
Ayshah
Get the meaning of Aieshah, all baby names list, Know what does Aieshah means in english, what is the meaning of name Aieshah?
This website serves as the extended english baby names book which will help in naming your child.
Share your opinion on Aieshah