Name: Aischa
No. of characters: 6
Gender: Girl
Origin: Arabic
Used in: German, Swedish, Danish
Used in countries: Germany
How to pronounce Aischa
ai-(s)(c)ha, ais-cha ,
What does my name mean?
The baby girl name Aischa has it"s roots in Arabic language used in German, Swedish, Danish bearers are usually Germany residents. Meaning of Aischa is Turkish, Arabic name, meaning: the living. Namesake: Aisha bint Abi Bakr, wife of the Islam founder Mohammed., Ali.
Variants
Cognates: Aishat (Chechen) Forms: Aiysha, Kaneisha, Oneshah, Ronisha, Aeshah, Oneshiah, Ieashia, Kaleesha (English-American), Yiesha, Miesha, Aixa (Arabic Hebrew), Ieshah, Kadysha, Ieeshah, Ronesha, Ieasha, Aeisha Derivatives: Aysia (Arabic!English), Myeisha, Oneisha, Aishatu, Ieashiah, Kyesha (American), Takisha, Kalishia, Maisha, Myisha, Asha (Sanskrit), Ashra, Kadeshia, Kadeisha, Aisiah, Ayse, Tynisha, Liesha, Kadesia, Kadeesha, Kadessa, Roneeka, Aisa, Aysa, Onieshah, Tyisha (Arabic American), Aouicha, Oneshea Spelling variants: Ciara, Kaliesha, Oneashah, Kalyshah, Ayeesah, Ayeshah, Jakisha, Ayesha, Kalishah, Yoganand, Quinesha, Ayeishah, Lyesha, Ayeeshah, Ambrose, Aaishah, Aieshah, Kaylie, Iesha (Arabic Sanskrit), Ayeisha, Aeshia, Ayisha, Kenisha, Aeesha, Ayeisa, Ayshah, Oneishah, Kalysha, Carwyn, Kaleasha, Kaleisha, Aysha, Aishah (English), Aiesha, Aasha, Aaisha, Aeeshah, Kenysha, Ayeesha, Kaleeshah, Aiyesha, A'isha , Rodnisha Diminutive and pet forms: Keosha Other variants: Oniesha, Tysin, Kenesha, Ashiah (Arabic and Sanskrit), Ayeesa, Ayeisah, Aish, Faustina, Ayisa, Meisha, Kadisha, Aisia (Arabic and English), Aiasha, Oneesha, Ieesha, Oneeshah, Kineesha, Ayisat, Aicha, Asiah (Arabic English), Rodnesha, Shonda, Anders, Kinesha, Ashia (Arabic and Sanskrit), Ayisah, Romana, Oneasha, Deke, Ieeshia, Kadiesha, Zahira, Onyshah, Ayasha, Asya, Eshe (Swahili), Yieshah, Kaneesha, Ieshia, Aishia, Oneshia, Marjorie, Ayishah, Onesheah, Aishiah, Kanesha Combinations: Kadesha, Jakeisha, Roneisha, Keneisha, Leneisha, Rodneisha, Quenisha, Laneisha (America), Onesha, Kalisha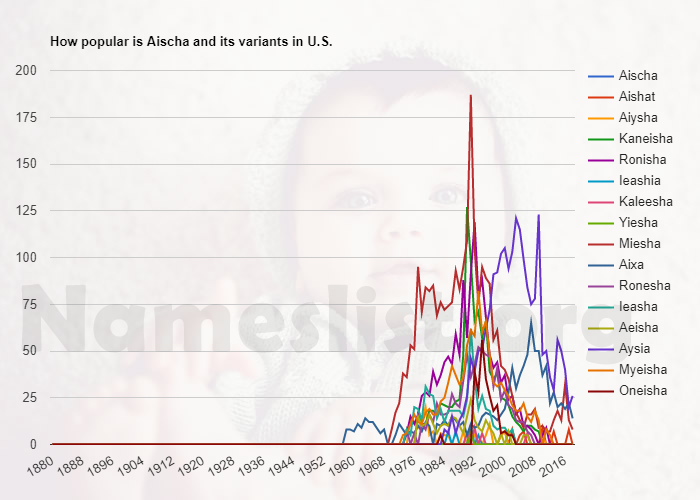 Frequency of baby name Aischa in different countries
Countries
Men
First Name
Men
Secondary Name
Women
First Name
Women
Secondary Name
[1]
25
17
0
0
[2]
25
17
9
1
[3]
25
N.A.
8
N.A.
[1] Name count till 2014
[2] Baby name stats up to 31 December, 2018
[3] Baby name stats up to 31 December, 2018
Facts:
Organising letters of name Aischa in different order gives name Saachi found in Sindhi and Marathi, Malayalam, Hindi, Gujarati, Bengali, Assamese, English interpreted as Truth. Neither one of them are used commonly.
Names that rhyme with Aischa
Famous people named Aischa
Names like Aischa
Related Names:
Aischa
Aische
Alischa
Aljoscha
Dascha
Elischa
Elscha
Gescha
Grischa
Jascha
Jelscha
Jescha
Joscha
Kascha
Katjuscha
Keischa
Kescha
Kischa
Lakischa
Laporscha
Updated on: July 12th, 2019
Get the meaning of Aischa, all baby names list, Know what does Aischa means in english, what is the meaning of name Aischa?
This website serves as the extended english baby names book which will help in naming your child.
Share your opinion on Aischa