Name: Aish
No. of characters: 4
Gender: Boy
Origin: Arabic
Used in:
How to pronounce Aish
ai-(s)(h), ais-h ,
What does my name mean?
The baby boy name Aish has Arabic roots and usually are Muslim. Meaning of Aish is Live, Ali.
Variants
Cognates: Aishat (Chechen) Forms: Aeshah, Kaneisha, Ieshah, Oneshah, Ieashia, Aiysha, Kadysha, Ronisha, Kaleesha (English-American), Ieeshah, Aeisha, Miesha, Oneshiah, Aixa (Arabic Hebrew), Yiesha, Ronesha, Ieasha Derivatives: Aisa, Aysa, Tynisha, Roneeka, Ieashiah, Tyisha (Arabic American), Aisiah, Kadeshia, Kadesia, Kalishia, Myisha, Aishatu, Onieshah, Takisha, Ashra, Liesha, Aysia (Arabic!English), Ayse, Myeisha, Kadeesha, Asha (Sanskrit), Oneshea, Oneisha, Kadessa, Aouicha, Kyesha (American), Maisha, Kadeisha Spelling variants: Carwyn, Kenysha, Kaleeshah, Oneashah, Iesha (Arabic Sanskrit), Aieshah, Aeesha, Aeeshah, Lyesha, Kalysha, Kaleisha, Ayshah, Ayeisa, Ayeesha, Rodnisha, Jakisha, Kaliesha, Kalishah, Kaylie, Ayeshah, Oneishah, Kalyshah, Aaisha, A'isha , Aeshia, Ciara, Kaleasha, Aasha, Ayeisha, Aishah (English), Aysha, Aaishah, Ayisha, Yoganand, Aiyesha, Ambrose, Kenisha, Quinesha, Ayeeshah, Ayesha, Ayeishah, Aiesha, Ayeesah Diminutive and pet forms: Keosha Other variants: Kenesha, Tysin, Aishia, Ayisat, Aiasha, Ayeesa, Ashia (Arabic and Sanskrit), Ayisa, Kaneesha, Aischa, Oneshia, Kinesha, Oniesha, Oneesha, Kanesha, Aicha, Zahira, Onyshah, Ieshia, Kadiesha, Eshe (Swahili), Ieeshia, Anders, Oneasha, Ayishah, Ayasha, Onesheah, Oneeshah, Ayeisah, Rodnesha, Ieesha, Ayisah, Aisia (Arabic and English), Marjorie, Romana, Aishiah, Deke, Meisha, Ashiah (Arabic and Sanskrit), Faustina, Asiah (Arabic English), Shonda, Kadisha, Kineesha, Yieshah, Asya Combinations: Roneisha, Jakeisha, Kalisha, Leneisha, Laneisha (America), Rodneisha, Onesha, Kadesha, Quenisha, Keneisha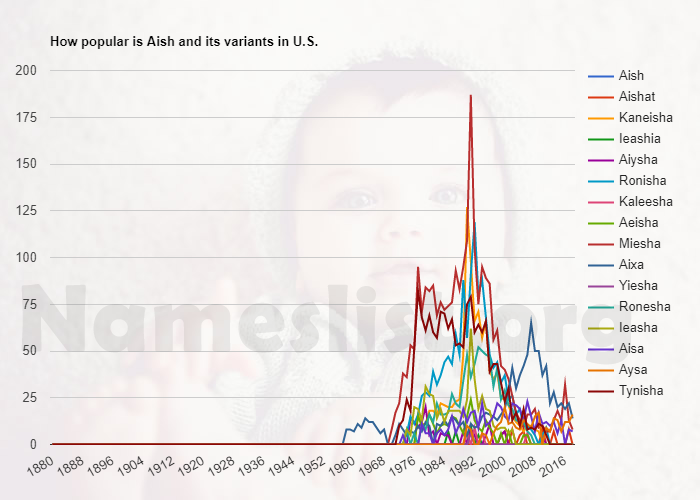 Frequency of baby name Aish in different countries
Countries
Men
First Name
Men
Secondary Name
Women
First Name
Women
Secondary Name
[1]
0
0
0
3
[2]
0
0
0
3
[1] Baby name stats up to 31 December, 2018
[2] Current name holders as on 31 December, 2018
Facts:
On interchanging letters of the name Aish properly we get name Isha given in Telugu and Tamil, Sindhi, Sikh, Sanskrit, Marathi, Malayalam, Kannada, Hindi, German, English which means White. Neither one of them have many takers!
Names that rhyme with Aish
Famous people named Aish
Names like Aish
Related Names:
Aabish
Aadhish
Aadish
Aahish
Aaish
Aajish
Aamish
Aanish
Aariish
Aarish
Aarnish
Aashish
Aathish
Aatish
Aavish
Abinish
Abish
Adhish
Adiish
Adish
Updated on: July 4th, 2019
Get the meaning of Aish, all baby names list, Know what does Aish means in english, what is the meaning of name Aish?
This website serves as the extended english baby names book which will help in naming your child.
Share your opinion on Aish